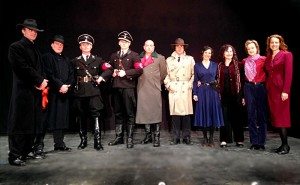 Going back in time as witness to tragedy helps us to test our moral compass and re-evaluate where our humanity lies as a society.  In "When Yellow Were Stars On Earth", playwright and director Franco Moschetti brings our shared history to the stage.  With a stellar cast of ten actors that bring Moschetti's text off the page, this play is cinematic in scope and genuinely told.
Wanda O'Connell sets the tone for this journey; she plays Eva, the daughter of one of our two heroines, and leads us back in time to 1943 Berlin. Though she is a part of the generation after the Holocaust, she is not removed from the experience.  Every year, she travels to meet Ann (Rhea Ross), the other daughter, and the two share pictures of their families as a memorial to the lives of their mothers.
From here, Moschetti does something spectacular, shifting the mood from the somber recounting by drawing back the curtains on a cabaret scene, where Klara (Gudrun Buhler) turns up the heat for a few Nazi soldiers.  In the same apartment building where Klara lives is a group of Jewish Resistance Fighters, heroically led by Miriam (Michelle Farbman) and unknown to Klara.
This play is epic and original, giving voice to a Jewish female fighter and a German singer who wouldn't give in to Nazi corruption.  You feel at once a part of the action and like a fly on the wall, watching everything unfold like a film noir drama.  Technical director and lighting designer Patrick Bakalli is a magician: his transformation of the intimate theater into the tension-filled environment of WWII is exquisitely done.
These characters might be fictional but their experience speaks to the truth of the human condition.  Get a glimpse of this production by watching the trailer below.
[youtube]https://www.youtube.com/watch?v=663-RidCfAw#t=0[/youtube]