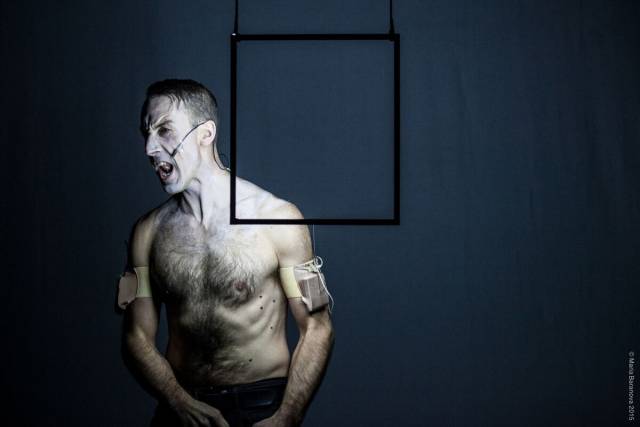 Andrew Schneider, inventor of the Solar Bikini (capable of charging your iPod), and wireless, programmable, sound effect gloves, walks a high tech tightrope between grand design and accessible theater. The test tube child of Einstein and Houdini, Schneider is here to mess with our minds.
The Andrew Schneider in YOUARENOWHERE, playing at Lower Manhattan's 3LD Art & Technology Center, shifts between delirium tremens and parallel worlds. And shift around he does, in the pitch black segments between bursts of color that illuminate the set. It is the sound though that really grabs your attention, a resonating blast; warped noise; sound in reverse. Cloaked in blue light, Ricky Nelson's Lonesome Town is lip-synched to. Along with the deep, sonorous rumble, quailing atmosphere, momentary backward speech and vivid presentation, YOUARENOWHERE is reminiscent of the best of David Lynch.
Behind the scenes, Obie-winning performer and interactive electronics artist Schneider (also a former member of experimental theater collective the Wooster Group), is a master of audiovisual and audience manipulation. In YOUARENOWHERE, which, in correspondence to the trickery of the title, shifts like Schneider from 'nowhere' to 'now here', ruminations bounce from self-examination, existentialism, quantum mechanics and the cursory bewilderment behind rapid eye movement. The shirtless, boundless character that Schneider presents onstage is a good night's sleep short of a 12 stepper. Alcoholic blackouts and bad trips have a lot to do with the show's waking nightmare elements; so too the intermittent lucidity in which stifled voices segue into a physics lesson on the relativity of simultaneity. Impressions on random romantic encounters, the selectivity of love ("Love means I pick out something"), and the taking for granted of our perceptions on alternate and interior worlds, manage to achieve mathematical and philosophical coherency as well as a sense of humor. Besides the sonic and visual accomplishments, Schneider's physical theater precision is mesmerizing. At the show's crescendo, he achieves a tour de force that is best experienced with no prior knowledge of it.
YOUARENOWHERE is a short show (a little under an hour) that runs on great mental and physical effort. But the ease with which it allows us to submit to its experiential and scientific subject matter by use of theme park ride sensory methods is a valuable buzz. Schneider succeeds in showing us different perspectives on universal perceptions. "We exist in each other's realities, but not in the way we think we do." Judging by YOUARENOWHERE's engrossed audience, Schneider succeeds also in revealing a brief but shocking glimpse of the extraordinary.