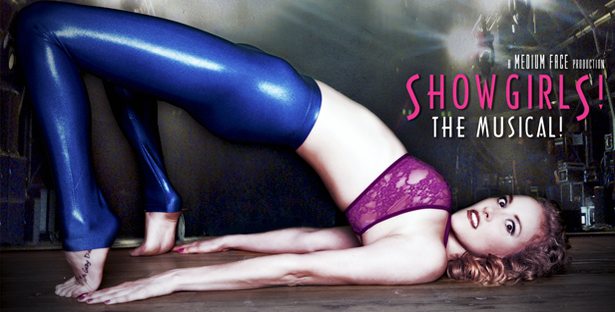 "Showgirls! The Musical!" is a delightfully cozy show that strikes a perfect balance between homage and campy parody, to visceral audience enjoyment. The dancing, singing and acting are tremendous, but the punchiness of the script steals the show. "Showgirls" the movie was accidentally hilariously awful, while "Showgirls! The Musical!" embraces, extolls and exploits the awfulness of the content in dazzling displays of creativity.
April Kidwell plays Nomi Malone, but really she's just playing Elizabeth Berkley in a stunning physical and theatrical impersonation. No one can overact like Berkley, and Kidwell's mocking sobs, sighs and impassioned fast-food guzzling get laughs at every turn.
The Producers had to contend with a small stage in the basement of the XL club, and they made impressive use of the space. The audience surrounds what's basically a stripper stage and is seated at small lounge tables that drinks and food may be ordered to. We have the feeling of relaxing in a lounge, all while taking in a delightfully crass show.
When Kidwell begins stripping, things go from amusing to hilarious. The show's choreography employs physical humor brilliantly, and the corresponding dialogue is awfully infectious. As Kidwell slaps her breasts off the pole and then licks them, she's cautioned about Hepatitis C. "Girl don't lick that pole. That pole is very dirty, dirty like you," croons the extraordinarily flexible Israel Viñas.
The underwater sex scene and corresponding song are perhaps the highlight of the show, and had the audience visibly in tears as Kidwell gyrates uncontrollably on top of Elliot. A shimmering curtain plays the pool, and the DIY-aesthetic perfectly matches the campiness of the subject matter. Somehow, the show captures the sexual intensity of the movie, all while one-upping its unintentional humor. The proof is in the pole, and the raucous guffaws from a packed crowd.
"Showgirls!" is playing Wednesdays and Saturdays through June 15th. For more information, check StageBuddy.
- by Doran Miller-Rosenberg