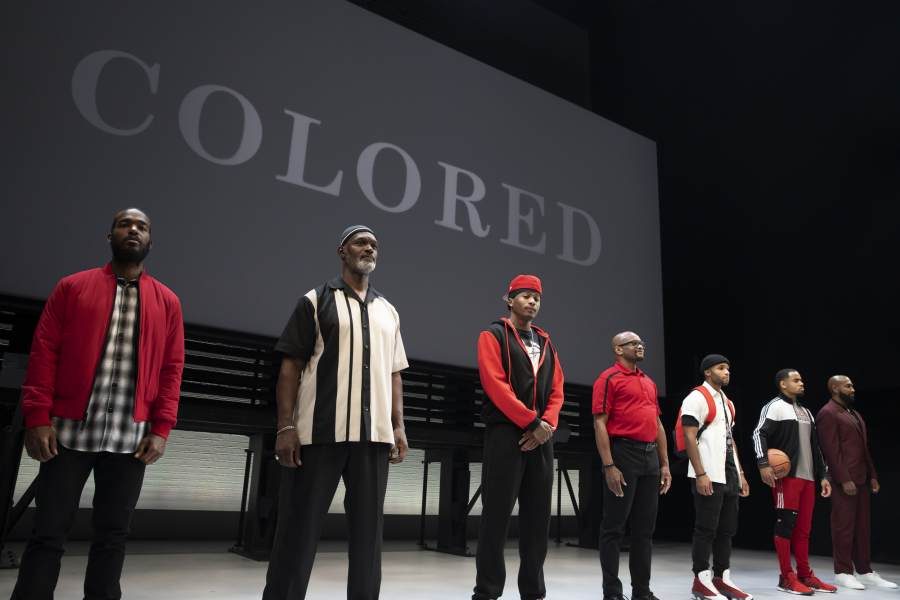 One young man rejects a scholarship to MIT so he can stay home to care for his mother and younger siblings; he's Depression. An older Nigerian man shares knowledge and tales from his youth; he is Wisdom. Love, a third man speaks in lyrical language as he rhapsodizes about women. These are three of the seven characters in Keenan Scott II's insightful new play "Thoughts of a Colored Man" at The Golden Theatre. Before the actors appear, we hear the playwright's greeting, "Welcome to my mind."
Despite the one-dimensional names, the characters become more fleshed out as they appear in what, at first, seem to be separate scenes. Ultimately they all coalesce into one powerful story. The play uses spare settings and the word COLORED looms in large letters atop the stage (Scenic design by Robert Brill.) The playwright invites us into the minds and the lives of these men who are representative of countless others. 
He varies the style of dialogue to match his characters. Dyllon Burnside wins us over as he speaks poetically about love. Anger, played by a moving Tristan Mack Wilds, sees his dreams of being an athlete destroyed when his knee is crushed. He works to help kids and tries to keep them from straying, but he remains infuriated, especially at athletes being used. "They used to hang us and now they hang our jerseys." 
With his deep voice and powerful presence, Esau Pritchett, the wise elder, runs the barber shop, a sanctuary for the men. He even collects money to go in the jar each time one swears. Passing on his learning to the younger men, he offers a series of lines of thoughtful advice, advice that transcends color.
Happiness (Bryan Terrell Clark) is a gay man with a partner and a successful job who has moved to the neighborhood.  Usually smiling broadly, he immediately befriends the audience with his affability, but he, too, has his struggles, noting that he doesn't fit some of the stereotypes. "I didn't struggle."  Saying that he lost his dad months before, he asks ironically, "Can I have my black card now?" 
There are several references to successful black athletes and an entire scene devoted to the status symbol of sneakers. Our matinee audience was composed predominantly of black women and as actors spoke there was often an audible reaction from the audience. Sometimes laughter, gasps, other times agreement and empathy. 
The characters are much deeper than their one-word names imply. Directed by Steve H Broadnax III, "Thoughts of a Colored Man" paints a picture of what it is like to be a black man in America in short scenes using poetic dialogue and music. Sometimes the effect is quite powerful and moving, other times uneven as the playwright tries to cover too much in a short time. Scott gives us much to consider as we leave the theater, a little chastened but perhaps wiser.