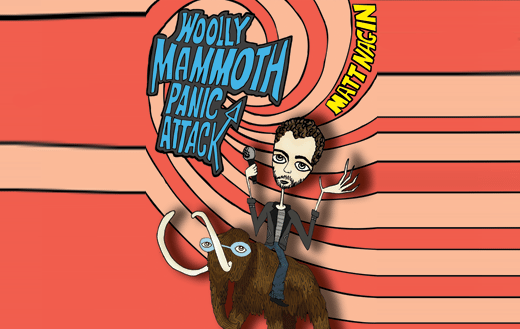 "Woolly Mammoth Panic Attack" is Rated R… for raunchy, rambunctious and ridiculously funny. Matt Nagin, poet, writer, and comedian presents his uproarious one man standup show, and it was a stellar success. This show was not made for the uptight. If you've got an open mind, a sense of humor, and can find joy in stories about sex, drugs and failed relationships then Woolly Mammoth Panic Attack is perfect for you. The show took the audience into the mind of a not so typical New York Jew who loves to smoke pot, do impressions of wild animals, and bash his exes. Matt Nagin does this by effortlessly connecting with his audience and helping them engage his twisted - and yet so genuinely real - world.
Nagin started off the show by doing his own introduction and then walking out and shamelessly laughing at himself for it. I don't know about you guys, but I love anyone who isn't afraid to laugh at themselves and make fun of their past. One should never take one's self too seriously! It was a great first impression. Matt then went on to tell the wonderfully romantic story of his Los Angeles lovebird - a folk singer who graduated from Dartmouth, and also a terrible representative of California. He attempted to wine, dine and sixty-nine this girl with Vegan restaurants and Bob Dylan concerts, and all he gets in return is some lame doggy style. How can doggy style be lame you may ask? She plays on her phone the entire time "Instagramming", "Facebooking", the like - and when he asks her, "Uh…do you mind? We're kind of in the middle of sex right now…" she replies, "Oh my gosh, this is going to sound weird…but I thought we were still at the restaurant." And the West Coast actually thought they were the best coast? After hearing Matt's stories about this classy Cali queen, I can confidently say I think our side's still got it in the bag.
Not only because of the New York girls, but also because only in New York would you be able to find a show like this.  "Wooly Mammoth" provides Jew jokes, relationship advice, and poetry all in one quick hour-long sitting. What's a Jewish mother like? If you don't know, Matt will tell you - better yet, he'll show you. His impressions of people were on point and ranged from his Jewish mom, to Bob Dylan, his Cali queen, Puerto Rican ex-girlfriend, and more.
How can you tell when you're in love? Although the majority of the population probably hasn't figured out the answer to this question, Matt has. Someone you can take to that Jewish mother of yours, but can also hold you down with a good hand job. That right there is love. Or so Matt says. How do you express your animosity towards the one girl you fell in love with who left you for a gazillionaire? Poetry of course. A beautiful and creative poem!  It could be just about anything, but Matt wrote his about a woolly mammoth. The woolly mammoth being synonymous to his ex's extremely hairy…you know what.
"Wooly Mammoth" capped off an awesome run in NYC, and is moving onto the Edinburgh Fringe Festival. We highly recommend it, and for those who saw it, tweet @StageBuddy and let us know your take on it.
By Alexis Yoo