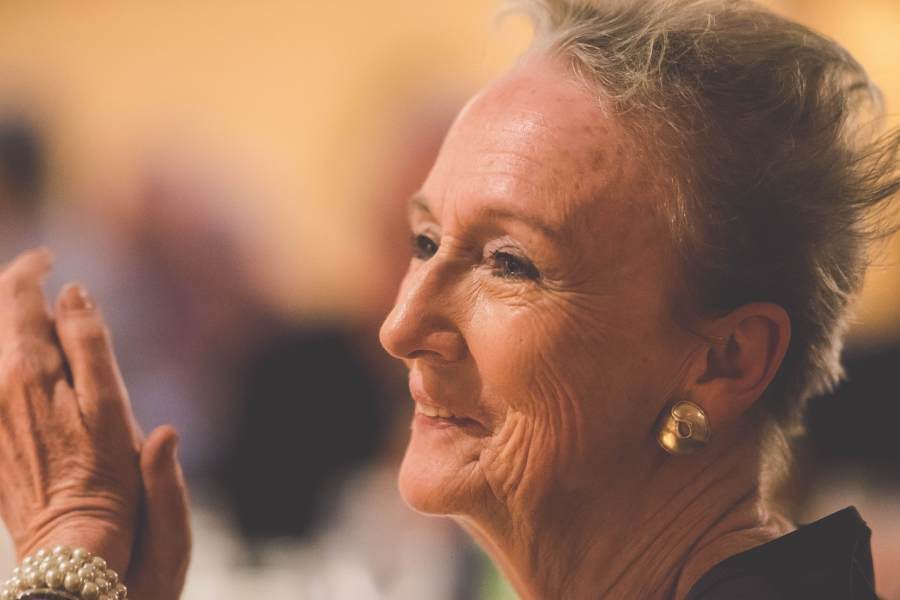 In her landmark book On Death and Dying, Elizabeth Kubler-Ross details the five stages of grief. Approaching it on a personal level in The Year of Magical Thinking, writer Joan Didion shares her painful description of denial at the sudden death of her husband, writer John Dunne.
Twenty years ago, Didion's book and a second one about her daughter entitled Blue Nights were combined to create a theater piece starring Vanessa Redgrave. In keeping with The Keen Company's mission to present work that "provokes identification, reflection, and emotional connection," recently presented a benefit performance starring the superb actress Kathleen Chalfant in a one-woman production. Under the direction of Jonny Silverstein, the show ran 90 minutes and was presented from Chalfant's home.
Didion's tragedy began with the illness of their recently-married daughter. When she lapsed into a coma Joan and her husband writer John Dunne visited the hospital daily. Having just arrived home from seeing her, Didion began to prepare dinner and began to talk to John who sat at the table. It grew silent. Dunne's head pitched forward and he was gone.
With a journalistic attention to facts and details, Didion provides the reader with statistics and facts (how long the ambulance took to arrive, how long the trip to the hospital was, what medicines their daughter was on.) It's the memories she can't recall that's even more poignant.
She warns the listeners to pay attention, for this will happen to them and "life changes fast in an instant."
Despite knowing otherwise, Didion behaves as if John will return. She avoids company because she needs to be alone so he can come back. She insists on an autopsy hoping the doctors can find out what was wrong so they can fix it. She acknowledges his death publicly, thinking that would make him come back.
After John's death, Didion deals with the serious illness of their only child. Didion's descriptions of hospitable visits and memories of the young woman's childhood are heightened by her feelings of guilt at having reassured her daughter that she would be okay.
Kathleen Chalfant is a masterful performer, and, despite having to view her performance via Zoom, we feel as if she is talking directly to us. She does a wonderful job and we truly believe that it is her own story. She keeps the script on her desk nearby, glancing at it occasionally and even picks up the original novel during the course of the presentation. Through the closeness of the computer, it's like having a front row seat where one can clearly observe the actress's expressions.
After the play, there was a talkback with the actress answering viewers' questions about her preparation. Chalfant said that she connected with the words and rhythms of Didon's writing because they are both native Californians.
The program was available on streaming from Saturday March 13th at 7pm EST when the event premiered, through to Wednesday March 17th at 7pm EST. The talkback was available as well.
As much as I enjoyed the performance, once again, I was saddened by the limitations of Zoom and longed for live theater. Having seen Chalfant in her award winning performance as Vivian Bearing, a scholar battling cancer, in WIT, I recalled being moved to tears. Not so with this production.
"A Year of Magical Thinking" is a play about the loss of loved ones, and because I was in my office, sitting at my desk I found myself saddened but not as moved as I should have been. Yet if we had been in the darkness of a theater, sitting shoulder to shoulder with others and even hearing the sniffling of other viewers, the tragedy would have been palpable and become a shared experience.
That's what's missing. It's no one's fault but a play like this with a talent like Chalfant's deserves shared emotion and until theaters open, that's one of the biggest losses.
But soon, theaters will open, albeit slowly and in stages. And the show will go on.