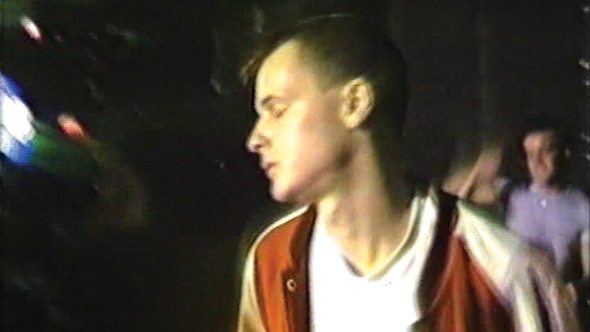 Derek Jarman might have passed away in 1994 but always the visionary, he left us behind the film we would need in the aftermath of the Pulse mass shooting; his 1984 Will You Dance With Me? is an exhilarating paean to the sacredness of the dance-floor. The film was originally conceived as a visual experiment Jarman set up to help his friend Ron Peck find the look of his upcoming film Empire State. With his new Olympus VHS camera in hand, Jarman showed up at Benjy's, a gay nightclub in Mile End where he proceeded to record the behavior of the patrons, some of whom stand near the bar or sit in tables sharing drinks, others who lose themselves with abandon in dance.
Despite the fact that the film was staged, Jarman captures every detail with the curiosity of a documentarian, his camera trying to take in every element, from the odd print in the sweater of a tall man, to the watery beads trickling down people's beers, to the Ecolde de Danse shirt worn by a gorgeous female dancer. As Jarman moved through the bar filming and interacting with the patrons, he managed to recreate the most faithful experience of what it's like to go clubbing on your own. We follow him as he is dazzled by the dancers around him, but also he's clearly searching for something. That Jarman allows his lens to feel flirty rather than lurky is testament to the genius of his visual poetry.
The DJ is of course an essential part of the film, we often hear him add commentary to his song selections, and it's evident how Jarman perceives him as a director of sorts determined to see how certain music elicits a reaction from people. Therefore we see moments in which the dance-floor is abandoned other than for a few men who simply can't stop moving. One of them is a middle aged, white haired man dressed completely in white, who smiles at Jarman's camera acknowledging its presence, and often putting on a show for it. His joy is contagious.
But this is no wedding video, and as much as Jarman is interested in capturing reactions and the experience of communal sharing, he was also set on discovering what he could do with a portable camera. We feel the freedom of his movement because he often dances along with others, and for all the flack VHS gets the images Jarman captured have an otherworldly air. In one of the walls of the club there were four neon octagons which often become the default background of dance-floor scenes. As Jarman moved, the brightness of the octagons lingered on the camera's sensor, leaving behind a path of light that makes one think of pixie dust.
Because of the motion blur, people's faces also leave traces behind, the eerie presence of AIDS manifesting itself once we wonder where they are today. Moments in which the film can become meditative and heartbreaking, are quickly turned into pure joy, as the moment when Jarman spots who he's been trying to find all night long. Dancing by himself, dressed in a red and white varsity jacket is a beautiful, young man who closes his eyes as he lets the music possess him. Even though Jarman's camera has obviously been present all along, it finally reveals itself as a character when we see its shadow on the young man's body. The possibility of romance, lust and joy has allowed it to show itself. Jarman asks the young man "will you dance with me?" and those who are familiar with his work are aware that it wouldn't be his last appearance in Jarman's oeuvre. We might know some parts of what the future held for the young man (his name Paul Williamson) but what about the others? The curly blonde with oversized glasses and denim jumpsuit who just can't stop dancing to Frankie Goes to Hollywood, or the middle aged gentleman who encompasses the idea behind Madonna's "Into the Groove", or the shy young men who smiled and blushed, but tried to keep their distance from the camera. Whatever their future held, Jarman has turned them into dancing spirits that get to live for all of eternity.

Will You Dance With Me? is receiving its world theatrical premiere run at Metrograph. For tickets and more click here.