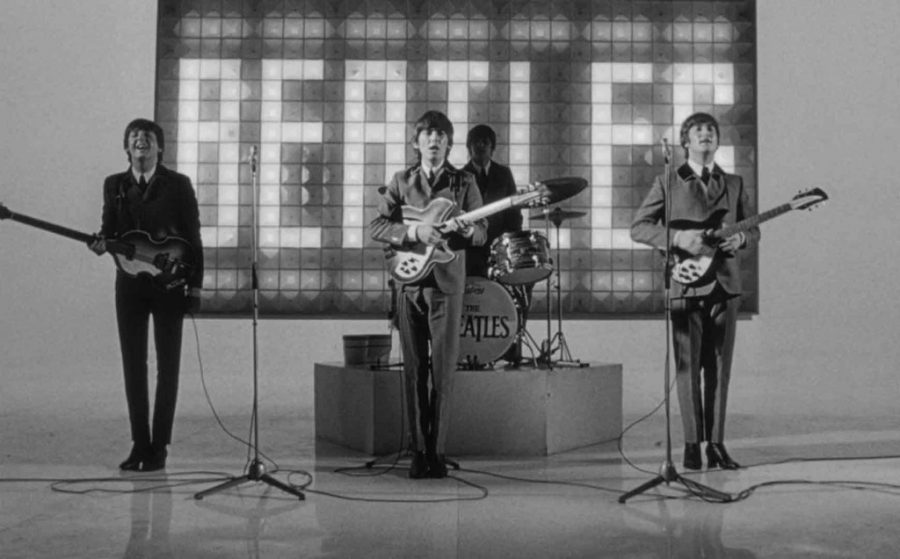 With New York's Film Forum presenting a restored version of The Beatles film A Hard Days Night (1964) from July 4-17, it's time we took a look back at some of the world's best music films and documentaries.  Here are ten must-sees:
1. This Is Spinal Tap (1984)
Without a doubt the funniest film about bands of all time. The 1984 mockumentry follows the adventures of UK rockers David St. Hubbins (Michael McKean), Nigel Tufnel (Christopher Guest), Derek Smalls (Harry Shearer), and various drummers who always end up dying of various ailments including spontaneous human combustion, a "bizarre gardening accident" and choking to death on the vomit of person(s) unknown. The band's popularity in the world of heavy metal is waning and their album Smell The Glove isn't selling due to questionable cover art. Between on stage prop mishaps, manipulative yoga-devoted girlfriends and band break-ups, this highly improvised musical tale is a hilarious homage to the music documentary genre and is as relevant today as it was back in the 80's.
2. The Blues Brothers (1980)
John Belushi and Dan Aykroyd take us on one hell of a ride as they "get the band back together" to save the Catholic orphanage they grew up in; as they tout many times throughout the film, they're "on a  mission from God." Ex-con "Joilet" Jake and his brother Elwood Blues originally stemmed from the pair's sketch on NBC's Saturday Night Live. Their mission is hampered by numerous enemies including Neo-Nazis, a country and western band in a Winnebago, and an extremely violent and heavily armed Carrie Fisher, and can be summed up in one dialogue:
Elwood: "It's a hundred and six miles to Chicago, we've got a full tank of gas, half a pack of cigarettes, it's dark, and we're wearing sunglasses."
Jake: "Hit it."
3. Walk The Line (2005)
This biographical film follows the early rise to fame of Johnny Cash and his romance with wife June Carter, played by Joaquin Phoenix and Reese Witherspoon. The film takes a look at Cash's early life and family situations, which led to him meeting Sam Phillips, becoming a stalwart on the country music scene, his battle with addiction and meeting the love of his life, June.
4. 8 Mile (2002)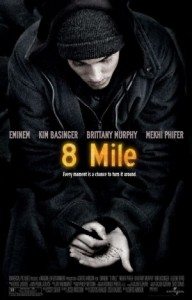 Classed as a "hip hop movie masterpiece", 8 Mile is a biopic set in Detroit which follows the struggles of Jimmy "B-Rabbit" Smith Jr. (Eminem), a young white rapper trying to make it in a genre dominated by African Americans. The film is named after 8 Mile Road, a dividing line between Detroit's lower class and upper class suburbs. Dealing with an alcoholic mother (Kim Basinger) and her abusive partner whilst trying to work and take care of his sister, Jimmy stops feeling sorry for himself and decides to take his life in the direction he desires. A series of epic freestyle MC battles throughout the film decide the fate of those involved, including Jimmy.
5. Beastie Boys: Awesome; I Fuckin' Shot That! (2006)
On October 9, 2004, The Beastie Boys played a show at Madison Square Garden. Before the show, they selected 50 audience members, gave them each a camcorder, and told them to keep the cameras rolling throughout the entire set. The result was a live concert of the Beastie Boys show filmed by the fans themselves. Guests at the show included Doug E. Fresh of Doug E. Fresh and the Get Fresh Crew, and DMC of Run DMC. Ben Stiller and his wife, Christine Taylor, can also be seen enjoying the show from the audience.
6. Justice: A Cross the Universe (2008)
This film follows French duo Justice's epic journey across the United States on their 2008 tour. Portions of their live show and on stage antics are interspersed throughout what is mainly a look at the duo's life on the road. There is never a dull moment with the pair as they get in fights, buy a gun, get arrested for getting in fights and buying said gun, and party like only rock stars can. Special mention goes to their tour bus driver Roger Menees, who for the entire film is behind the wheel practicing for the feat of singing the lowest note ever sung. He succeeded in 2010 and won the Guinness World Record title for "lowest note produced by a human voice". Go Roger!
7. Woodstock (1970)
One of the best festivals ever and one of the best festival films ever. Woodstock is a documentary of the momentous event which took place in 1969 at Bethel in New York. It received an Academy Award for Best Documentary Feature and was selected for preservation in the National Film Registry by the Library of Congress for being "culturally, historically or aesthetically significant". Performers filmed on the day included Richie Havens, Jimi Hendrix, Crosby Stills and Nash, Canned Heat, Joan Baez, The Who, Joe Cocker, Arlo Guthrie, Jefferson Airplane, Santana - the list goes on. A great documentation on the festival that started all festivals.
8. Gimme Shelter (1970)
A great song and a great film, the movie poster for this Rolling Stone's epic shouts 'The music that thrilled the world… And the killing that stunned it!'. Gimme Shelter follows The Stones on the last weeks of their 1969 US tour, including footage from their Madison Square Garden show in New York featuring Ike and Tina Turner as the opening act, and footage of the band recording "Brown Sugar" and "Wild Horses" in Muscle Shoals, Alabama. The documentary ends with the notorious Altamont Speedway show where the Hells Angels provided show security, which resulted in brawls and the loss of a life.
9. The Last Waltz (1978)
Billed as the last show ever for The Band, The Last Waltz features the 1976 Winterland Ballroom Show in San Francisco, filmed by none other than Martin Scorsese. Live excerpts from the show are shown between studio footage and band interviews, the live show containing appearances from big names such as Muddy Waters, Paul Butterfield, Neil Young, Joni Mitchell, Van Morrison, Dr John, Neil Diamond, Eric Clapton and Emmylou Harris. An epic show for an epic band and the beginning title card of the film should be obeyed: "This film should be played loud!"
10. Quadrophenia (1979)
Depicting the age old war of Mods vs. Rockers, Quadrophenia is based loosely on the 1973 rock opera of the same name by The Who. Set in 1965, it follows the adventures of Londoner Jimmy Cooper and his gang of teenage Mods as they face off against arch nemesis the Rockers. An epic stand off in the seaside town of Brighton leads to arrests, court cases and Jimmy eventually being thrown out of his parents house for doing drugs. A cool coming of age tale, Quadrophenia is a great look at 1960s rivalries, and contains a cameo by none other than Sting as the supreme Mod Ace Face.
What are your favorite music films? Sound off in the comments or tweet us @Stagebuddy and let us know!