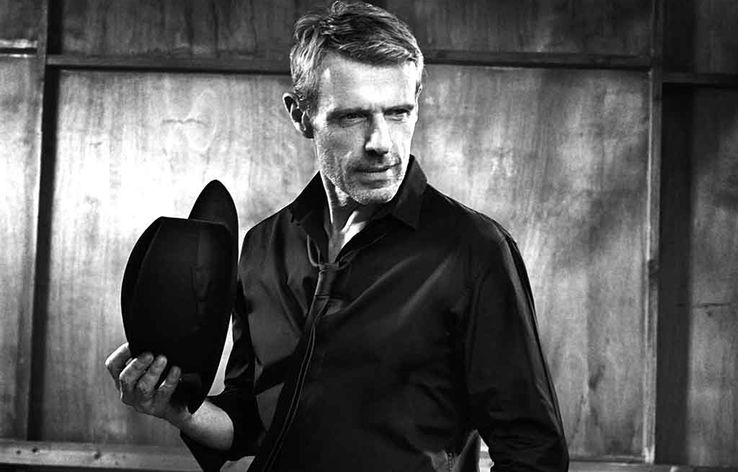 Even though French actor Lambert Wilson is known for his indelible performances in films by Alain Resnais, Raul Ruiz and The Wachowskis among others, his career as an accomplished stage performer and singer is less known outside of France. Not only has he starred in countless musicals, including A Little Night Music, but he's released several albums with the most recent being a tribute to Yves Montand. Wilson's smooth vocals, paired with exceptional arrangements make for quite a seductive musical experience, and audiences in New York City will get to experience it up close when he does his show Lambert Wilson Sings Yves Montand at FIAF. Wilson has also curated a selection of films by his idol which will be presented, along with some of his own works, at CinéSalon throughout the rest of 2017.
We spoke to Wilson about bringing his show to the States, reinterpreting Montand's legendary canon, and why he's also rescuing forgotten history in the process.
How was it to take on Yves Montand's incredible legacy and give it your own spin?
I was looking for an idea for my new musical show, I've done plenty of musicals but this is the fourth one-singer show I've done. I wanted to collaborate with musical director Bruno Fontaine again, so we conceived this show together. I had sung some of Yves Montand's songs before because we have the same tessitura, his voice was the same height as mine, so I've always felt comfortable singing his songs, I included some in my album Demons and Marvels back in 1997. I was familiar with Montand's work but then he struck me as an interesting character, a romantic hero to narrate. So we had the character's silhouette, his repertoire and his life story which is very interesting. He was the son of an Italian immigrant who escaped fascism and settled in Marseille, his dream was to go to America, New York specifically. Montand was raised in poverty in Marseille and then we have his crazy ascension through singing, meeting amazing women like Edith Piaf and Simone Signoret, his affair with Marilyn Monroe...his life was incredibly romantic.
What was your favorite thing to discover about him?
His ambition, his desire to get out of misery, poverty and his power of seduction. Christian Schiaretti who directs the show says that the subtitle of the show could be "the itinerary of a national immigrant," Montand was a hero to France but he wanted to live in America. When he was a young man, a composer asked him who he was in order to compose his first song, Montand said he loved movies, westerns and America. His first song was about cowboys, it was called "In the Plains of the Far West," the success of this song enabled him to go to Paris and meet Piaf. In the show we address his arrival near the end of his career in New York, to the Metropolitan Opera. His utter triumph was performing at the Met, as a variety singer, since so few people did. The show is constructed around that American dream.
You've spoken about your own desire to be in Hollywood movies as a young actor, was this an easy entry point into Montand's psyche?
My dream of America was maybe as naive as his. I also share with him a certain passion for a certain American cinema and idols of the 70s. I was fascinated by Robert Redford, I wanted to be an actor like him who could combine the political involvement and the romantic aspect in his career. I studied in London to become an actor like him, but then I had a bizarre relationship with Hollywood. I'm not a very happy bunny when I'm in Los Angeles, it was hard for me to live there, but I came to terms with that. I'm a busy actor doing films, theatre and musicals in my country, so occasionally I'll do some things when I'm asked. After The Matrix I did a few things, but I was unhappy in Los Angeles. We're Mediterranean, I need to be near Paris. Like a typical Parisian I moan about Paris all the time, but I also need to be there. I discovered Yves and I had another connection too, he was the son of an Italian immigrant, and my father who was an actor and the head of the National Popular Theatre, was the grandson of an Irish immigrant. Yves Montand and my dad were born within a week of each other, they both had to struggle and hang on to culture as a way to become something. They didn't want to just adapt to French culture but they wanted to excel through culture. They clung to words, authors, books and it was their survival. They both had been humiliated during the war and wanted vengeance against adversity, they were egocentric but also great artists.
When you have a catalogue as remarkable as his, how do you go about selecting songs for your shows?
The album was a proposal by Sony Classical and they wanted the famous songs, the show is a different repertoire, we only share six songs. Bruno and I listened to every single recording of Yves Montand to select the songs for the show, we chose the songs we loved musically, the ones which meant something to us as musicians, we selected some that aren't very known. The selection enabled us to tell a story, so we selected 30 songs, gave them a certain order, placed some text in between and we're telling his life story. Some of the texts were written by his great friend Jorge Semprún and wrote beautiful pages about him. The texts are as important as the songs.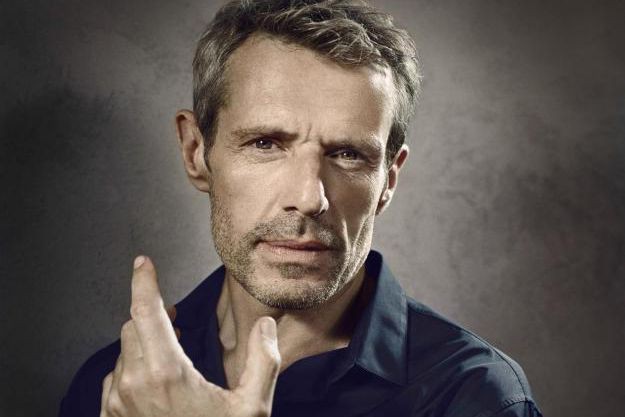 Besides your show on Montand, last year you played Jacques Cousteau in The Odyssey. The two are the biggest male icons in France in the 20th century, what was it like to take on both these legends in such a short time?
Funnily enough I was shooting the movie as I was preparing the album, the irony is both these men knew each other and had worked together. Montand was asked by Cousteau to do the voice over for some of his documentaries on the Amazon. With both men there was a bizarre amnesia in France, cause nobody under 40 years old seemed to remember them! These men weren't just the best known French men on the planet, but two of the best known human beings on the planet. Cousteau was one of the ten most famous people on Earth for Americans in the 1970s, and now people in their 30s have no idea who they were. It was frightening to witness this massive gap between generations, and how one star can be totally identifiable by one generation and unknown by the next one. I'm glad I made them present again, Montand did not write songs but he chose instinctively these great composers. His legacy is his selection of pieces. I'm not saying I'm filling the theatre with youngsters, but there are many young people who discover them with my show. Their legacies need to be passed on.
You've spoken about your love for Stephen Sondheim in the past, are there any of his characters on your bucket list?
I've done a few productions of A Little Night Music. One of the most nightmarish experiences of my life was auditioning for him when they were replacing one of the Princes in Into the Woods, I think I sang "Maria" from West Side Story, and he asked "why do you want to sing that song?" and I couldn't think of any reasons so I said "because it's a beautiful song." It was so embarrassing. I'm a huge, huge fan of his. We met when I did Music in London, and again when I did it with Leslie Caron in Paris. Sweeney Todd is more of a bass baritone character, I'm between Sweeney Todd and George, vocally I'm a regular baritone, so maybe in a few years I can do Sweeney. I would love to do Sweeney, it's a beautiful piece.
Having played the Marquis de Lafayette onscreen in Jefferson in Paris, are you looking forward to seeing Hamilton?
It's my dream, but I only have one day off in New York and it's the day the show doesn't run. I'm leaving the city the next day, but I'm happy because Jefferson director James Ivory is coming to see my show. It's going to be beautiful to see him again.
For tickets and more information on Lambert Wilson Sings Yves Montand click here.