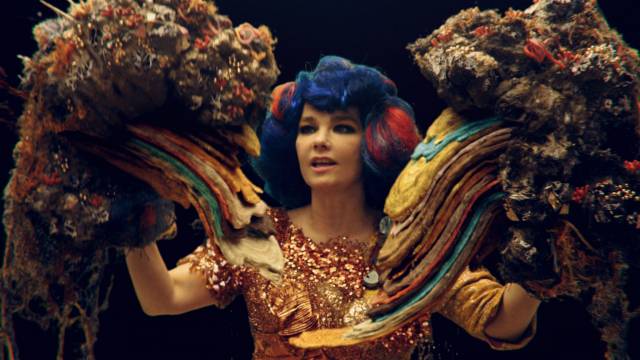 Few, if any, contemporary artists provoke the intense reactions elicited by Björk. The Icelandic eccentric has built an entire career on polarizing elements that have ranged from orchestral trip-hop to whole albums made using only human voices and guttural sounds, not to mention her passionate performance in Lars Von Trier's Dancer in the Dark (which she assured would be her last foray into acting). As such, she has created an image that distances some and seems to be a siren call to others, with fans of her work entering what seems like religious ecstasy while consuming her work. A brilliant aesthete, Björk has always paired music with haunting images, which is why the idea of going to the theater and watching her new concert film Björk: Biophilia Live, is practically necessary.
The film opens with exquisite images of nature accompanied by a David Attenborough-like narration which explains, "we're on the brink of a revolution that will reunite humans with nature through new technological innovations", Björk if anything has always seemed to be an optimist who embraces a marriage between technology and tradition (if not, just listen to how she creates delirious "electronica" without actual electronic instruments in "Triumph of a Heart" from Medulla), the narrator continues "until we get there prepare, explore biophilia", time at which the film turns into a "regular" concert movie.
But what is "regular" when watching Björk perform? From tesla music boxes that make eerie, but visually wondrous, sounds, to an all-female choir who easily go from praise-like behavior to rave-dancing, watching Björk: Biophilia Live feels more "cinematic" than most films currently in theaters. Directed by auteur Peter Strickland and Nick Fenton, who are smart enough to get out of the way and let the idiosyncratic Björk take command, the film feels like an operatic dream in which we see Björk become a goddess-like being who both nurtures and terrifies.
The setlist performed in Björk: Biophilia Live includes most tracks from the eponymous album, as well as fan favorites like "Possibly Maybe" and "Isobel", not to mention a finale that sends you home wanting to start a revolution of your own. It would be unfair not to mention that beyond her unique worldviews, Björk has always been keen on allowing us to explore this visions with her, something evident while watching this film. Few artists can make us empathize with the strange and allow us to find the extraordinary in the mundane, no other artist on Earth can make you sigh from romantic ache as you watch bacteria multiply.