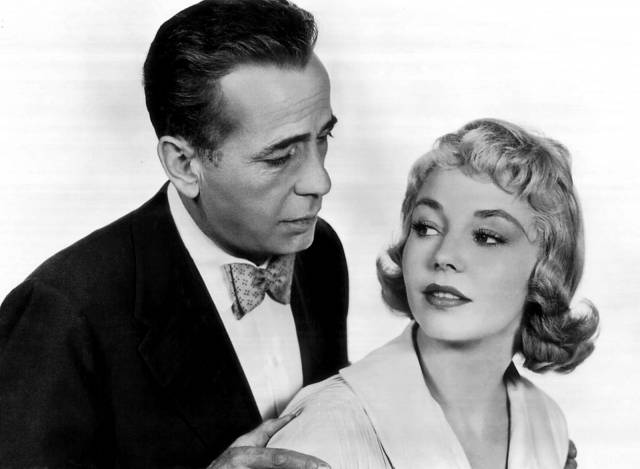 Whenever you hear people talking about classic Hollywood stars, the name Jennifer Jones isn't mentioned as often as Bette, Clark, Katharine and Bogie. Despite winning the Best Actress Oscar for her breakthrough role in The Song of Bernadette, and being nominated four other times, Jones' legacy seems to have been undermined by her personal life, especially her relationship with husband/protector David O. Selznick, and the idea that her parts were limited by her type. The type in question being the wholesome, saintly girl, whose cheeks would burn at the idea of something salacious. In films like Portrait of Jennie and Since You Went Away, she is the poster girl for everything that Hollywood thought men were supposed to covet.
But beneath her wide eyes, sweet smile and cherubic cheekbones, Jones had a darkly comedic side that was never put to use as perfectly as it was in John Huston's Beat the Devil (at Film Forum, in a new 4K restoration, from 02/17-02/23) in which she plays Gwendolen Chelm, the wife of the exemplary British gentleman Harry (Edward Underdown) who finds himself often as amused as he is discreetly horrified by his wife's remarks. Upon passing a group of men in the Italian port town where they await a boat for Africa, she exclaims "they're desperate characters, not one of them looked at my legs". Her naive self-awareness is what captures the attention of Billy Dannreuther (Humphrey Bogart) an expat living with his wife Maria (Gina Lollobrigida) who finds himself seduced by Gwendolen's tendency to overshare. When he takes her sightseeing she casually mentions he has her permission to "make love" to her, as she spills the beans on the real reason why she is traveling to Africa with her husband.
Watching Jones bat her eyelashes as she coos falsehoods, makes her Gwendolen the antithesis of a femme fatale, rather she's a woman who craves to see in others the life she sees in herself. Jones delivers Huston and Truman Capote's zingers with the unfiltered honesty of a child, but the more we fall into the film's labyrinth of a plot, the more we begin to doubt she's as angelic as she looks.
Beat the Devil is a genre spoof that proved to be almost too sophisticated in how it can also be seen as a stealth entry in the genre it's poking fun at. Every bit as complex as The Maltese Falcon or Casablanca, the film is proof that the only way to do a great parody is by being madly in love with what you're parodying. In scenes like the one in which Gwendolen overshares with Maria as she does reverse crunches on a yacht deck, Jones proves her gifts as a comedian were closely linked to her effortless sensuality, making one wonder what she might've been able to accomplish under the direction of sardonic masters like Billy Wilder or Preston Sturges. For those unfamiliar with her work outside the angelic canon, missing her in Beat the Devil would be sinful.