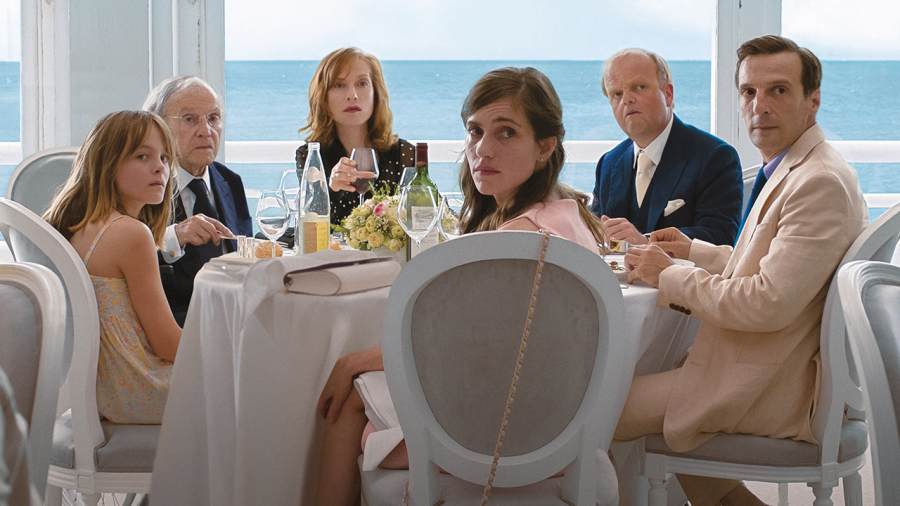 If we're to believe Leo Tolstoy, "every unhappy family is unhappy in its own way." But is the family from Michael Haneke's Happy End uniquely unhappy? Estrangement from the world and loved ones covered by the façade of bourgeois well being, is once again the focus of the new film by the Austrian director. Isabelle Huppert marks her fourth collaboration with Haneke (Time of the Wolf, Amor, The Piano Teacher), staring as Anne Laurent, head of a construction company and a family, residing in Calais. The slowly unwinding family saga does not lack for dramatic events and maintains a stark and prim appearance. Within the first few shots we witness a deadly poisoning, a suicide attempt, and a catastrophic accident on a construction site. The first two are presented through the vertical screen of a snap-chat-like app accompanied by anonymous comments. The third one is a shot with a "surveillance camera", equally unemotional.
Other types of digital screens appear throughout Happy End. Playing on multiple meanings of the word, Haneke's screens project a digital image and obscure something, a secret, as well as serve as a divider between two people. Characters come in pairs, creating a sort of catalogue of unhappiness. Opposite the ever busy Anne is her train-wreck son, Pierre (Franz Rogowski), who keeps causing trouble with his frantic soul-searching instead of being a reliable successor to the family business. Anne's brother Tomas (Mathieu Kassovitz), who leads a double life, and his meek wife, Anaïs (Laura Verlinden), are another broken couple, growing apart after the birth of their son. After Tomas's ex-wife goes to the hospital, his 12-year-old daughter Eve (Fantine Harduin) joins the cast of this soap opera for intellectuals. The reserved teenager gets rejected at first, but then becomes a trustee of Georges (Jean-Louis Trintignant), the patriarch of the family suffering from dementia.
The bullying teen and suicidal old man make the oddest and, arguably, the happiest pairing bound by a shared predisposition towards Thanatos. But there is a place for Eros in Happy End as well, namely the warm relationship between Anne and her fiancé Lawrence (Toby Jones). Characteristically, the business bond between them comes first (he is a lawyer handling a UK deal), and it is at the business meeting towards the end of the film when we first see them together in one room.
Cinematography by Christian Berger, Haneke's long time collaborator, consists of many steady shots, with dramatic events often unfolding in the distance. Be it in Georges' car driving off to a rendezvous with Death, or Pierre trying to talk to the son of a construction worker suffering from the accident. We might not immediately know what is going on, who is behind the wheel or behind the screen, which makes the tension only stronger. Haneke wouldn't be himself without an economic/racial divide thrown into the mix. The topic is introduced through Pierre's awkward attempts to reach out to immigrants of color, while shaming attendants of his mother's lush parties. In one scene he announces a family servant, Jamila (Nabiha Akkari), as their "Moroccan slave." It is difficult to tell if he is driven by the craving for inclusion, or merely attention seeking.
Haneke is the master of trivializing the despicable and creating suspense out of thin air. The haunting stillness of Happy End is occasionally interrupted by a nervous chuckle from the audience, but I still wouldn't call the film a comedy. Laughter comes out more as a defense mechanism rather than a symptom of joy. Suppressed emotions, alienation, and indifference to the outside world are an evil spell upon this privileged western family, making the communication between them challenging, to say the least.