Interview: From 'Hamilton' to Bollywood There's Nothing Utkarsh Ambudkar Can't Do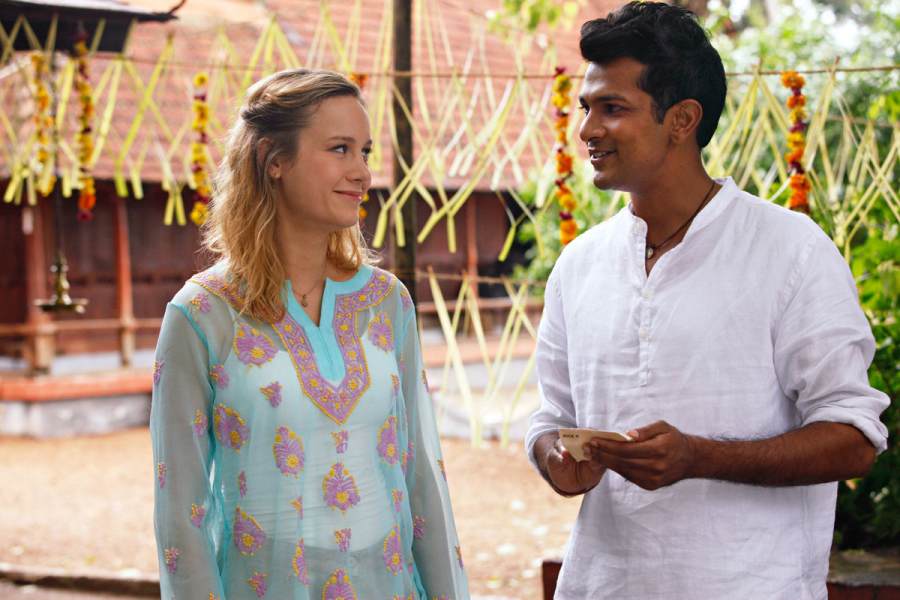 You probably know Utkarsh Ambudkar from his scene-stealing parts in Pitch Perfect, White Famous and The Mindy Project (he's Mindy's baby brother Rishi), but in Basmati Blues the talented performer will sweep you off your feet as Rajit, an idealistic young farmer who teams up with an American scientist (Brie Larson) to stop a corporation from exploiting farmers in India. The original musical showcases Ambudkar's many gifts and sees him evoking great romantic leads of classic Bollywood films. "It's a beautiful love story with great musicians, if people can believe in love for an hour and a half I think they'll really enjoy themselves" says Ambudkar on the phone about Blues.
Ambdukar has several projects lined up and he's fresh from the Sundance Film Festival where he was in the buzzed about Blindspotting, but during our conversation he speaks openly about the challenges of being a South Asian actor in an industry dominated by white men. It makes for a unique interview, as he deftly speaks about how in many ways the personal always becomes political.
You shot Basmati Blues a few years ago, were you interested in doing it because it was an original musical?
Music is my first love, so being able to combine acting and music in any capacity is something I love doing, so that certainly appealed to me. But being a South Asian actor and being cast as the lead in a romantic movie is very rare, we usually play computer guys or asexual best friends, or terrorists.I was cast in this in 2013 and I didn't get cast as a romantic lead again until 2017. The opportunities for a role like this are so scarce, I don't get choices, so I'm glad I had the chance to play this.
You're right, there's very few examples of South Asian actors who have found success in movies, there's just a few people like Aziz Ansari and Kumail Nanjiani. As an actor of color do you feel it's also your mission to call out the lack of diversity, and if so, how do you balance that with keeping your artistic needs satisfied?
The Big Sick, Master of None and The Mindy Project are good examples of South Asian talent, but they're also examples of people who have created their own work and roles. Those aren't projects that Hollywood develops, those are our own stories, these people have paid their dues, Aziz did years of stand up, Kumail did Silicon Valley, Mindy was on The Office...they normalized themselves in pop culture in order to have the freedom to create their own work, and that template should be copied by any South Asian actors who can. Similarly I've done The Muppets, Blindspotting and now I hope to develop my own screenplays and move South Asian stories forward, not culturally, but just telling regular stories that happen to have South Asian actors in them.
In Basmati Blues, the producers, director and writer are people who love India and wanted to write a love letter to the country. I was surprised, because things like Slumdog Millionaire glorify the poverty of India, while in Basmati Blues these people celebrate the richness inherent in the country, and its people. It's a film about love, it's not about a white woman coming to India to change it, it's a story about people from different parts of the world who find each other. I loved that.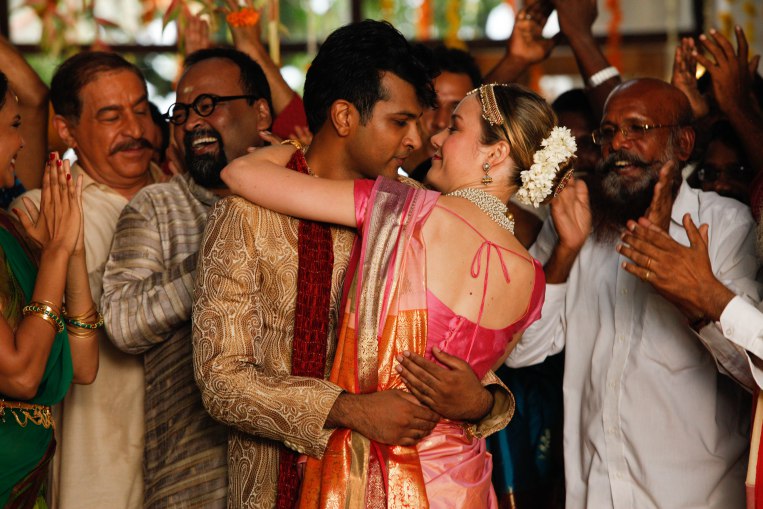 Did your parents raise you on Bollywood musicals? And did that influence the career path you chose?
It might have had something to do with it. I was raised on Bollywood musicals and loved them, but when I told my parents I wanted to be an actor I think they'd much rather I went down the path they went and got a PhD in Biochemistry. My father came from a small town and followed his dream to become one of the preeminent scientists in his field. When I told him about my passion he said he was familiar with the feeling of starting from nothing and working to achieve it. My parents came to visit me when I was shooting Basmati Blues and they ended up as extras in a scene.My father was pushing actors out of his way to get enough closeups, I think his dream of being in a Bollywood movie came true.
You were part of the Hamilton workshops and I wondered other than Aaron Burr, what character in the show would you like to play?
Hamilton, I think he tells my father's story. He worked all day, he literally wrote letters to leave his town, and then eventually to come to the United States. Seeing a South Asian actor play that part would be really cool. But let's be real man, every character in that show is great. My French accent is shit, but it'd be fun to try Lafayette. It's such a wonderful show.
You were in NYC for a long time and now you're in LA. Do you miss the MTA yet?
[Laughs] I don't miss that Q train at all. I don't have to worry about getting on the stinky car, but it's so funny, I still have a Metrocard in my wallet. I'm ready to go whenever I'm there. I love New York so much. I learned everything from that city, LA is great too, we have fresh avocados and it's 80 degrees now which is pretty dope.
I was listening to your cover of "500 Miles" earlier today and had never realized that song was so moving. How did you discover this?
I help raise money for the IAM Theatre Company at their annual cabaret, and this year the theme was songs from movies and I immediately thought of that song. Like you said what's so special about it is that the melody is so catchy that you never listen to the lyrics, but if you slow it down it becomes this melancholy, beautiful, longing poem full of depth. It's so strange! It seems like a one hit wonder throwaway, but I asked Janina Gavankar to come along, we rewrote some of the lyrics and I think it's really important to see an Indian woman and a man singing together. In Hollywood we're separated, Indian women are fetishized and Indian men are asexualized and emasculated. To have us both together, strong, powerful and in love, as the story of the video goes, is nice. And unfortunately, or fortunately, depends on who you ask, this is an image you don't see in America. I'm sure you feel the same way in your craft.
Don't even get me started.
My best friend is Cuban and was saying today how underrepresented the Hispanic community is in Hollywood. We have Gina Rodriguez and a couple of other people, but they're not very celebrated. The opportunities aren't presented, South Asian and Hispanic communities aren't that different, so it makes sense to me you're able to relate.
Given the xenophobic administration that's currently in power, has making art become an escape or a powerful way for you to carry across your message?
Both. There's a balance between celebrating love, and also using the art we have to reveal the truth in society and hoping that truth sparks conversation. On the night of the election, Trump is elected and the first person I reached out to was Lin[-Manuel Miranda], and I was like "yo, what do we do?" his response was "we write and we write and we write." That's what we've been doing.
Basmati Blues is now in theaters and on VOD.
---