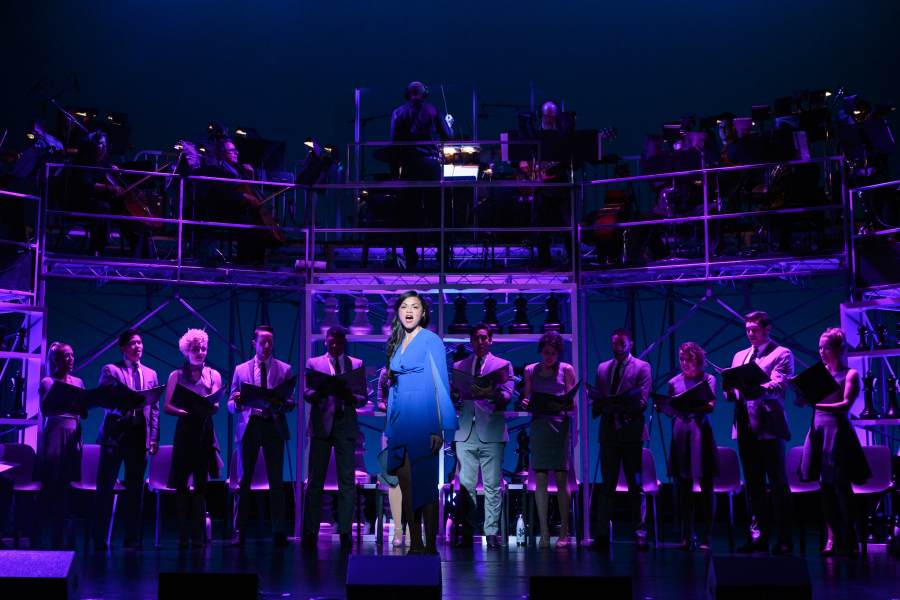 Even the most devoted fans of Chess, the Cold War rock musical by Tim Rice, and Benny Andersson & Björn Ulvaeus of ABBA, know that the book has more issues than a king trapped in a corner next to two bishops. With a convoluted plot involving Russian defectors, mentally unstable Americans, kidnapped Hungarian activists, and wronged wives, it's a miracle there's even any time for singing. And yet it's the songs that have warranted the musical's reputation as one of the most beloved, debatably underrated pieces of 1980s art. For the concert production that took place at the Kennedy Center from February 14-18, screenwriter Danny Strong was commissioned a new book, and while he wasn't able to solve all the musical's problems (how could he?) he made the focus sharper, so that audiences encountered a piece that eerily seemed to have been written about today. Chess after all is a muddled musical for our muddled times.
The brash American champion, Frederick Trumper (Raúl Esparza) became even louder and more obnoxious (the character's unfortunate name struck like nails on a chalkboard everytime it was uttered), his Russian rival Anatoly Sergievsky (Ramin Karimloo) became even more cryptic, the more he expressed through song, the more he seemed to conceal, and Florence Vassy (Karen Olivo) the Hungarian refugee trapped in the middle of their mind games became the musical's central, timely figure — the only character in the show who has everything to lose while the men around her please their egos.
Perhaps this is what's most prevalent in this version of Chess, the audience's need to find someone to root for when every character is an expert at double-crossing and self-preservation. Can we even root for someone? As we see Frederick and Anatoly change their agendas to suit their whims, in Florence we find someone who has things to lose that strike a current chord; she's a woman who lost everything during a social uprising, seeked refuge abroad and has yet to secure a permanent permit to live in America. When Olivo burst into her explosive take on "Nobody's Side," it was tinged with heartbreaking cynicism, but she's too sensitive a performer to let it become an homogenous song, so she ran a gamut of emotions so wide, the song itself would've been a satisfying night at the theater.
If the book remained imperfect, the ensemble was anything but, with the aforementioned Olivo owning every moment she was onstage, but also being generous enough to let others take over (it was certainly a delight to see Olivo beam with joy as she watched the incredible Bryce Pinkham sing "The Arbiter"). Esparza chose to embody the concept of "sex god" to deliver a performance that was all hip thrusts and raw vocals (his "One Night in Bangkok" was hedonism epitomized), while Karimloo stopped the show more than once with his smart choices.
Surprisingly sitting at the Kennedy Center for a musical about the tense relationships between the US and Russia didn't feel too on the nose, after all the musical couldn't help but be about what it is. Rather than overusing the show's timeliness, Strong and director Michael Mayer, let it run its course, inserting little nuggets of hope here and there. Instead of making Chess a tongue-in-cheek night at the theater, this production made one wonder: isn't it about time we were on somebody's side?