The temperature is a frigid 10 degrees as I make my way to midtown to meet with journeymen actors and Broadway funny-men Michael Kostroff (The Nance, HBO's The Wire) and Eric Leviton (Kinky Boots, The Full Monty) to talk about their upcoming show A Little Traveling Music, January 25 and 26 at the Triad Theater. Once unwrapped and ensconced in our booth at the New York Beer Company I am immediately warm. It's not the bar's heat, but rather the sheer camaraderie, quick banter, and obvious love that has grown from Kostroff and Leviton's more than thirty-year friendship. It is immediately apparent that these guys are a comic duo in the vein of Hope and Crosby, always ready with the witty comeback, and generous belly laugh.
Kostroff and Leviton met in the 1980's while performing in the original Aladdin show at Disneyland. It was there that these now season veterans of musical comedy had the notion that they should put together a show of their own. Seven years would pass before they would get around to it and it wasn't until they were both facing long runs on national tours, Kostroff in The Producers and Leviton in Seussical, that they decided the time was now. With only three weeks to spare they created A Little Traveling Music and by all accounts, their protracted period of rumination was well worth it.
Gentlemen, how do you describe A Little Traveling Music?

K: I think it is most similar to a Hope and Crosby "road picture"…if you did just the songs. [The plot is two] con men on the run passing themselves off as a well-travelled duo act. Well, it has a plot but the plot is so shamelessly flimsy we even talk about how flimsy it is. And, it is only there to facilitate singing some of the oddest songs that we were able to find.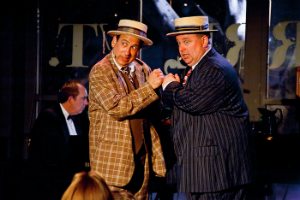 It took you both awhile to get the show 'on the road' as they say? Why the delay?
K: The origins of this show are completely non-ambitious. Eric and I said, we should do some funny songs for our friends one night and that's all. And that remains our credo. It took us seven years [because] this show has a bit of a positive curse on it; whenever we think about doing the show one of us gets a job and we can't. So we did it seven years later.
L: The first [performance] was at the house of a friend. We invited 40 of our friends and much to our surprise, 40 showed up.
K: It was one of the best nights of my whole life. For the next hour we watched people...well let me put it this way, I've never seen people laugh and at the same time be shocked by how much they were laughing. They were drooling, looking at each other, and going, "oh my god I can't believe it."
L: Well that makes us sound really good.
K: Oh no we're not good. Our friends are just okay. Afterward someone came up to us and said, "Where are you going with this and we said, "that's it." It was just for tonight. And they said, "No you're doing it again!"
When you performed this show in New York eight years ago you won the prestigious Nightlife Award for Cabaret. That's a long way from a one nighter in a living room for forty of your closest friends.

K: Its all been a surprise because we really only planned on that one night. To win a cabaret award? A Cabaret is all so meaningful and revelatory and we always say at our show you will not learn anything. You will not be moved. There's not a ballad to be found. We don't learn anything. There is no message. It won't take you anywhere.
L: There is not a serious moment in the show unless it gets us a laugh.
K: [There is one quote from a review that] we always use, "I laughed so hard I swallowed my gum."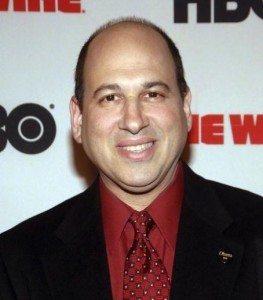 Your show is comprised of one hilarious song after another. Where did you find these gems?

L: Over the 7 years of talking about it…we said let's just go grab music. You find music, you like it, just grab it.
K: And we [had] some friends who knew funny, nostalgic, odd songs give us their ideas.
L: I went to the library a lot and started looking up books of 30's music, 40's music and novelty songs. Sometimes you just see a title like, "They wear them high in Hawaii" (he refers to Kostroff) you found that…
K: …it just sounds funny.
We started off with a very broad list and as we started to look at the songs we were gravitating towards we realized that a lot of them were about exotic locales or different places around the world and so that's when we got [our] idea. [It] grew out of the song choices.
L: The only rule is that it had to be stuff that people didn't know well and that we hadn't heard before. And it had to be silly.
K: You know people in musical theater know a lot of funny songs but we are not singing anyone's audition pieces. Typically, no one knows any of the songs in the show unless they are very old.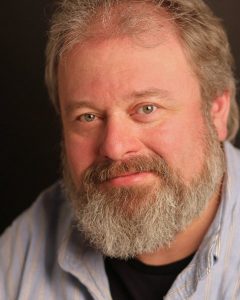 I understand that there is one piece of original music in the show but it has quite a story attached.
L: Michael wrote the last song which is called "A Little Traveling Music Please". A woman came up [to us after a performance] and said, "I love these songs. I love that last one, I loved it when Danny Kaye sang it." And Michael just stood there and smiled and said, Thank you.
K: I was so flattered.
A Little Traveling Music is ninety minutes of pure, silly joy that is destined to leave you rolling in the aisles. It will only be playing a short two-night engagement so be sure to reserve your tickets to see two of musical theater's funniest actors bring on the funny.