A New York legend by all means, Julie Halston has become synonymous with show business; having appeared on stage, film and television she simply seems to have done it all. And yet, she is constantly on the move. In 2015 alone she appeared onstage in the Broadway revivals of You Can't Take It With You and On the Town, and the former even garnered her an Outer Critics Circle Award nomination for Best Featured Actress in a Play. Ms. Halston first gained notoriety for her groundbreaking work with Charles Busch in the mid-80s, which saw her star in shows like Vampire Lesbians of Sodom; she also is popular for her singular one-woman shows in which she tackles topics that range from pop culture to politics, which have led her to win four MAC Awards.
On April 26, 2015, Ms. Halston will be honored at the 46th Anniversary Gala of the T. Schreiber Studio, where she studied with the famed Terry Schreiber. To celebrate the occasion, which will see former Schreiber students Jonny Orsini and Edward Norton honored as well, we sat down with the delightful performer to look back at her wondrous career. She also discussed the importance of Mr. Schreiber's work in the acting community and gave us a preview of what she'll be doing as Mistress of Ceremonies at the prestigious event.
I'm sure you're honored to be honored…
Well it's a little odd! I've been in the business for a very long time, I started Off-Broadway, I've played nightclubs, I've done my own work, I worked with the great playwright Charles Busch for decades, I've done Broadway, TV and film...so it's great to be honored, but also to be part of a gala with someone I really respect and that's Terry Schreiber, who was the very first professional teacher that I ever had who said to me "you know, I think you should do a lot of comedy", and I was like "I wanna be Hedda Gabler" and he was like "OK, I get that, but you're really funny and you should explore and exploit that". I had never been told that and he was the very first person to pick up on that side of me. I did indeed write my own material with my very dear friend Kenny Pearl, who was also studying with Terry Schreiber, so we had a comedy act called "Halston and Pearl" and we played the clubs around New York, and who else was playing the clubs but a man called Nathan Lane? This was in the 1980s and clearly Nathan Lane ended up doing OK for himself…(laughs)
So you've known Nathan Lane forever, no wonder you had such delicious chemistry on Sex and the City.
We adore each other! But thank you for noticing that, Nathan is a singular sensation and we both respect what we do.
How would you say that living in New York shaped who you are as an artist?
For one thing, New York has something that no other city in our country has: Broadway. When Broadway is great it's the highest kind of theatre it can be, it's a very special thing. When the quality is high, it's the highest, so you have to test yourself against the best, it's a little like the Olympics. When you see a great musical you know you will be singing and dancing with the best that there is, and you can't deny that. The talent on that stage is so enormous that it's magical and it forces you to come up to its level, it's the gold standard. New York is the gold standard for many things: publishing, fashion, theatre, culture...if you're a culture vulture you wanna be here. You have to come up to this standard or get out; to be a little Joan Crawford about it, "you're either gonna make it or you won't". I was foolish enough in a sense to be smitten with the magic, but ambitious enough to stick it out. It didn't come easily to me though, I wasn't a natural, everything with me was something I really had to work at, but I persevered. Also when you're working with people like Terry Schreiber who make you go that extra mile, or directors like Joe Mantello and Scott Ellis, they want you to go above and beyond and you have to. When you go beyond, there's no greater feeling.
Being honored by a place where you studied must feel odd, no?
It's very emotional, you feel like you've come full circle. It also means you're old (laughs) but it's wonderful. I know everyone at the studio, I've taught here too, these are great people who have been very supportive of my career and that's something you shouldn't take for granted. This is a very busy city and no one has time to look after your career, but these people have made the time to follow my career forever. I'm very grateful for this, everyone who's ever come to see me, at clubs, Broadway...I don't take that lightly. I have fans and I'm grateful for them, because they make you want to get better and better, you don't wanna slack off and live off your laurels. When I'm crazed and old and feeble and demented I'll live off the laurels, but until then I wanna keep going.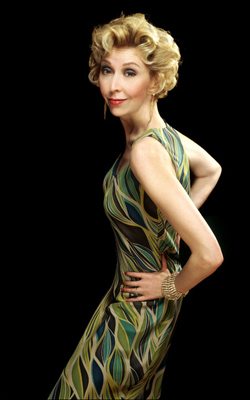 But you won't just be sitting there and listening to compliments! You're also acting as mistress of ceremonies. Have you prepared anything special?
I haven't yet, but I do love hosting. I do a lot of stuff off the cuff, but I do like to prepare something as well. I'll be working with Sally Dunn on this.
Will it be any different than what you'd prepare for a regular audience? These will be your peers and colleagues.
No, I kinda do everything the same. I might call upon some of my readings, I do readings of The New York Times and other things. I wanna get first what the tone of the evening will be about and I have to see what Ed Norton and Jonny Orsini are doing.
I think you and Edward and Jonny all have something in common which is your love of acting.
Love it! It's our passion. I don't really have a religion, so my religion is art. I can not tell you how moved I am when I see a great performance or a great dance, or an amazing singer. It moves my soul, it's very spiritual. Watching Birdman I could see some of that, those discussions about acting, but I understand it, Terry has always been very respectful of how difficult it is to be a great actor. When done correctly acting is a noble profession because you're a vessel for people's feelings and thoughts, you have to handle that with care. We live in tough times, we're bombarded with so much, now more than ever, and it gets crowded and noisy, so it's not always easy to find quality. People like Ed, Terry and Jonny are interested in the quality product, which might not always be the most popular one or the one that gets the most play, but it doesn't matter. We all fight for quality and it's not easy.
From your Twitter page sometimes it seems you wish you didn't have to work because you're missing out on so much great art going on when you're performing.
Yes! That's the great thing about being an in demand actor, which lately I've been, so that means next year I probably won't be able to get a taxi. But right now, I've been so busy that I'm missing a lot of great things, and some are limited runs, so I'll miss them. I hope they're being taped so I'll have to spend a day at the Lincoln Center Performing Arts Library...we'll see.
By now would you say that your cabaret acts are where you can express yourself most freely?
Yes, but doing my own shows has really helped me as an actress and also as a person who has to speak in public. You have to get really comfortable when you're out there in front of a lot of people, and it's an ease that I've developed through many years. The discipline of doing a one woman show also helps you when you get on a Broadway stage, which also helps you in front of a camera...it all feeds the other, and it's all about being comfortable. I've seen people who are very confident behind a camera for example, but freeze the minute they're on a Broadway stage. Or people who are amazing when they know the words they will be speaking, but the minute they have to go extemporaneous, they can't do it. When you have to do it all, you get good at it.
I get a feeling that the parts you end up playing are parts in which you see something of yourself, is this the case, like on You Can't Take It With You for instance?
I'm not a laid out drunk if that's what you're saying! But I certainly understand that kind of bitter actress, I certainly can identify with that. Also I think that's what great actors do, they're always going to find a way to get into the person they're playing. If you're an intelligent person you can figure out a way by remembering similar things that have happened to you. On the other hand, I also believe in something that a lot of actors don't agree with, I'm more of an outside-in actor. I am very influenced by a costume, a wig, a headdress, I am influenced by the externals and that helps me find the way in, while there are other people where that's the last thing they want to deal with, they want to find the emotional life first.
After You Can't Take It, you took over Jackie Hoffman in On the Town, which must've been so much fun.
It was crazy, I had two days rehearsal and boom I was on! On the Town is a huge musical, it's glorious, I'm so glad I did it! There was a moment when I thought I was crazy for taking it, but I think that because I've done a lot of Broadway it helped me to get through those wonky first performances because at a certain point you feel like "you know how to do this, you've done this before" and you just do it! That's the glory of being a performer, no time to be insecure. Comedy is a lot about confidence, people sense when you're not confident.
I love that we're in a time when we have two Comden/Green musicals playing on Broadway, the other one being On the Twentieth Century, it's like we're in a time machine, and you also did the play Twentieth Century, right?
I know, apparently I live in the 1930s and 1940s, I also did a lot of shows from that era with Charles Busch, I must look good in those outfits. Those plays and that era was a golden age when you had people like Kaufman and Hart writing who were geniuses, and works of genius never go away. I feel very honored that I've done many of those classics, and dare I say it, you can't entrust classics with just anyone, you better be good. I was so delighted with Scott Ellis' production of You Can't Take It With You, he set a gold standard, the ensemble was amazing and Scott knew how to get it right with the actors. We all loved the play, our leading man James Earl Jones, and we all respected each other because we were all really good. It takes that kind of commitment and generosity to do a good production and when you do that it feels like heaven on Earth, both onstage and also when you're out in the streets after the show. This is what I dream of when I was ten, I didn't know how to articulate it, so to be able to achieve it is very meaningful.
Even though you said you were told to do comedy instead of Ibsen, what you did is that you grabbed Hedda Gabler and subverted it. For example you did the Barbra Streisand album and combined it with Greek myths.
That was called Classical Julie and I still wanna bring that show back!
The way you were mixing genres is something you've been doing forever and we can see it now become mainstream in things like Hamilton.
This is true, although I worship Lin Manuel, but yes, I want to bring Classical Julie back because it was such a fun show to do! Thank you for bringing that up, I had such fun bringing Ibsen, Greek tragedies and Tennessee Williams and doing them in my Long Island voice, which if you know anything about Long Island Italians is we're very mythic, very epic and we believe in revenge. We're larger than life, so it's a lot of fun to be able to take great literature and turn it on its ear. In fact Annaleigh Ashford who was in You Can't Take It with me told me that of all the shows I'd done, this was the one she wanted to see the most, so she's also been encouraging me to bring it back, so I probably will bring it back next year.
You're making art so democratic by doing this.
It's very democratic, you can be from a working class background, a rich background, you could be anywhere...in Long Island or London, the world is very large but it's also very small, so we should use that to our advantage. That will help the world, it sounds very grandiose, but the fact is art can really help the world be a better place. Things like Hamilton, things like bringing Comden and Green back to Broadway in 2015 are wonderful. Bringing street cred rappers, artists that are working in various mediums together is very exciting. People think it may be too much or that they're too old, but it's never the case. It might be tiring to learn new things but we should embrace it all, we're here for a short time, let's embrace it all!
For more on the T.Schreiber Studio Gala visit their official website.