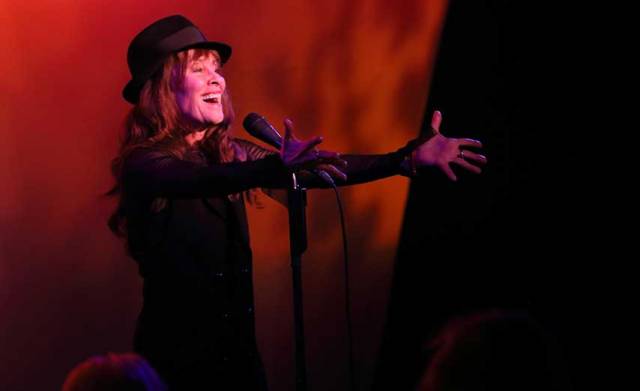 I'll just say it flat out. if you ever want to take a master class on how to do a cabaret show, go see Gay Marshall. This is the second time I've seen her Edith Piaf tribute show. The first time she had a full band of wonderful musicians to buoy her up. So I wondered, how will she fare with only herself and a piano this time around? I think you can guess. She brought down the house.
Her very first song, "L'Accordeoniste", was so completely soulful and heart-wrenching, that mere minutes into the show she already had half the audience dabbing their teary eyes. Really, I'm not just saying this. I looked around the room and saw the napkins rising. How was she able to cause such emotion just one song into the performance? It's a testament to her ability.
Marshall doesn't impersonate Edith Piaf, but performs the songs in her own style while remaining true to the original.  And then she layers in fun stories and conversation. The playfulness of her performance comes out in her banter. One of the breaks has her mentioning, to a room full of laughter, that Piaf also had happy songs, "We're just not doing any of them tonight." This is the extra charm of Marshall's show. The music is powerful and serious, yet she's able to keep the in-between dialogue light, funny, and completely natural. There is no pretense to the show. Even though I remembered some of her banter monologue from the year before, she keeps everything in-the-moment and current.
Another joy of seeing this Piaf show is that Marshall has taken upon herself the duty of translating the songs into English, so those of us that didn't take French in school can follow along and understand what the songs are conveying. She moves between English and French throughout, always effortlessly bringing us stragglers along for the ride.
Not only should this show be winning awards, it's also something that anyone wanting to see great cabaret should make the effort to see.
Below is a YouTube clip from last year's version of the show: