Luke Babylon, Christian Magician is the satiric/spiritual alter ego of out gay comic Zach Zimmerman, who recently left a career-on-the-rise in Chicago to move to New York City. At the Duplex a week or so ago, he made his Manhattan cabaret debut as a New Yorker with this zany show. I've followed him with interest on various podcasts, but that didn't prepare me for the delights the evening offered.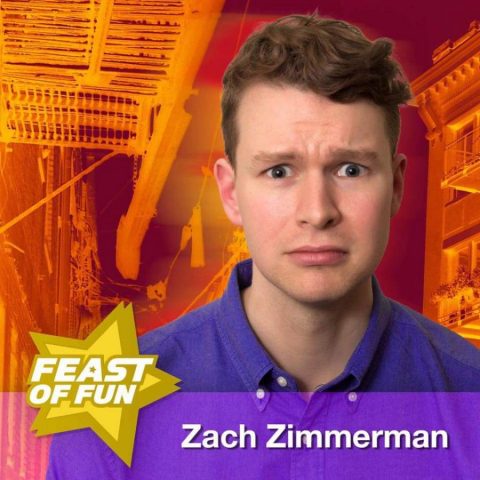 Zimmerman didn't even make an appearance on stage—it was all Luke Babylon, all the time. An eager, wide-eyed urban missionary seeking to encourage believers and win non-believers over to Jesus using prestidigitation. Luke is a charming and hilarious creation. The concept would still have been funny had he been a bad magician, but it is even more winning that for the most part, the tricks succeeded as much as the comedy did.
As the audience was seated, they discovered on each table a boxed pack of "The Life of Jesus" playing cards, and they were told not to open the box until instructed. Each card was illustrated with a bible verse and an appropriate illustration. The show was a participation-heavy affair, and the cards figured prominently in one big, multi-part trick. While I am not the biggest fan of audience participation, a magic show requires performer/public interplay, and as the evening progressed, it was consistently and increasingly funny; completely won over, I was an eager participant. At the top of the show, he polled the room to find out how many believers were present and how many atheists. His stated mission was to increase the former and decrease (if not eliminate) the latter—through his inspired and heavenly powers.
He was ably abetted by pianist Henry Koperski, who not only provided appropriate underscoring, but also helped out on a few of the tricks. Luke Babylon's "lovely wife/assistant"—a sad sack, browbeaten soul, treated by her husband in a way consistent with a staunch man of God—was played with hilariously earnest gravity by Ashley England. One could easily imagine this trio touring the Bible Belt, amazing patrons and saving souls. The magician admitted he made his living working weddings and unsuspecting bar mitzvahs.
There were two big set pieces in the latter part of the show that were too obvious to be successful on the magic front, but they proved as pleasing on the laugh front as did the rest of this delightful show. Their failure was due more to the layout of the room than to any weakness on the star's part. I look forward to seeing Zach Zimmerman, himself, in a stand-up situation, but in the meantime, Luke Babylon, Christian Magician was a happy surprise.
The Duplex – June 17
(a second performance has been scheduled: July 22, 9:30 pm)