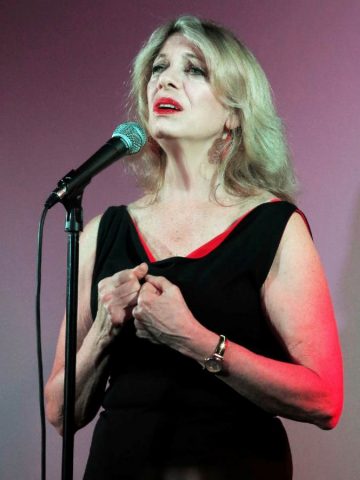 She rightly labeled Chavela: Think of Me, her recent show at Pangea, a "docu-cabaret." Indeed, Stephanie Trudeau's homage to ranchera singer Chavela Vargas, directed by Deborah Wright Houston, went far beyond the usual tribute hour or so. Vargas, who was new to me, came vividly to life thanks to Trudeau's carefully researched narration (all in English) and her spirited singing of passionate highlights from the extensive Vargas songbook (mostly in Spanish, with some lyric translations into English).
Photographic projections further fleshed out the long and intermittently happy life of Vargas, who was born in Costa Rica in 1919 and died 93 years later in Mexico City, where she had begun to sing in the streets and bars at age 14. For most of that time she was a reigning diva of Latin America and a friend to the artistic and famous, living for a year with Diego Rivera and Frida Kahlo in their Casa Azul, getting to know Trotsky, and singing at the wedding of Elizabeth Taylor and Mike Todd. Vargas even inspired the coinage of the Mexican word chaveleza, which means to be "consumed by emotion."
That quality, which Trudeau echoed in her own singing, is central to ranchera, which never really came north to the United States as a popular genre (although Linda Ronstadt learned it from her Mexican grandmother and recorded an album's worth). A combination of the vocal form of mariachi music and the Mexican version of country music, ranchera also featured a lusty, torch song desperation in its lyrics and delivery. Only men—usually fueled by tequila, or to excuse any mushiness, pretending to be—sang these songs prior to Vargas, who took them on while still in her teens. She was booed by audiences for doing so, but she was mentored by José Alfredo Jiménez, ranchera's most prolific mid-century composer, who discovered her in a cantina. He sang with her and wrote songs for her, some of which were heard in this show. Vargas also stripped down the mariachi instrumentation to a single guitar, the better to emphasize the lyrics. Throughout this show, David Lahm, arranger and pianist, and Ben Lapidus, on guitar, maracas, and backup vocals, provided topflight support in this less obtrusive vein.
Trudeau, who grew up with a Puerto Rican mother and Spanish-language songs, ranged as widely as she could in the ranchera genre—and into Mexican and Cuban pop. The Jiménez catalogue contributed his torch song "Corazón, Corazón" ("Heart, Heart"); its lyrics translate to "Don't tell me I'm going to lose you. I don't want you to kill my heart." The composer's heavy-drinking song, "Tu Recuerdo y Yo" ("Your Memory and Me") in direct translation goes, "There'll never be enough tequila; you're gone, but still you're here to torture me." The song became a tamer "Drinking Again," as adapted by Johnny Mercer and Doris Tauber and sung by Frank Sinatra. But the biggest cross-border surprise of all was "Cuando Vuelva a Tu Lado" (María Grever), the tune of which became "What a Difference a Day Made." "Noche de Ronda" (María Teresa Lara), Trudeau's mother's favorite song, is about a woman pacing her balcony and watching the moon moving across the sky like her unfaithful lover.
When Frida Kahlo died, in 1954, a distraught Vargas went to Cuba for two years to grieve, in the process broadening her Latin musical and cultural horizons. In Havana, she met and became intimate with La Macorina, an aging former courtesan. In her honor, Vargas wrote the music to a poem that was as steamy as anything back home; the resulting song was "Ponme la Mano Aquí, Macorina," whose lyrics translate to "Put your hand here, Macorina. You are so hot, the sugar cane, swaying like a woman, throws itself at your feet, to be crushed like you are its sugar mill. Your mouth is a blessing of ripe fruit…" As Trudeau indicated, any lingering doubts about Chavela Vargas's sexuality (carefully hidden in her early years) were erased, and the song became her signature and a lesbian anthem for all of Latin America. Trudeau also sang a Cuban song of broader longing and disappointment, "Quizás, Quizás, Quizás" ("Perhaps, Perhaps, Perhaps") (Oswald Farrés, English lyrics by Lila Downs), and for good measure the bouncy guaracha "Caramelo Aquí," an improvised street vendor song about selling caramel candies, which was such an audience favorite that Trudeau performed it again as a second encore.
To get and keep her audience in the spirit of Vargas ranchera and beyond, Trudeau encouraged her audience to sing along with two numbers and to dance in the aisles for one. Mid-show, she provided a tequila shot for every cabaret patron. It all worked wonderfully well. Trudeau's off-topic encore was "Bésame Mucho" (Consuelo Velázquez), a bolero rather than ranchera, but at least completely familiar to the audience, who was happy to sing along.
Chavela: Think of Me
Pangea – June 26