A deft three-song medley of "Follow Me" (Lerner & Loewe), "Gotta Move" (Peter Matz), and "The Gypsy in My Soul" (Clay Boland, Moe Jaffe) perfectly sets up the trip that is Marta Sanders's current show at the Laurie Beechman Theatre. Her longevity as both a person and a performer could have allow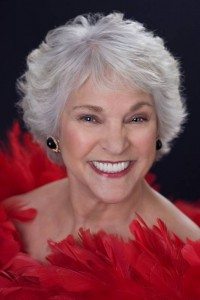 ed her to rely solely on self-referential autobiography (including her day job as a tour guide), her trademark humor, and her solid singing chops and still put on an entertaining set. But, in this show, Sanders also manages to provide us with some of her earned wisdom and perspective. Make no mistake; this show is a composite life lesson from a first-team artist.
Sanders doesn't merely invite us to "Come Fly with Me" (Jimmy Van Heusen, Sammy Cahn) "Around the World" (Victor Young, Harold Adamson) on this journey. When she speaks of her 35-year marriage, for example, with the help of such songs as "You and I" (Leslie Bricusse), "Two for the Road" (Henry Mancini, Leslie Bricusse), and "Falling Into You" (Jason Robert Brown), she induces us to ponder our own intimate relationships. This topic requires almost as much spoken narration as music, and I must admit to feeling somewhat shortchanged by the truncated medley versions of "Two for the Road" and "Falling Into You."
The most poignantly unforgettable song in the set," Bus from Amarillo" (Carol Hall), does get the full-length treatment and does at least triple duty. It reminds us that at the beginning of her New York career, before she veered off into cabaret, Sanders was in the cast of the original Broadway production of The Best Little Whorehouse in Texas, from which the song comes. Beyond that, "Bus from Amarillo" paid tribute to her own Texas childhood (as well as her father's) and her determination to move beyond it, and it spoke to anyone who ever left anywhere to find more of a life somewhere else, even if with apprehension. Similarly, "Velero" (Alberto Carrion), which she sings entirely in Spanish, evokes her mother's Argentinian upbringing and her own first trip abroad, to Bogota, Colombia, where her family spent her late adolescence.
Comedy is not forgotten, with two songs that still manage to hew to the travel theme. For "Warsaw" (John Wallowitch), a Sanders signature song, she doffs the long silver-sequined stole she's been wearing in favor of a flowered babushka, to deliver her version of a Polish accent and joke. "Hunk on the Bus" Michael Greer's borderline-bawdy paean to bum-watching, which he wrote especially for Sanders, may be more of an acquired taste.
Her encore, Sondheim's "I'm Still Here," a reprise from her rousing and well-received rendition at the most recent Mabel Mercer Foundation New York Cabaret Convention, has long been a go-to finale or centerpiece for countless lady singers of a certain age. Despite the overwhelming odds against it, Sanders makes this overworked number hers, yet again.
She acknowledges having a lot of help with her prize package, including from co-directors Mark Nadler and Debra Zalkind. Musical director, arranger, and pianist John McMahon supplies the knowingly perfect underpinning.
"Follow Me"
Laurie Beechman Theatre – February 1, 11, 16, 25