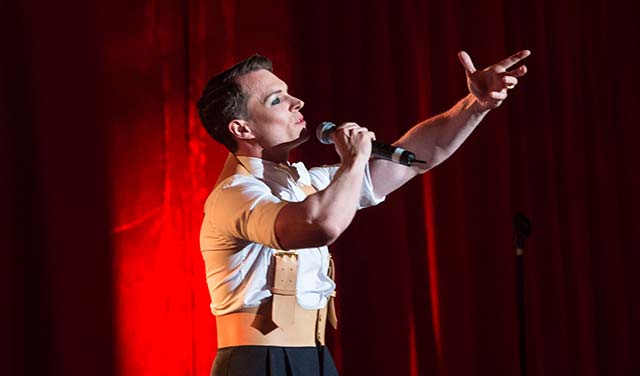 When I heard Kim David Smith was having a new show, I immediately wanted to run down and see it. I've seen this award-winning performer all over Manhattan for several years, and he never fails to impress. He commands the stage with his arresting looks and an energy that focuses the room. But this would be nothing if he didn't back it up with a truly amazing voice and style.
I recall a time I came home from one of his shows. I was inspired to go onto YouTube and look through countless versions of "Pirate Jenny", one of Smith's signature songs; I think he was the only male to do it, and his has remained by far my favorite version. He's so much more intense (and yes, creepy) than anyone else. By the time he finishes the tale, everyone in the audience is always left stunned. That song alone is worth the price of admission.
Now Smith is doing something new, hosting a weekly event at the rising-star club of cabaret, Pangea, located in the East Village of New York. If you haven't been there yet, it's a very small, elegantly appointed room in the back of a restaurant. But rather than feeling like an afterthought, it seems like their jewel. The owners have put a lot of time and energy into making this one of the best places to see live performances in the city.
The first night of the run featured the famed Joey Arias. It's great to see such a legend give his support to the project. He sang a couple of songs and had lots of fun with the audience.
Then we had a special guest star, Ali McGregor, swing over for a couple of numbers while she's in town. Ms. McGregor hails from Australia, where she started her opera career and then became an award-winning cabaret performer. I've never had the pleasure of seeing her before and it was a treat! She has an infectious personality, and she knows how to tell a story - any story - and keep the audience engaged. She is funny, charming, and WOW, what a voice. We were all thoroughly entertained by her.
Then came Will Ferguson, another performer with an opera background. Mr. Ferguson was extremely charming and he really blew us away with his rendition of the Stephen Foster's "Beautiful Dreamer". We've all heard the song before, and although always 'beautiful', it tends to have a certain stiffness to it. Somehow Mr. Ferguson is able to smooth out the edges and make the song feel fresh (not bad for a 1862 parlor song!).
Of course, kudos goes out the pianist/musical director, Tracy Stark, who was the backbone of the evening. She made every song feel polished, even when many were done without a rehearsal.
Smith and Stark will continue their Morphium Kabarett on Mondays throughout the month of May. Upcoming guest performers will include KT Sullivan, Jordan Hall/Boy Radio, Karen Kohler, Jenny Rivera, Gay Marshall, and Lina Tetruashvilli.
This reviewer says: Don't miss it!
See the StageBuddy Event Page:
https://stagebuddy.com/event/kim-david-smiths-morphium-kabarett
About the artists:
Kim Smith: https://kimdavidsmith.com
Joey Arias: https://www.earldax.com/arias.html
Ali McGregor: https://www.alimcgregor.com
William Ferguson: https://www.williamferguson.com