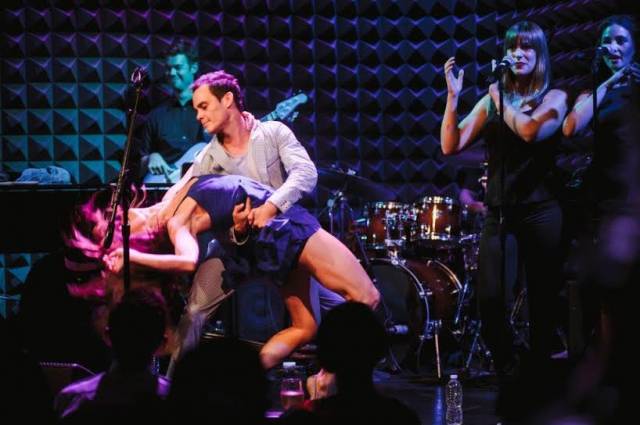 For those who don't speak the language, it might seem like quite an intimidating fact that the bulk of Migguel Anggelo's performance at Joe's Pub, Between Dreams/Entre Sueños, is in Spanish. However, by the time his hour or so on stage was up, the barrier of language is but slight in the face of larger than life theatrics; emotional truth somehow speaks through it all.
For his latest show, Anggelo performs with a backing band and singers in Joe's Pub at the Public Theater, an intimate, nightclub-style venue. A colorful blend of singing, dancing, and storytelling weaves loosely around Anggelo's life, from his birth, to his art, to characters he's met along the way, forming an indeed dreamlike patchwork of inspiration.
There was a true cosmopolitan quality to the show which in the hands of another artist may have come off as pretentious, but through Anggelo read as a natural, easy affect, one which sprung from his unique and at times downright bizarre life experiences. I was struck most notably by this feeling when in this hazy New York club, he launched into a song in Spanish about searching for Matisse paintings in Paris.
Another impressive aspect of the performance was Anggelo's remarkable control -- classically trained, he has a distinctive mastery over his voice, as well as his body, his fellow performers, and the rapturous control and command he casts over the audience (I kid you not, one man in the back shouted "I love you Migguel" more than once). But stemming from his remarkable vocal control and control over his body movements, there was a rigid, almost angular quality to the choreography that, though very striking, somehow didn't seem to align with the overarching theme of dreams. The hairpin turns from shrieking, explosive, hip-shaking crescendos to sobbing, shaking, lamentations happened within the blink of an eye and were almost unsettling. Far be it for me to speak to the nature and quality of someone's dreams, but Anggelo is often frantic, almost hysterical, pushing his performance to the arresting point of insanity and then drawing back with astounding flexibility, which, if you can hang on, leads to a performance that unfolds in an endlessly surprising and rewarding way.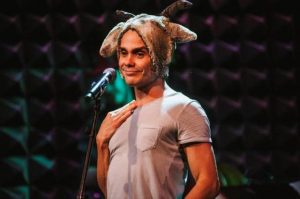 He similarly transitions between cultural artifacts, from belting Latin infused versions of Annie Lennox or Edith Piaf, quoting Wallace Stevens, tweaking Disney songs, referencing Matisse and Botticelli, Diego Rivera, Tennessee Williams, the list goes on. He has an indescribable, hypnotic power over the audience, and through fleeting glances and winking nods, it's easy to see what a collaborative, loving rapport he has with his backup singers and backing band as well.
So like dreams, nothing in the performance seems to fit together as neatly as it could, and Anggelo leaves the bulk of the interpreting on the shoulders of the audience, but hey, throw in the two drink minimum at Joe's Pub, and that's just part of the fun.