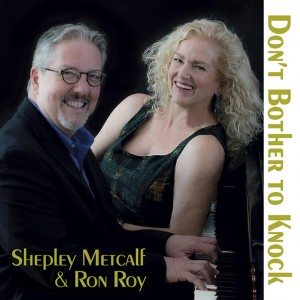 Shepley Metcalf, cabaret and jazz vocalist, treated her audience to a delightful set of relatively unknown songs from the 1930's to the 1950's at the Metropolitan Room on Saturday night. Celebrating the release of her third CD, Don't Bother to Knock, Ms. Metcalf brought little known gems from the Great American Songbook to vivid life with a keen understanding of the relationship between the lyric and music. Calling herself an archeologist, she spoke about "going on a dig" for songs that have rarely been recorded since their debut, songs with compelling stories, clever word play and lovely melodies by some of the greats, including Johnny Burke, Jimmy Van Heusen, Burton Lane, Dorothy Fields, Irving Berlin and Cole Porter.
Ms. Metcalf is musically joined at the hip with her one man band, extraordinary pianist and arranger Ron Roy, and together they have a relaxed, easy style reminiscent of the big band era. Opening with "They Say" (Edward Heyman, Paul Mann and Stephen Weiss), a song that received a little bit of attention when Helen Forrest recorded it with Artie Shaw's orchestra, Ms. Metcalf gives us a quirky rendition of a gal being crazy in love with someone who everyone else sees as a big jerk. In "You're Not the Only Oyster in the Stew" (Harold Spina, Johnny Burke), she brings her own combination of intelligent wit and swing to a song made famous by Fats Waller. The lyrics are delicious, including the line "You're not the only wrinkle in the prune." And she sings "Walk It Off" (Sidney Miller, Inez James) with sass.
Possessing a velvety voice with a ragged edge, Ms. Metcalf sings expressively, bringing to each song the authenticity of a woman who's experienced life's ups and downs. Her achingly beautiful interpretation of Cole Porter's "Who Said Gay Paree", a song cut from his musical Can-Can and only recorded by Cole himself, was given an equally heartbreaking arrangement by Mr. Roy, who wove in strains of the familiar "I Love Paris". Another ballad Ms. Metcalf brought heartfelt simplicity to was "Have You Forgotten So Soon" (Edward Heyman, Sam Coslow, Abner Silver), which she dedicate to all who have taken the risk to love and got dumped. It was great to hear a couple of songs neglected jazz singer Annette Hanshaw sang in the 30's, especially "I Gotta Get Myself Somebody to Love" (which was featured in the critically acclaimed animated film Sita Sings the Blues) and "My Future Just Passed", written by Richard Whiting, Margaret Whiting's father. The real find of the evening, however, was not a love song, but a life song of reflection, "Through the Windows of Cars", written by Roy Kral and Fran Landesman. Perfectly crafting each lyric, Ms. Metcalf took the audience on this striking song's contemplative journey.
Here's hoping that Shepley Metcalf continues to be a song sleuth, unearths more forgotten gems and she and Ron Roy share them with us all.