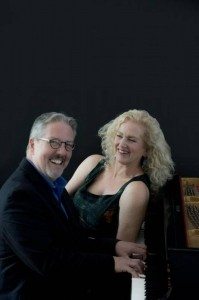 Singer Shepley Metcalf and her musical director and pianist Ron Roy are like coffee with cream, and sometimes champagne and caviar, in their new show Going Places at the Metropolitan Room.  The magnificent musicianship and innovative song choices of this duo make for a wonderful musical trip around the globe.  Mr. Roy and Ms. Metcalf create the world of each song with precision and passion; to have such dedicated artists so in service to the music and the lyric is marvelous.  They also generate an intimacy with their listeners, as if the audience has been invited into their living room and is drawn into their musical imaginations.
Opening in a jazzy mode with the classic "Come Fly with Me" (Jimmy Van Heusen/Sammy Cahn) followed by "Route 66" (Bobby Troup), the evening is not only about the places you go, but how you get there: plane, train, automobile or the travels are mind takes.   Paris is of course a stop on the tour and includes a fun song by Catherine Coleman entitled "My Baby Thinks He's French", filled with delightful rhymes and mixture of every distinctly French song we've ever heard, from "La Marseillaise" to Offenbach's Can-Can, plus Mr. Roy's heartbreaking arrangement of an instrumental "April in Paris" coupled with Ms. Metcalf singing an obscure Cole Porter song "Who Said Gai Paree?".  When it comes to finding fascinating material, Ms. Metcalf and Mr. Roy are bloodhounds!
Mary Chapin Carpenter's "What If We Went to Italy" was a perfectly told story of longing for a daydream to become a reality, "April in Fairbanks" (Murray Grand) comically sly, and Richard Rodgers and Stephen Sondheim's "What Do We Do? We Fly!", written in 1965 for the musical Do I Hear a Waltz?, surprisingly up-to-date about the travails of air travel.  Several songs had oodles of lyrics; lists and fast twisting rhyme schemes in "In a New York Minute" (Simon Wallace/Fran Landesman) and "Chicago Anyday" (Susan Werner) show off Ms. Metcalf's vocal facility and her ability to give every phrase a point of view.  The song that really took the audience's breath away was Ms. Metcalf's rendition of Tracy Chapman's "Fast Car".  Stepping back, leaning her elbow on the piano she takes us on this young woman's journey to get away to somewhere that's better.  Ms. Metcalf became that girl whose dream to be someone had been broken.
With a smooth versatile voice that can growl on the blues and sass up a jazzy number, Ms. Metcalf's vocals also possesses that edgy catch of a sob that conveys loss, while always singing from an authentic place.  She also has the rare gift of making every lyric crystal clear and connected.
Ms. Metcalf makes mention of how traveling has inspired composers and lyricists throughout time and even reads us a delightful rhyming list of songs she and Mr. Roy unearthed in putting together this show.  "Of course," Ms. Metcalf quips, "we'd be here for hours if we sang this entire list."  Her audience would have gladly stayed!