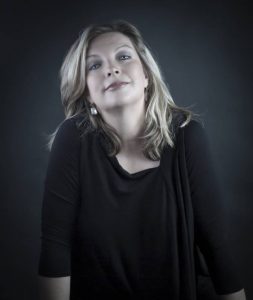 Susanne Mack is luminous in her new show RECONCILIATION, a gripping personal story interspersed with an eclectic choice of songs, as she tells us of growing up in a small town in Germany searching to find out who her father was and surrounded by secrets.  The show is a deeply moving musical memoir beautifully directed by Gretchen Cryer that had the audience in stunned disbelief at times.  Ms. Mack first began to explore this story in Ms. Cryer's "Writing for Solo Performance" class and they worked together to shape and hone a story that not only reflects Ms. Mack's heart-wrenching journey but also throws a broader light upon Germany's attitudes and consciousness after World War II.  Throughout Ms. Mack's beautifully constructed narrative, rich in imagery and truthfulness, a diverse selection of music in both German and English plays counterpoint to the story.  With porcelain skin, striking blue eyes and softly streaked blond hair framing her expressive, finely featured face, Ms. Mack exudes a classic glamour: the kind of woman who wears a French twist with élan. Her unique presence evokes the dark aching vocal qualities of Marlene Dietrich, the natural elegance of Grace Kelly and the spunk of a German Doris Day.  Her alto voice is able to access to perfection a tremor or quaver of an emotional cry that she uses to her advantage singing ballads.
The versatile space that Pangea offers to their performers was the perfect backdrop for RECONCILIATION, and as Ms. Mack moved in and out of characters, the room seemed to morph with her.  Entering the space as a turbaned fortune teller, Ms. Mack set the tone for the mystery about to unfold with Hanns Eisler's art song "Chanson Allemande", text by Berthold Viertel ending with the foreshadowing words "Die meine wird dir die Geschichte sagen/die Jahresdaten meiner Traurigkeiten. My story will tell you/the years and dates of my sadness."  Then, speaking as six-year-old Susanne, she begins by revealing that she doesn't know who her father is and her mother won't divulge the secret, leaving the little girl to fantasize and wonder.  Ms. Mack shifts effortlessly between herself as a young girl and the voice of her beautiful yet weary mother.  She sings with waif-like charm Michel Legrand's "I Will Wait for You" and with devastating sadness in the character of her mother, Maltby/Shire's exquisite ballad "Patterns".  Taking us through her girlhood on up into young adulthood, Ms. Mack recalls pivotal moments that seem to always be connected to secrets; at 12-years-old, she learns about the Holocaust in school.  Distraught at the death of 6 million people she confronts her grandpa and with flashing eyes wails, "Why does no one tell me anything?"  The depth of her storytelling in this section is enhanced by Ms. Mack's throaty impassioned singing of "Mackie Messer" (Kurt Weill/Bertolt Brecht), the subversive "Silent Spring" (Harold Arlen/E.Y. Harburg) and another Hanns Eisler gem with lyrics by Bertolt Brecht, "The Whitewash Song".  As Ms. Mack shouted out the lyrics, "It's whitewash we need/lots of whitewash we need/we do all we can to keep things covered up until a later date/….But these ugly cracks refuse to disappear," a collective chill went through the audience; for a few moments Pangea was transformed into an underground cabaret in the Weimar Republic.
Other musical highlights of the evening included a wistful "Party Doll" (Mick Jagger), a poignant rendition of" Let Me Come In" (Gary Friedman/Will Holt) from The Me Nobody Knows with backup vocals from her excellent musical director/pianist Tracy Stark and the superb John Di Pinto, who added lushness and context with his accordion playing and some improvised percussion.  Ms. Mack rocked the room with a bluesy "Papa was a Rolling Stone" (words and music by Norman Whitfield and Barrett Strong) and wowed us with her "Fifty Percent" from Ballroom (Billy Goldenberg/Alan and Marilyn Bergman), sung with fierce conviction.  This song, although placed late in the show, is perhaps one of the cornerstones for Ms. Mack's story.
Since Ms. Mack's show is a bit of a page turner, I don't want to give any spoilers, but suffice it to say that there are several reveals, one in particular that makes the audience gasp.  Closing her show with three perfectly chosen songs, Ms. Mack rejects the adage "What I don't know, won't hurt me" and sings of her yearning for truth in Frank Wildhorn and Leslie Bricusse's  "Living in the Shadows" from Victor/Victoria, followed by "My Secret Life" (Leonard Cohen/Sharon Robinson) and ending with a triumphant Tracy Stark song, "Find my Strength".  In RECONCILIATION, Ms. Mack has shown us how to courageously walk through the pain and live with transparency in plain sight.