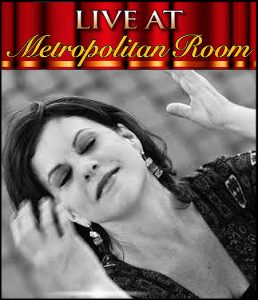 Versatile soprano and chanteuse Wren Marie Harrington's show Tropic of Broadway at the Metropolitan Room creates some summer heat with a Latin beat as she takes us on a musical tour of songs from both the American and Global songbooks.  Along with a world class band of musicians, Ms. Harrington deftly weaves diverse tunes together, from Rodgers and Hammerstein's "Surrey with the Fringe on Top" to "Rosa Morena", a saucy samba (Dorival Caymmi), to songs sung in Portuguese and Japanese, many filtered through a Latin jazz-infused lens.
With her warm, sunny personality, Ms. Harrington opened the evening with the standard "Poinciana" (Nat Simon/Buddy Bernier), based on a Cuban folk tune, and revealed that when times get tough, she retreats into the comfort of classic movies on TCM and the Golden Age of Hollywood; this is her form of denial, to go into a "time warp"!   Singing "Surrey with the Fringe on Top", Ms. Harrington shared the vocal line with saxophonist Mahlon Hoard, making for a sizzling ride with a Rio beat.   With her rich lower register and smooth phrasing, she filled "Night Song" from the Broadway musical Golden Boy, covered by such greats as Sammy Davis Jr. & Nina Simone, with a heartbreaking yearning.  Other American classics Ms. Harrington gave a unique spin to included the classic Howard Dietz and Arthur Schwartz song "Rhode Island is Famous for You" from the 1948 review Inside U.S.A., Cole Porter's "So Near And Yet So Far" with some exquisite flute solos by Yael Acher "Kat" Modiano, and an up tempo version of the beloved "On the Street Where You Live" (Alan Jay Lerner/Frederick Loewe).  A stripped down "Great Day" by Vincent Youmans from the musical Great Day featured Italian wunderkind bassist Andrea Veneziani, supplying both rhythmic and harmonic structure to Ms. Harrington's vocals.  "Great Day" fit right in with Ms. Harrington's musings; it was a flop, opening one week before the 1929 stock market crash and closing one week after.  But this song remains a hit 87 years later!
It's always fun to be exposed to something new; in "One Summer's Day" (Inochi No Namae/Joe Hisaishi) Mr. Harrington sings a hauntingly beautiful melody about stolen memories and she tackles with gusto the wild word mash-ups in "On the Amazon", a 1920s English novelty song by Clifford Grey and Vivian Ellis.  A highlight of the evening was the simple rendition of the sweet "Hi Lilli Hi Lo" (Bronislaw Kaper) from the movie Lilli, which the Broadway musical Carnival is based upon.
The drummer and the pianist are the glue of any great band and Ms. Harrington scores with the sensitive and technically brilliant Tomoko Ohno on piano and the terrific Rogerio Boccato on drums.  She called it "divine synchronicity" in finding such a stellar group of musicians including calling upon connections from her neighbors in her apartment building, which then led to other connections, etc.  Bravo to Ms. Harrington for bringing together musicians and songs from around the world to create a rich evening.