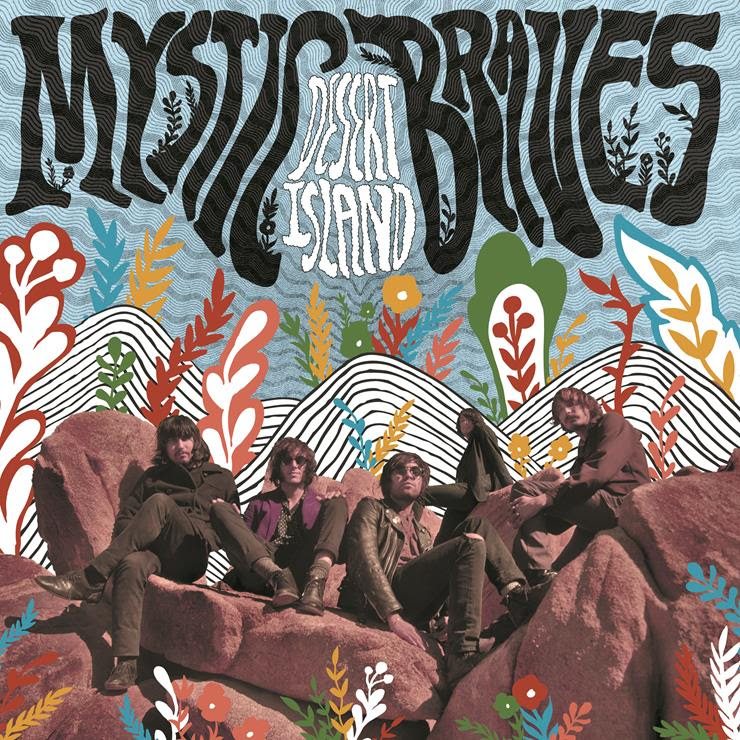 Time to take a trip into a time machine and arrive in the 1960s where freedom, peace and love were the mainstream ideals of a generation and hallucinogenic drug experimentation caused a stir in visual art and music. Enter the Mystic Braves, a throwback group from Echo Park, Los Angeles. They're a delicious musical concoction of British Blues, psychedelia, California surf music, and sunshine pop. Their new LP, "Desert Island", is littered with upbeat, jangling tunes that give a nod to everything associated with the Baroque Pop era. They are now carrying the torch that was once held by groups like The Beach Boys and The Mamas & the Papas.
The record does not disappoint in providing a window to the music scene of yesteryear, but this doesn't mean that it is simply parroting outdated concepts. The instrumentation is nearly identical to the type utilized by the British Invasion artists; it's what this group does with these familiar tones that sets them apart. That's not to say that they don't give not-so-subtle hints of where they draw inspiration from; the opening of "I Want You Back" is an obvious homage to the intro to The Animals' "The House of the Rising Sun".  Uneasy, almost creepy harmonies run amok throughout the album and are only enhanced by the dramatically swirling modulation of the rock organ. This sound is evidence of a strong influence from The Doors' Ray Manzarak and his Gibson G-101 combo organ playing. Clean guitars with intricate picking patterns give a refreshingly spacious feel to the whole experience. This is most clearly demonstrated on the track entitled "In the Past" where two separate parts, one strumming bold open chords and one picking a splashy single-note melody, complement each other while bringing forth a satisfyingly ample stereo image.
The songs themselves all rely on a combination of enigmatic melodic phrasing and an overall atmosphere that oozes mellowing, kaleidoscopic psychedelia. The track with the most commercial potential is by far "Born Without a Heart" with its anthemic chorus, thumping pulse, and rapidly mutating chord progression; the little country-western guitar licks and reverb-drenched vocal harmonies don't hurt either. The title track even incorporates Latin-style rhythms against a proto-punk vocal delivery.
In short, these guys seem to want to rewrite music history; I must admit, it's fun to imagine this release actually being recorded in the 60s. The flower power era of rock may be dead but this band is a refreshing, ghostly image of that time period.
https://soundcloud.com/mysticbraves/sets/mystic-braves-unreleased