Album Review: Tomás Doncker Band's "Moanin' at Midnight: The Howlin' Wolf Project"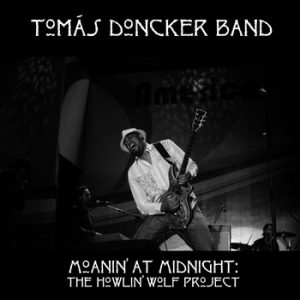 "The original blues masterpieces written and recorded by Howlin' Wolf and Willie Dixon in the fifties really need an update," said no one ever. But here they are anyway. Tomás Doncker, a veteran of New York's soul and roots music scene, has put together a project that takes Chester Burnett's (Wolf's) Chicago Blues classics such as "Smokestack Lightning" and "Spoonful" and gives them a modern blues polish. In the process, the tunes lose their old-school charm and historical significance. That's not to say he butchers Wolf's work; he simply disconnects the songs from their time period and makes them sound as though they were composed today. It's this quality of the album that will undoubtedly be polarizing and separate the purists from the modernists.
All of the songs on the record have been covered before, which means there is no hallowed ground. From Cream to The Doors to Hendrix, these pieces were reworked by some of rock's biggest names in the sixties. So, does Doncker add a unique voice to the conversation? In some ways, yes. He transposes "Killing Floor" to a minor key and drastically slows the tempo, transforming it into a crawling soul ballad. "Smokestack Lightning" takes on a heavy metal-country veneer compared to its initial jump-blues ancestor; and his reimagining of "Spoonful" is a bruising rocker with crashing dominant guitar chords slamming on the down-beat. But, for every novel take on Wolf's primary craft there is an old-hat, all-too-familiar play through that doesn't innovate effectively enough to compel you to listen to it instead of the vintage recordings.
While the overall originality may be uneven, the passion behind the music is perpetually high. Doncker does his absolute best to vocalize like the gravelly, pain-inflected stylings of Wolf; it's ultimately a fool's errand but you can't fault him for trying, especially when he has interesting vocal qualities of his own. Doncker's guitar playing has a spacey, psychedelic flavor to it, which is due to the thick, warm distortion and decaying echo. His solos certainly don't incorporate the organic twang of Hubert Sumlin's genre-defining, stinging licks but they do have a grungy, singing attribute that pairs well with a more contemporary instrumentation. The highlight of the album is the ornamental, heartfelt harmonica playing by David Barnes. His harp interlude, "Blind Melon Morpheus (Missed the Train)", captures the essence of the blues more so than any other sound-byte on the entire record. This great moment leads into a tune by The True Groove All Stars called "Shook Down", which -- despite not being part of the Howlin' Wolf repertoire -- continues the legacy of the founders of the Chicago Blues movement with its instantly identifiable shuffle.
The closer of the album is a hint at what could have been. It's a dubmix of Doncker's version of "Moanin' at Midnight" that highlights its repeating, irresistible bass-line and poses it with a skank dance rhythm. The sparse arrangement gives the vocals a haunting, more urgent quality that recalls the commanding nature of Wolf's singing. If only this approach had been utilized throughout the whole record, it could've had the potential to summon the true spirit of Wolf and his important contribution to the blues. What was that contribution? Authenticity. The ability to make lyrics come to life and form them into a compelling narrative was Wolf's forte. In summation, there's some great musicianship on this particular record, but the shoes of Chester Arthur Burnett are fundamentally too large to fill.
Release Date: July 8