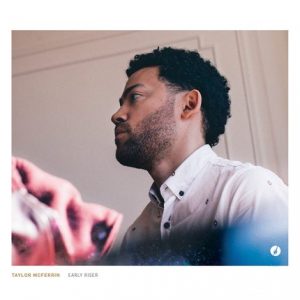 Experimental electronic music isn't exactly a mainstream affair. Its unconventional, ambient tonalities so often alienate listeners of EDM and synth pop alike. This is why Taylor McFerrin's brand of exploratory, electronic jazz is such an enigma: it transcends its stylistic origins and espouses an artistic expression that's approachable from a traditional perspective yet groundbreaking in its execution. On his new album, "Early Riser", this apparent paradox sounds in full form on tracks like "Florasia" where an identifiable R&B base is given a surrealist laminate. His ethereal keyboard chord-voicing and exquisite use of orchestration entangle to create a soft, vulnerable cradle on which he lays a decidedly smooth, soulful vocal. His knack for orchestrating various electronic voices into a dizzying symphony is demonstrated in the captivating instrumental "Stepps". Unorthodox in its harmonic movements but positively baroque in its melodic motifs, this tune is a sampler's fantasy due to its steady, dependable beat.
Guest stars are commonplace throughout the record and include Robert Glasper, Thundercat, and his father, Bobby McFerrin, to name but a few. Bobby lends his otherworldly vocal abilities to "Invisible/Visible", a modal and ambient piece that leaves ample room for improvisation, and improvise he does. His uncanny takeoff of a woodwind instrument during his vocal solo is breathtaking in its understated beauty and the sheer display of technical dominance that McFerrin has over most vocalists. It was a moment that I found myself replaying and enjoying to the same degree as the first time I heard it. At the climax of the solo there's a magnificent falsetto note that is so tasteful and timely in the context of the song that it leaves no ambiguity as to why Bobby McFerrin is such a jazz vocal legend. Just as critical to the album's effective guest performances is the song "Already There"; this track boasts Robert Glasper on keys, Thundercat on bass, and Marcus Gilmore on drums. The funky pulse laid down by this trio of musicians is equal parts hypnotic and grabbing. As is true of the rest of the record, the balance of common themes with more progressive concepts is the enigmatic engine behind the intriguing nature of the music. The x-factor of this particular track: Thundercat's melodic, finger-twisting bass playing.
The sendoff of the album is "PLS DNT LSTN", a burning fusion track with darkly stated bass phrases amongst high-hat trickery. Its appeal is that the fickle chord progression gives a voice to both darkness and lightness; one chord evokes melancholy while the next has a hopeful characteristic to it. This equilibrium of brightness and shade makes it the most emotional tune on the album. It's an accurate metaphor for the ending of an enjoyable record in that you are somewhat down to see it end but also upbeat for having experienced it.