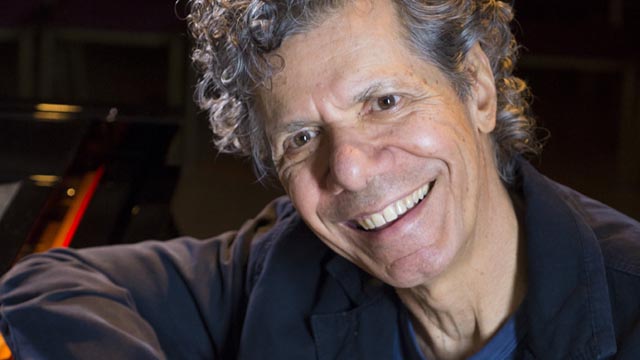 The pianist, the man, the legend: I'm speaking of course about 72-year-old jazz veteran Chick Corea. His two-plus hour solo piano stint at The Town Hall was nothing short of extraordinary. He noted that solo piano is a spectacle best experienced in an intimate club and said, "Gee, with the stage this high it will be hard to get that warm feeling going. But we'll make it work."
The piano rang through the air as he ran effortlessly through cover tunes spanning from Irving Berlin's "How Deep is the Ocean" to Bill Evan's "Very Early". In between each song he approached the microphone and told a little story; it made for a very casual performance, as if he were playing for friends in his living room. One story in particular was set back in the 60s when he first moved to New York City from Chelsea, Massachusetts. He was in a group opening for Thelonious Monk's Quartet and noticed a hole in the curtain that provided a perfect view of Monk's hands dancing across the keys; he spent his entire time backstage absorbing this peerless learning opportunity. He must have learned quite a few of Monk's secrets because his performance of "Ask Me Now" was the real deal; it had the right level of dissonance and low-end gnarl so characteristic of the original.
As impeccable as Corea's breadth of knowledge of the American Songbook is, he cleverly changed directions and played a Chopin-penned mazurka. A mazurka is a Polish folk dance in waltz time and Chopin, the Romantic-era pianist and composer, wrote over sixty of them. Corea proved -- as did Art Tatum -- that jazz pianists have the technical chops to tackle even the most demanding classical pieces. Next, he changed gears yet again and invited audience members to come up onstage and have their "musical portrait" taken. That is, he would have them sit in front of the piano and would play improvised melodies that he felt illustrated their personalities. "The funny thing is if you come back an hour from now your song will be completely different, but then again so will I," he commented.
The encore consisted of two pieces: Corea's own "You're Everything" from the "Light as a Feather" album and "Someday My Prince Will Come", which served as a tribute to Miles Davis. His wife, vocalist Gayle Moran, joined him for both tunes while Wallace Roney, the only trumpet player to be personally mentored by Davis, did a phenomenal job of conjuring his teacher throughout the latter piece. Whether it was his dextrous ability, sense of humor, great song choices, or uncapped creativity, Corea certainly ended up making it work.