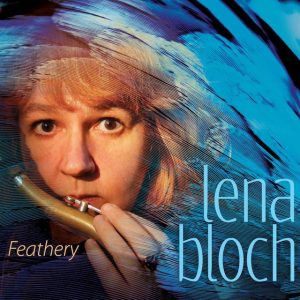 Lena Bloch, a tenor saxophonist and composer originally from Moscow, makes a stylish entrance with her debut, "Feathery", on Thirteenth Note Records. The record is a hodgepodge of the heavy melodicism popularized by pianist Lennie Tristano, featuring exotic scales and a bop/free jazz hybrid. Bloch owes a fair portion of her stylistic development to alto saxophone player Lee Konitz whom she nods at with the title of the opening track "Hi-Lee". Konitz, whose leanings towards an orchestra-like structure can be heard on Miles Davis' "Birth of the Cool", passed on a similar tendency towards strict melodic structure to Bloch.
Bloch received her Master's of Music degree in Jazz Studies and Composition from the University of Massachusetts Amherst in 2006 and her emphasis on composition over improvisation can be heard throughout this record. To begin, the personnel is slight. The ensemble consists only of Bloch, Dave Miller on electric guitar, Cameron Brown on double bass, and Billy Mintz on drums. However, this does not mean the instrumentation is scant or limiting. On the contrary, the distinct voices of each instrument yield to one another such that the ear can easily distinguish each melodic line. This is important too, as the pieces are grounded in a classical compositional style. The track that most clearly demonstrates this facet of Bloch's music is the epic "Baby Suite", clocking in at over 11 minutes. What's so fascinating about this tune is how each instrument operates independently off the others, yet contributes in such an assisting manner to the piece itself. For example, the song starts out with a unison line with the sax, guitar and bass all playing the same melody in the same exact rhythm, but suddenly, each instrument branches out and begins playing different figures. The bass starts to wander around the scale unaccompanied, then drum cymbals add accents, and on top of that, the sax lays down root notes while the guitar fills in upper chord tones. This section can be thought of as a piece unto itself and is starkly contrasted by following sections. Hence, why the entire song is called a "suite"; it hints at classical instrumental pieces.
"Starry-Eyed" is a laid-back take off the jazz standard "Star Eyes", which has a history of many upbeat versions from artists like Charlie Parker and Dexter Gordon to name but two. By lowering the tempo and adding syncopated drum beats, the tune becomes a head-bopping ballad. Bloch also arranged the guitar beautifully on this one---it plays a supportive, yet harmonically dominating role. Bloch's own reedy tone delivers the melody of the head in an intimate, yet secluded way, like if it were possible to hear someone whisper from a mile away. On the whole, the album teeters between exotic experimentalism, like the Turkish-sounding "Farewell to Arms", and bop traditionalism, such as the parabolic melodic lines of  "Featherbed".  The record closes with a reprise of "Hi-Lee"'s main theme and provides the perfect second bookend to a collection of inspiring, progressive jazz. "Feathery" will be released March 18, 2014 and is highly recommended for anyone with an interest in innovative sounds.