Oh, the weather outside was frightful but the music was so delightful. The main attractions at this year's Winter Jazzfest played from Tuesday night to Thursday night and kicked things off in grand style. The sundry performances were tailored to appeal to a wide range of tastes and although I might not be a connoisseur of every jazz sub-genre, I certainly appreciated the imagination and talent that went into the composition and execution of the tunes.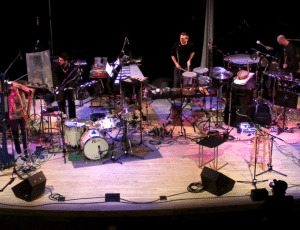 The festival began in Le Poisson Rouge, a small, standing-room-only club. The artists billed for that night were Helado Negro and a plethora of musicians presenting Bobby Previte's "TERMINALS", a five concerti percussion piece composed in a classical style with the added benefit of jazz improvisation. The opener, Helado Negro (Spanish for 'Black Ice Cream'), was a somewhat confusing addition to the Jazzfest lineup. His ambient electronic loop machine provided a backdrop in which he sang diatonically in his primary language. It didn't particularly resemble jazz music. Verily, his set was more in the realm of dance music with his reverb drenched vocals atop synth bass and drum samples. Some members of the audience were into it but I was much more reserved; I guess black ice cream is an acquired taste.
During "TERMINALS", I alternated between being intensely engaged and letting my mind wander. Don't get me wrong: the percussionists and soloists playing the piece, including Previte himself, were fantastic.  It was simply that the meandering quiet sections didn't demand as much attention as the rest of the five movement show. In one particularly impressive part, the members of So Percussion gathered at the front of the stage with just their drum sticks in hand. They began to play rhythms by smacking the sticks together when, suddenly, one of percussionists dropped a stick. It seemed for a moment that this was a mistake, but when the rest of the ensemble started dropping sticks at regular intervals, it dawned on the audience that the sound of the sticks hitting the ground was part of the piece! The level of precision it took to play not only this section but the entire composition was extraordinary. I was also impressed by guitarist Nels Cline and his experimental noise solos. His guitar was like an antenna picking up signals from another world. It proved that you can make a musical point without the use of traditional melody and harmony, just sound and rhythm.
The following night at The Town Hall on 43rd was a jointly sponsored event by both the Winter Jazzfest and Blue Note Records. It was a 75th anniversary celebration of Blue Note's debut recording, a session with boogie woogie pianists Albert Ammons & Meade Lux Lewis. The parts of these gentleman were played by two highly talented contemporary pianists: Robert Glasper and Jason Moran. They began with a traditional, pre-stride piano piece but quickly ventured into uncharted territory. There was a section where the two were "dueling" by interrupting each other with a cascading flurry of notes and playing little snippets of tunes from classic Blue Note records. Glasper and Moran seemed to get a kick out of each other as they cut each other off to riff on tunes like "Blue Train", among others. Speaking of the tune "Blue Train", John Coltrane's son Ravi was a guest performer as was vocalist Bilal. They were also joined by bassist Alan Hampton and drummer Eric Harland, whose drum solo was sublime. Seriously, the man used the sound of the high hat squeaking as he turned it as part of his solo; brilliant. This ensemble played an emotional take on "Body and Soul", and although he had to read the lyrics from a book he brought onstage, Bilal's wonderful falsetto-infected vocals indicated he has the ability to interpret the mood of a song. They closed with Glasper's "Canvas", a beautiful piece with an uplifting melody that was taken a degree higher with the addition of Moran.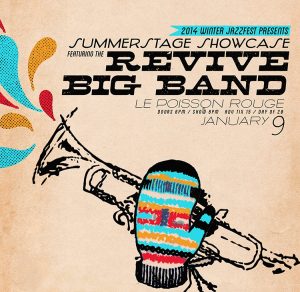 The third night was a real spectacle. Back at Le Poisson Rouge, The Wallace Roney Orchestra performed tunes written by Wayne Shorter for Miles Davis that were never recorded. The songs themselves were staggeringly energetic, complete with electric keyboards, wandering bass-lines, and outrageous solos -- all elements of Davis' music in the late '60s. In fact, Roney did an excellent job of conjuring Miles' sound for the trumpet solos. The same is true for the soprano sax player and his impression of Shorter. All in all, it felt really authentic; I couldn't imagine a group performing this unreleased material any more wholeheartedly. The Wayne Shorter tributes kept rolling with the Revive Big Band with their intensely grooving take on "Speak No Evil". They also blazed through Art Blakey & The Jazz Messengers' "The Core", which was composed by trumpet player Freddie Hubbard. All of the soloists were incredible; each had a unique voice on their instrument, especially Tia Fuller, whose face-melting solo made me reassess what an alto saxophone is capable of. Dr. Lonnie Smith, the legendary jazz organist, also made an appearance that left even his fellow musicians agape. In closing, these trio of nightly performances were a warm, comforting blanket that alleviated the bitter chill outside. If I was ambivalent about music being a healing experience before this festival, I'm one-hundred percent certain now.