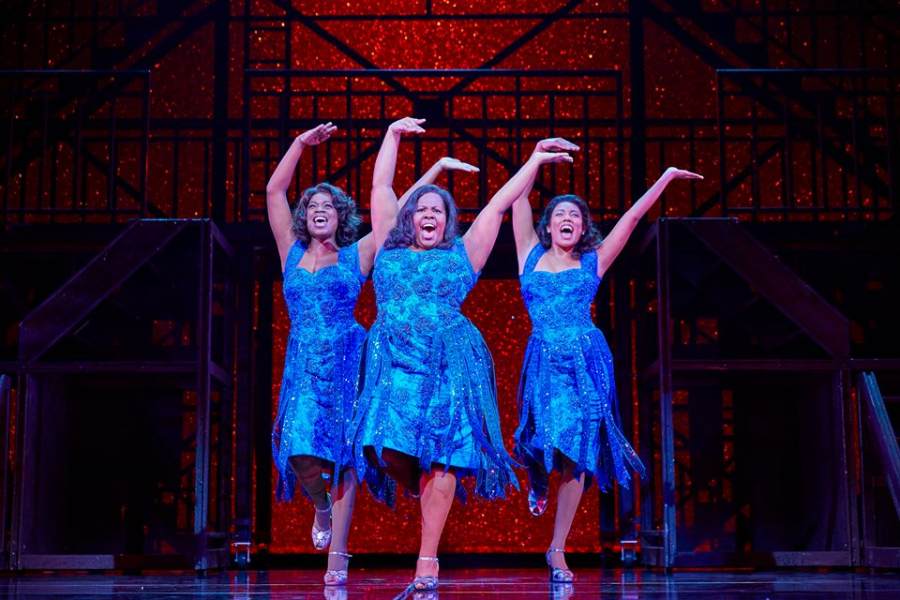 The Original Cast Recording of the current West End production of Dreamgirls includes every song in the show, meaning you can basically experience the entire show without having to pop over to London.
It's hard to follow the film version, which was not only star-studded but superstar-studded, starring Jamie Foxx, Eddie Murphy and Jennifer Hudson and superstarring the one and only, Beyoncé. The West End has made a solid attempt at name-recognition, however, by casting Glee powerhouse Amber Riley.
Even those outside of the musical theatre realm know "And I Am Telling You I'm Not Going," which is the audition or show-stopper choice for every belter or wannabe-belter throughout history. It is also the choice for satire and melodrama, likely because the lyrics hold up even outside the context of the show. It is, therefore, the song of choice when starting to measure how a new recording of the show measures up. Below, I've reviewed it along with four other stand-out selections from the West End Original Cast Recording.
1. "And I Am Telling You I'm Not Going"
Amber Riley belts as naturally as she breathes, starting out this song that famously builds and builds and builds so big you can't believe she has anywhere else to take it. She reins herself in beautifully at the appropriate moments, giving fluttering and perfect runs in her head voice. While it is all at generally the same level of theater-filling belt, meaning that she doesn't build as much as is dramatically expected, Riley finds the emotion in her growls, lung-capacity and note ranges. You can hear the standing ovation on the recording that proves that her singing out-shone any complaints a snobby-thespian could have about acting choice. It should also be noted that I forgot that she was singing live (the album was recorded live at the Savoy Theatre), an accomplishment in its own right. This is definitely a rendition to be added to the collection of the best performances this song has seen.
2. "Steppin' to the Bad Side"
"Steppin' to the Bad Side" fulfills its groovy and somewhat foreboding role in the show. It pulls out both the precision and the jazziness of the show's orchestra and the smooth blend of the ensemble, featuring those delicious and irresistible bass notes that you can feel just below your sternum. The only reason I could tell this was recorded live was because of the sound mixing; but, it listens like an old Motown standard instead of a musical theater, storytelling piece—and that's not a bad thing.
3. "I Am Changing"
The notable thing about "I Am Changing," particularly in this recording, is the character journey it shows. I had to double check the show details to make sure this was Amber Riley, the same actress playing the same character as "And I Am Telling You," which comes later in the show. Her performance on this song hints at the lung-explosion she delivers later; but, she starts out sounding younger and, appropriately, more innocent, less emotionally wrought. Instead of desperate strength she gives this song fresh optimism with a rawness that I imagine makes the onstage transition incredibly believable. Even her singing choices are more by-the-rules here and less emotionally improvisational, but that in no way detracts from the impressiveness of her performance. That's the important thing to remember when listening to a show's album: each song represents a different part of the theatrical journey the characters are on. From the sounds of it, Amber Riley nails hers…and then some.
4."Fake Your Way to the Top"
I'm not the only one who couldn't get enough of Adam J. Bernard, especially when I listened to number four on my list, "Fake Your Way to the Top"; Marc Snetiker writes in Entertainment Weekly: "Adam J. Bernard is a wide-eyed revelation as James 'Thunder' Early, whose manic 'Fake Your Way to the Top' is a human fire refusing to be extinguished." I didn't see his eyes, of course, having only devoured the album, but manic is a superlative in this context, and a supremely accurate one. You can hear the future coke-problem in that mania; you can also hear the youthful, energetic charisma that means Mr. Bernard harmoniously melted into his musical icon character.
5. "Listen"
"Listen" had to be included in part because it's a newer addition to the show; not only was it performed by Beyoncé in the 2006 film, it was written by her and a team specifically for that film. Liisi Lafontaine is making her West End debut in her role as Deena Jones, and her voice is pure with lovely moments of heart-wrenching pleading. Joined by Riley, the duo deliver the message of perseverance and resilience, of a seasoned artist offering sage advice to an up-and-comer beautifully. Their harmonies blend powerfully, and listening to them I almost joined their audience in the again audible standing ovation even though I was alone on my couch. It joins the ranks of the other songs on this list and this album that stand alone as pieces of music and not just as musical-specific pieces.