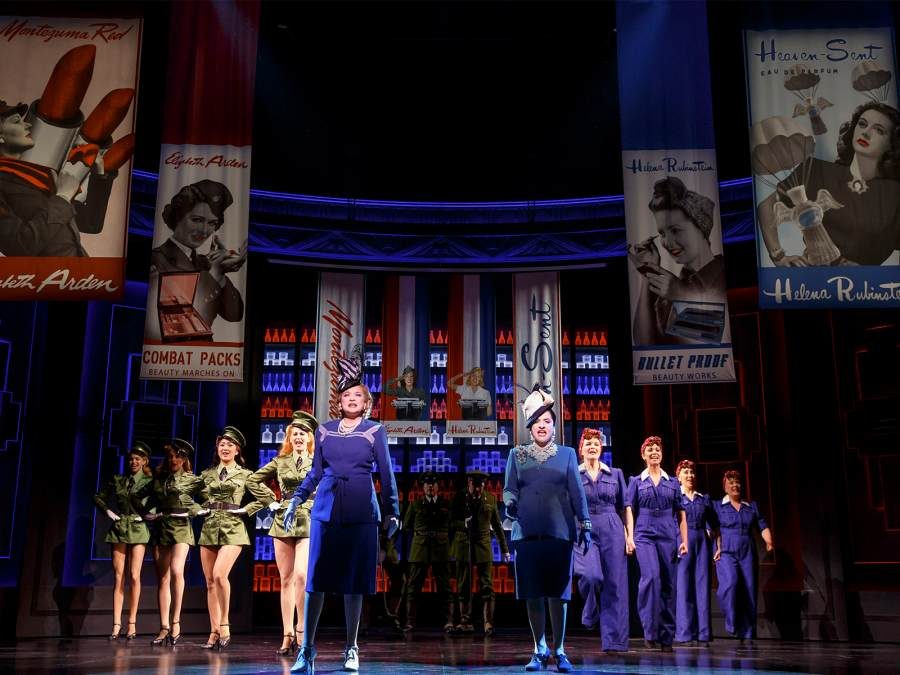 War Paint, the new musical about cosmetics titans Helena Rubinstein and Elizabeth Arden, brings together powerhouse Broadway divas Patti LuPone and Christine Ebersole. It's no surprise that the vocals on the forthcoming cast album are flawless.
The musical follows two women with indomitable spirits who sacrificed just about everything to become highly successful businesswomen in a country run by men. As they push and pull against each other, Rubinstein and Arden eventually realize that without such a fierce contender, neither of them would have risen to such prominence.
War Paint's soundtrack is smooth, easy listening, featuring the perfect, lovely vocals of both leading ladies. When, in rare moments, the two voices collide, it's pure magic. In case you feel like cutting straight to those moments, here are the top five songs from the album:
1. "If I'd Been a Man"
This is the first song that blends LuPone's and Ebersole's voices, and their striking harmony is precisely what puts this track at the top of our list. "If I'd Been a Man" expresses both women's frustrations at finding themselves undervalued and demonized as female entrepreneurs. The ballad's sweeping, understated orchestrations form the perfect backdrop to both characters' passionate yet resigned complaints. But the number only becomes truly great when both women harmonize in the song's second half. Simply hearing the two Broadway stars harmonize would be powerful enough, but this song is doubly powerful as it melds the show's two bitter rivals into one: the two women may profess hating each other, but underneath, they could be the same person. And for one breathtaking musical moment, they nearly are.
2. "Best Face Forward"
The show's opener, "Best Face Forward" is a fun, clever number that introduces us to the all-consuming world of 1930s American cosmetics. The jazzy, big band score definitely starts the show off with its "best face forward". From there, it's a short step to a world where women are assigned value largely based on their appearance. And it's that dire need for beauty that Rubinstein and Arden turn to their business advantage. As the opening lyrics announce: "Not every woman is a natural beauty, but the right face cream can work miracles." And so it begins.
3. "Fire and Ice"
This song spells bad news for the show's heroines, but it's good fun for the listener, with its catchy tagline and swinging jazz feel. Sadly, the rise of cheap make-up brands (the particular culprit in this instance is Revlon) soon puts Rubinstein and Arden out of business, and it's the women's refusal to embrace change that ultimately spells their downfall. Appropriately, this song features a "down and dirty" undercurrent, somewhat like a cheap, flashy tango. In the midst of a score that can feel slow-burning at times, "Fire and Ice" comes as a much-needed wake up call -- both to the listener and to the two women whose refusal to get with the times will shortly bring about their ruin.
4. "Pink"
Facing the end of her career in the cosmetics industry, Arden wonders if she'll only be remembered in the future by the color by which she successfully branded herself for three decades. While it worked well as a marketing ploy, Arden finally admits at the end of it all that she never did like the color. The song's poignancy, combined with Ebersole's forceful indignation as she rages against life in general, make this track a moving portrait of both Arden's accomplishments and her vast sacrifices.
5. "Beauty in the World"
Another song that mixes LuPone's and Ebersole's stunning voices, it probably won't come as a shock to anyone that this track also ranks among the album's top five. After a lifetime of rivalry, Rubinstein and Arden unintentionally come face to face. The moment is rife with both tension and tenderness - and it makes for some great theatre. But, honestly, when you put two Broadway divas face to face and tell them to sing a duet, what else can you expect?
War Paint is out now on streaming/digital formats from Ghostlight Records. For more information, visit: http://www.sh-k-boom.com/war-paint