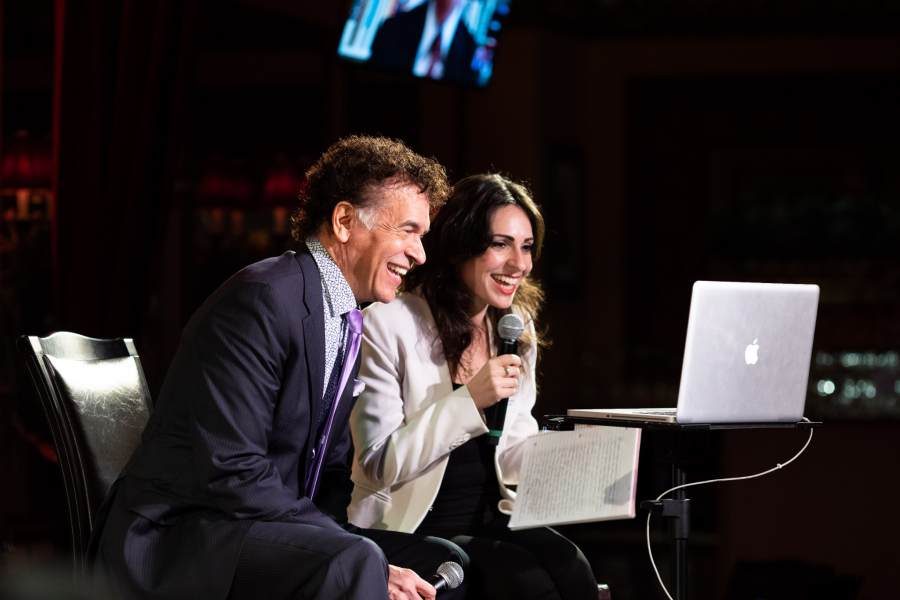 When COVID struck, conductor Mack Wilberg knew the Tabernacle Choir's annual Christmas concert couldn't go on as usual. But he and his colleagues wanted to keep the tradition alive. So they turned to one of their favorite collaborators: Tony Award-winner Brian Stokes Mitchell. Together, they decided to reflect on the past, highlight the amazing artists who have performed with them over the years, and give audiences something completely new: a look behind the scenes at what it takes to put on this one-of-a-kind event.
On Wednesday, Feinstein's/54 Below hosted an intimate luncheon with Brian Stokes Mitchell and representatives of the Tabernacle Choir to commemorate this year's special program. In honor of Mitchell and all the Broadway artists who have performed on Temple Square over the years, the choir presented a $100,000 check to The Actor's Fund. Afterward, Ruthie Fierberg hosted a Q&A with Mitchell and Tabernacle Choir conductor Mack Wilberg (who joined via Zoom), to discuss this year's special retrospective Christmas concert.
We've got the inside scoop, but we can sum it all up by saying that if you're a fan of Broadway, the Tabernacle Choir, Christmas, or music in general, you won't want to miss this. Here are five reasons to tune in to 20 Years of Christmas with the Tabernacle Choir.
1. Brian Stokes Mitchell. Need we say more?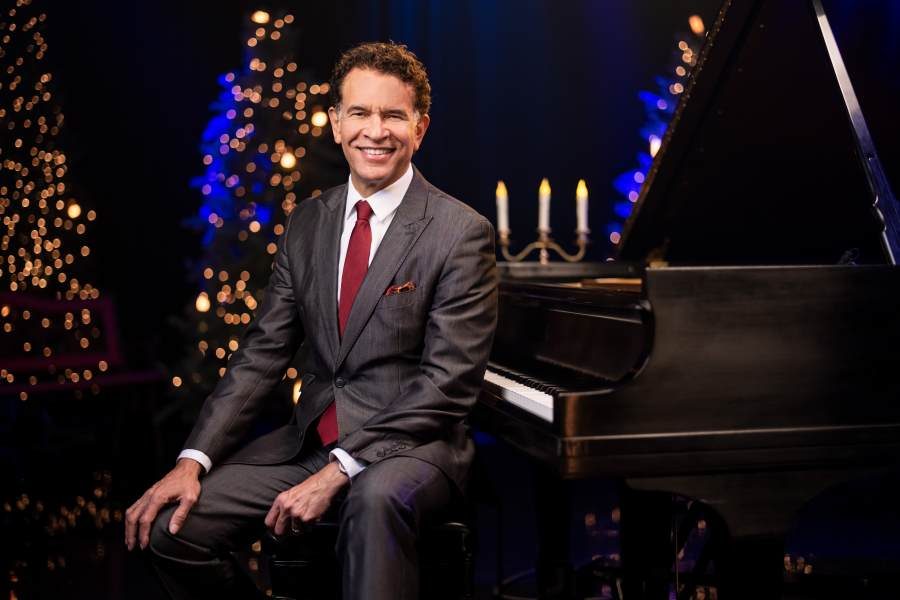 Mitchell is no stranger to the Tabernacle Choir, having performed with them on a number of occasions before, including for a special Veterans Day concert that honored his father, a Tuskegee Airman. At Wednesday's event, Mitchell spoke about his personal connection with the Choir.
"It's one of my favorite places to be," he said of the 21,000-seat Conference Center where the Choir performs. "I wish you could all know how it feels to stand on that stage and feel the power of those voices coming through you as one."
In addition to past performances from Mitchell, the program will include two brand new numbers: a jazzy rendition of "That's What Christmas Means to Me" with Mack Wilberg on piano, and the Christmas hymn "Infant Holy, Infant Lowly" featuring Stokes backed by a virtual Tabernacle Choir.
But the program will also showcase Mitchell's incredible storytelling skills, as the Broadway veteran hosts and narrates the story of the Choir and what goes into their annual Christmas concert. On why they chose Mitchell to tell this story, Wilberg said: "I don't think there's anyone who could have done it better." He praised the actor's charisma, generosity, and musicianship.
The praise was mutual. According to Mitchell, he and Wilberg both experience music in a similar way--from the heart. He added: "Mack is one of the finest conductors I have ever worked with."
2. All your favorite Broadway stars. And then some.
Over the years, Christmas with the Tabernacle Choir has hosted guest stars from Kristin Chenoweth to David Archuleta to John Rhys Davies to The Muppets from Sesame Street.
And they're all here.
As Wilberg explained, the silver lining in not being able to do a live, business-as-usual concert was that it gave them the chance to reflect. Looking back over the last 20 years with the Choir, he was flabbergasted at how much had happened, and how many amazing guest artists had taken part.
20 Years of Christmas with the Tabernacle Choir includes footage of more than 40 guest artists. Add 360 singers, 200 orchestra members, numerous dancers, actors, and a hand bell choir, and you've got one spectacle of a show.
To give a better idea, here are just a few of the Broadway legends you'll see in this truly star-studded program:
Renee Fleming
Audra McDonald
Kelli O'Hara
Angela Lansbury
Alfie Boe
Kristin Chenoweth
Laura Osnes
Santino Fontana
As John Bredar, Vice President for National Programming at WGBH, said at the event, this special Christmas program is "a testament to the power of music. And that's something all of us can celebrate."
3. Watch Angela Lansbury sing Sondheim.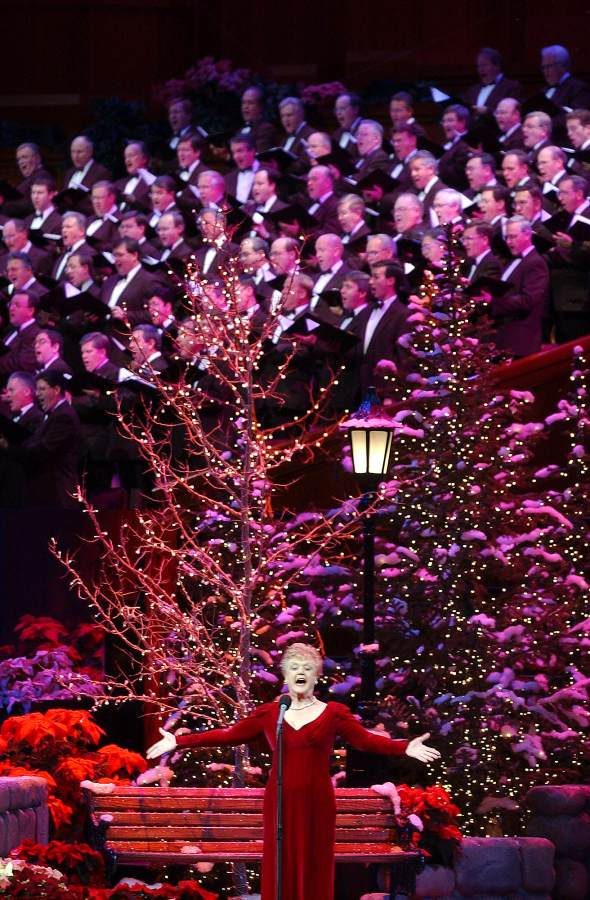 If you haven't noticed, it's shaping up to be a Sondheim Christmas. Of the many beautiful tributes that have taken place since the composer's passing this November, just about all have tugged at our heartstrings. That said, it's hard to imagine a better tribute than Angela Lansbury, Broadway's original Mrs. Lovett, singing Sondheim's gorgeous "Not While I'm Around."
As the Choir's team put together a list of performances to highlight in the retrospective, Lansbury's performance of the Sweeney Todd number seemed like a given. Lansbury sang that song at the 2001 concert in response to 9/11. Now, 20 years later, it will be meaningful for another reason.
4. Get a never-before-seen look at how it all happens.
360 singers. 60 crew members. 15 cameras. In the words of Ruthie Fierberg: "It's a feat of magic."
Christmas with the Tabernacle Choir is quite a spectacle. In fact, it's such a massive undertaking that, as Wilberg explained, they usually start thinking about next year before they've finished that year's concert. But never before has the Choir given a behind-the-scenes look at how it all comes together. Prepare to be surprised, entertained, and amazed.
5. Support the Actor's Fund.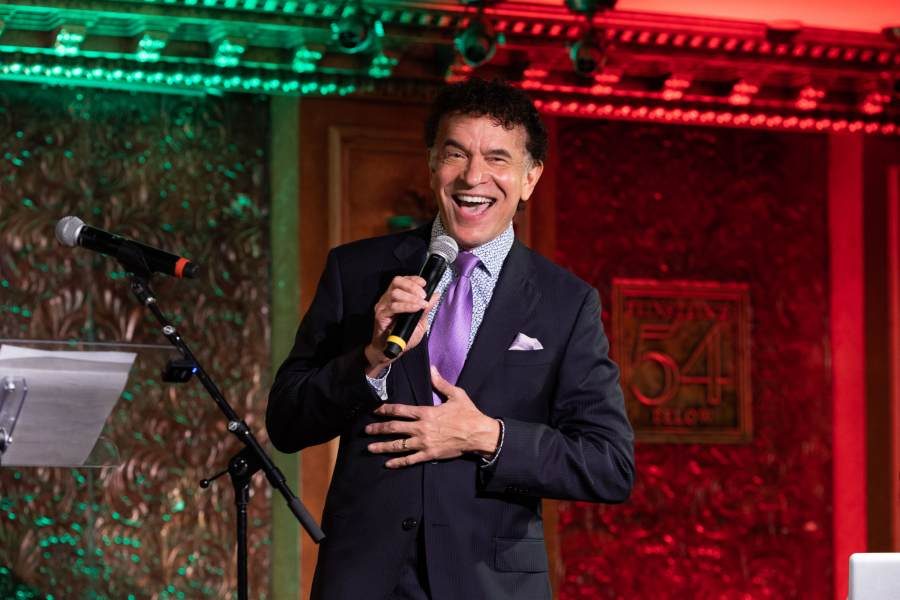 OK, you won't literally be supporting The Actor's Fund by tuning in to the Tabernacle Choir this year, but you will be supporting the Choir, who just gave a $100,000 donation to the Fund, and Mitchell, Chairman of the Fund.
As Mitchell explained, The Actor's Fund has had more demands than ever over the past two years as theatres went dark and actors found themselves out of work for the foreseeable future. Reflecting on how streaming shows and beautiful music got him through the worst months of 2020, Mitchell suggested that "artists are essential workers of another kind."
The Actor's Fund doesn't just support actors; it's available to anyone in need in the arts industry, including composers, stage managers, journalists, and more. Among many supportive services, The Actor's Fund helps arts professionals secure affordable housing, receive healthcare and prescription medications, and benefit from senior care and career development.
As he received the donation on behalf of the Fund, Mitchell got emotional for a moment, and even closed by singing a stanza from John Bucchino's "Grateful." "I can't tell you how touched I am by what you have done for us," he told the Choir's representatives.
If you do in fact want to donate to The Actor's Fund in a more literal way, you can visit The Giving Machine on 49th St, across from Rockefeller Center--a vending machine that pays it forward. In addition to farm animals, meals, and medical supplies benefiting those in need, you can donate necessities like groceries and prescription medications to The Actor's Fund. And with a range of prices, there's bound to be something you can afford even on a tight budget.
Reflecting on a deeply divided world and speaking to this historic partnership between the Choir and The Actor's Fund, Mitchell said: "It's amazing what we can do as human beings when we get together and decide to make something happen."
Finally, if you need further convincing to tune in to this 20-years-in-the-making Christmas program, take Mitchell's word for it: "No joke. This is one of the things I'm proudest of doing in my entire career."