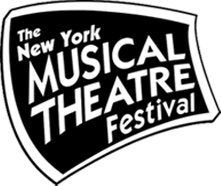 The largest musical theater festival is here, and if you're a theater lover they've got just the thing for you.  With musicals ranging from serious to strange and everything in between, the New York Musical Theatre Festival (NYMF) showcases new shows and talent for a very fair price.  Here are three reasons why you should catch a show...or all of them!
1. Variety Variety Variety
With 25 new productions, 8 concerts, 10 readings and a whole lot more, NYMF the festival that will put new tunes in your brain and give you a new appreciation for musical theater artists throughout the world.  Quite often we're bombarded with the same old, same old revivals on Broadway and it feels like producers are afraid to take risks.  NYMF departs from the music of conventional musical scores with genres of music including bluegrass, jazz and country-pop rock.  Content deals with teleportation, the Clinton administration and zombies who might or might not be strippers, so you're looking at being super entertained any day the festival is in season.
2. Jack O'Brien serves as the Honorary Chair for the Festival
A true man of theater, respected the Tony Award-winning director hosted the 11th Annual Opening Night Celebration of the New York Musical Theatre Festival.  O'Brien says: "As a passionate supporter of what perhaps constitutes America's greatest contribution to world literature -- our musical theatre work -- I am proud and happy to be standing up this year for The New York Musical Theatre Festival, the very font of creativity currently nurturing our stages and our industry with a nearly unbroken series of exciting, promising works.  No one sings out quite like NYMF…Long may she wave!"
3. Launching Pad for New Musicals
NYMF is a rare chance for new writers to see their work fully realized, and a safe haven for choreographers, directors and producers to hone their craft and expand their horizons.  They've premiered several shows in the past that have had commercial success such as Next to Normal, Altar Boyz, Gutenberg! The Musical, The Great American Trailer Park Musical and The Portrait of Dorian Gray.  Wouldn't it be neat to know you saw the next big thing at NYMF first?!