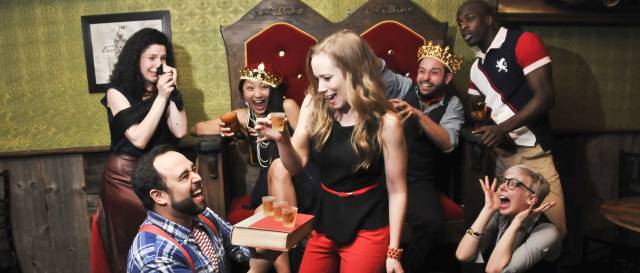 In the last year or so, Drunk Shakespeare has gone from that thing that some weird intellectual people like to a New York institution.
What is it? Here's what their website says: "Each night in New York, one professional actor has at least five shots of whiskey and then attempts to perform... in a Shakespearean play. Literally ANYTHING could happen."
I recently attended Macbeth at The Lounge at Roy Arias Stages and found out what all the hype is about. Here's 5 Reasons Drunk Shakespeare makes perfect sense for your night out:
5. You can bid on being royalty.
At every show, the good folks at Drunk Shakespeare auction off a VIP experience for two. It includes a fancy bottle of champagne along with some delectable caviar and handcrafted chocolates and -- my favorite – the ability to influence the course of events during the play. Many of the key scenes are either performed to or with the King or Queen. I highly recommend bidding, which starts as low as $15 and can go up to $500.
4. The Shakespeare is good and accessible.
Does the Bard make you tremble with fear? Do the words iambic pentameter make you run for the door? When someone says Shakespeare, do you say boring? Then Drunk Shakespeare with just about 20 to 30 minutes of actual verse and 60 minutes of all sorts of hilarity is the right fit for you. It's the perfect mix of high art and low brow for the wannabe New York culturephile. For those who know Shakespeare's texts well, like this humble critic, Drunk Shakespeare provides surprising pleasures in the form of inside jokes and clever riffs. The actors, even when substituting words and names, preserve the meter, coming back to the play's crux after every drunken transgression.
3. The actors know how to handle Shakespeare...and their liquor.
An endeavor like Drunk Shakespeare only works when the actors know what they're doing. And by know what they're doing I mean the following: know Shakespeare, know how to be improvisational masters, know how to handle their liquor. That's a tall order but the current cast of Macbeth deserves a toast for performing the 90 minute show, managing exits and entrances, drunk points of orders, and interruptions from the audience without dropping the energy. Whit Leyenberger as the titular character has not a single self-conscious bone in his body, hunky Damiyr Shuford brings rock star presence to Macduff with a guitar and some mean tunes and Josh Sauerman as Banquo displays impeccable comic timing. The most extraordinary is Monique Sanchez as Lady Macbeth, the drunk actor of the night, whose performance grows more haunting as the night goes on. Smeared eye-liner and frazzled hair be damned, Sanchez invests fully in wherever the verse, laden with liquor, takes her, and it's a pleasure to follow her descent into madness (i.e. drunkenness).
2. Audience interaction is lots of fun.
The whole premise of Drunk Shakespeare doesn't really work without an audience with fortitude (and a rising blood alcohol level). The actors often take breaks from the play to interact with particular audience members and one lucky person gets to take shots with the drunk actor of the night. If you're a fun person, you're going to have fun at the show. If you're not, you'll still have fun at the show. Win win.
1. The drinking is REAL and makes all the difference.
A few people have asked me if the drunk actor is really drunk and the answer is a resounding yes (the audience is pretty drunk, too). The show delivers on the promise in its title and really leaves itself up to what happens when being drunk and Shakespeare are combined. The results, zany and weird -- we're dealing with theatre actors here after all -- are worth well more than the ticket price.
You can find out more about Drunk Shakespeare at www.drunkshakespeare.com