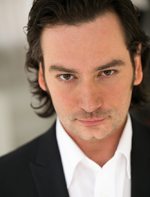 Broadway's best party Rock of Ages is welcoming back original Tony nominee Constantine Maroulis for a limited 12-week engagement. If you've yet to catch this former American Idol star, we highly suggest you make room in your calendars to see what all the hype is about. StageBuddy got a chance to speak with Maroulis as he shared some insight about the measure of success and his readjustment to Rock of Ages.
StageBuddy: What's it like to return to Rock of Ages?
Constantine Maroulis: I think it's every actor's dream to create a role on Broadway. I've gotten that opportunity a couple of times now.  The thing about Rock of Ages is it connected with millions of people globally and to see it so successful many years later gives me a great sense of accomplishment. It happened to work out with the schedule where I was available and the show had an open slot.  We talked about it and here we are.  I'm here for about 12 weeks to ignite the brand again. It's been doing well operating at about 85% or more.  We hope to bring back the core fan base.  It's a jukebox musical that really speaks to a totally different generation. Who would have thought this type of music would be on Broadway?  The audience not only feels like they're part of the show because we have a narrator in the beginning, but it has a concert feel with a love story, it rocks with a total different theatrical experience.  The writing in this show allowed musicals like Book of Mormon to have tremendous success with writing so over the top and out of the box.
SB: What'd you think about the film version? 
CM: For me as an artist I think there was a great accomplishment that there was a film produced only three short years after we opened the show and gives a testament to the original cast, its reputation and the work we put in and its word of mouth.  Clearly the soundtrack helped to save the title.  It was the cap of my Rock of Ages journey over a two and half year run.  I got to make a little cameo in the film and it was a great experience.
SB: How do you think the larger world perceives you? 
CM: People probably perceive me as a singer that was on a television show who got into acting but I grew up in New York, and I've been an actor my whole life.  I studied at the Boston Conservatory, and I had a BFA in Acting and Music long before American Idol.  Before American Idol I was on Broadway and many Broadway tours.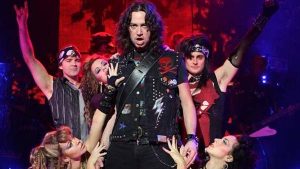 SB: Why do you continue to work as an artist? 
CM: I think it's about quality work -- you want to do projects that speak to you, challenge you and hopefully further your career as an artist.  Surround yourself with good worthy trusting people who will guide you in a good way.
SB: What was drastically different in this rehearsal process? 
CM: It took me a full day to remember.  About halfway through the first day, I only had a few days to prepare for this. It's Broadway baby, we're trying to save every penny we can.  The first day I couldn't remember anything and I didn't want to work from the book, I didn't want to get stuck with music in hand, I wanted to remember it by putting myself in the character.  What's my moment before? What are these relationships? Why am I onstage here?  Our job is to do what the writer and director envision. Our goal is to be a vessel for the director and writer and I had to remember what that was.
SB: Do you have any advice for a younger you?
CM: I think I would take my education more seriously. All along I would have read more of the books, put more work in off the clock.  That's what I stress to younger people now.  A lot of us are so worried about being famous celebrities and we forget there is a reason why the greatest are the greatest from the 40's, 50's 60's and 70's on up.  They were the best and they worked at it. They had an opportunity and they made it, and now being famous is more disposable, and we're on to the next person and all that.  If you take the work more seriously and put the time in like my mom and everyone else always says "the cream rises."