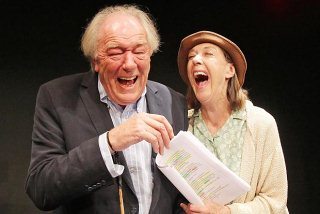 Two major stars of the British stage and screen, Eileen Atkins and Michael Gambon, will bring their sold-out UK production of Samuel Beckett's "All that Fall" to off-Broadway's 59E59 Theaters for a limited run, Nov. 5-Dec. 8.
Staged by Trevor Nunn, of "Cats" and "Nicholas Nickleby" renown, "All that Fall" first played at London's Jermyn Street Theater in fall 2012, followed by a commercial transfer to the Arts Theatre there. In New York, the show will also feature Ruairi Conaghan, Frank Grimes, Trevor Cooper, Billy Carter, James Hayes and Catherine Cusack.
Penned as a radio play in 1957, "Fall" tells of an aged, ailing woman going to meet her husband – who's in even worse shape – at the train. Along the way, she meets various neighbors, including a spinster, an old bicyclist and a man with a dung cart.
Last on Broadway as a cast-replacement in "Doubt", Atkins made her mainstem debut in 1967's "The Killing of Sister George" and scored off-Broadway in the 1991 solo, "A Room of One's Own." She's a commander of the Order of the British Empire and helped create the landmark TV series, "Upstairs, Downstairs." For her stage credits in England, well, Wikipedia has a whopping list.
You'll find a similarly daunting list when seeking the UK theater credits of Michael Gambon, who's also been featured in such films as "Toys", "The Rachel Papers", and "Dancing at Lughnasa". His only Broadway credit was the David Hare drama, "Skylight", although both he and Atkins appeared in Robert Altman's film, "Gosford Park".
Also part of the just-announced fall 2013 season at 59E59 will be "Witnessed by the World", a drama about a journalist hoping to uncover information about the Mafia's involvement in the Kennedy assassination, with Tovah Feldshuh starring. "Two Point Oh", by Jeffrey Jackson, tells of a mogul who fashions a virtual-reality version of himself, and Sonya Kelly's "I Can See Clearly Now (The Wheelchair on My Face)" is about a girl with myopia.
Perhaps most unexpected in the autumn lineup is "Mayhem and Majesty", which will mark the New York return of the surreal performance troupe Squonk Opera. Their 2000 Broadway debut, "Bigsmörgåsbørdwünderwerk", proved a headscratcher to the ticket-buying public, but they've been touring the world since 2003.
Promised for the spring at 59E59? The tenth anniversary of the Brits Off-Broadway Festival.
More info: https://stagebuddy.com/listingdetail.php?lid=15260