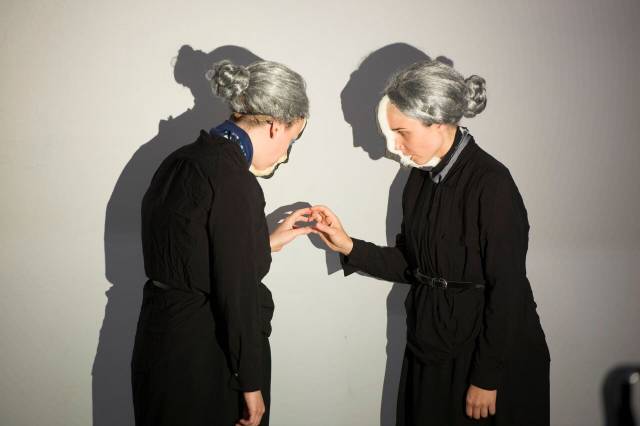 One of my favorite productions this year was Manual Cinema's ADA|AVA, a quietly stunning production filled with outstanding visuals. The shadow puppetry piece blended theatre and film to tell the story of an octogenarian grieving the loss of her sister, using just overhead projectors and incredibly creative puppetry/cinematography techniques. With the puppeteers creating the projected images in full view of the audience, the production retained the magic of live theatre while creating an on-screen world that was beautifully moving and thoughtfully composed, resulting in a truly spectacular piece I won't soon forget. (Read full review; read interview with the creators of ADA|AVA.)
Another favorite production of mine this year was Annie Baker's The Flick, which returned to NYC this year after debuting at Playwrights Horizons in 2013 and going on to win the Pulitzer Prize for Drama. Focused on three movie theater employees and confined to a single theater setting, the striking play is thoughtful and entertaining, with a natural ease rarely found in the theatre. With each understated moment feeling completely intrinsic to the action, from mundane movie trivia banter to silent pauses, never before has a three-hour running time felt so necessary and deeply enjoyable. (Read full review.)
---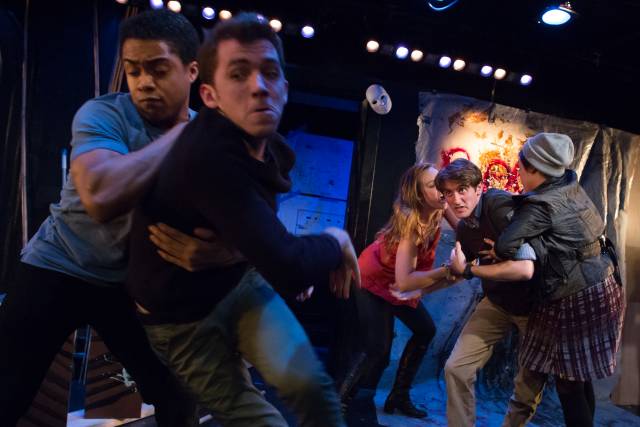 Phillip Ridley's Mercury Fur at the Signature Center rattled me to the core. Arresting and original, this dark supposition of a future where children are murdered as a parlor game role play gave me a head-to-toe catharsis that made it hard to leave my seat at play's end. And oh, that ending alone blows all the cobwebs off of Chekhov's by-now shopworn gun. (Read interview with actor Jack DiFalco.)
Student Body at The Flea was another highlight. Frank Winters' taut drama featured a large but never-crowded ensemble, courtesy of the resident Bats, who've never been as well-utilized. The piece posed some difficult questions about our digital footprints, internet-age self-absorption and the awful ambiguities that can trivialize the realities of campus sexual assault; it also further cemented the Flea, in newly minted Artistic Director Niegel Smith's inaugural season, as an in-touch company churning out theatre of the moment. (Read full review.)
Roundabout's The Humans, Stephen Karam's Thanksgiving kitchen sink, is a rare play about family that doesn't rely on status or scandal. In this eerie work of observation, Karam presents a working-class family well-dressed with medical woes, rocky relationships and the lasting trauma of one very bad September day in Lower Manhattan. But the play never spirals into melodrama. There's a humming ominousness to the proceedings -- lights going out, banging from upstairs neighbors, a suspicious stranger lurking outside -- but it's never quite as bad as we think. In a way, that makes it worse, and that's the most graceful thing about it.
---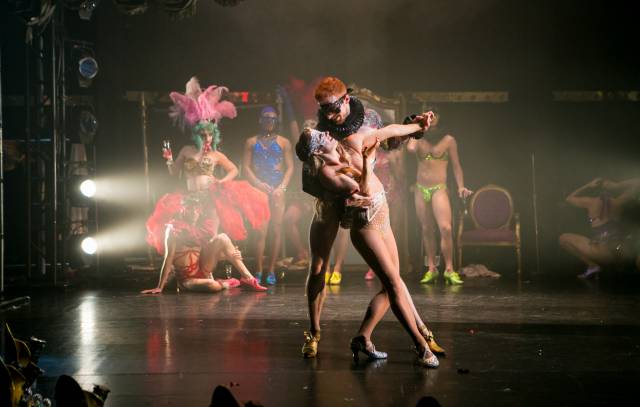 Séquence 8, by the Canadian physical theatre company Les 7 Doigts de la Main, made any other circus performance you've seen look like your 7-year-old niece's tumbling class. Their amazing, gravity-defying acts and feats of strength were incredibly breathtaking. This show elevated the circus arts not only in physical height but in mastery. (Read full review.)
East meets West in Pearl, a sumptuous epic celebrating the life of American writer Pearl Buck. The Chinese imagery formed a gorgeous backdrop to some of the most exquisite dancing seen all year. (Read full review.)
Cinderella was stripped down and given the burlesque treatment in Company XIV's sparkly and immensely entertaining take on the classic fairy tale. Austin McCormick's company took their signature variety show style and showcased some amazing performers dancing, singing and performing various circus arts. (Read full review.)
---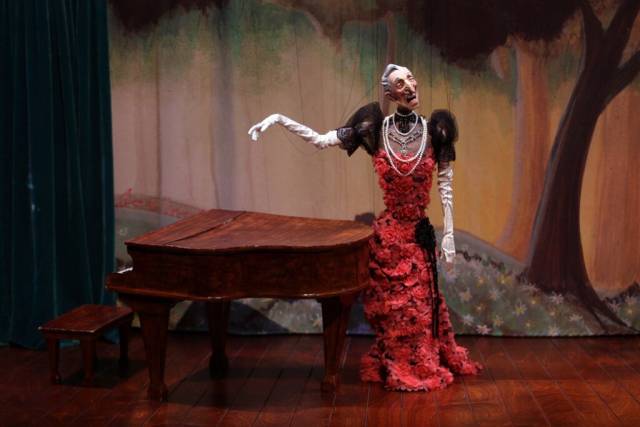 The Scarlet Ibis, a new American opera and part of the 2015 Prototype Festival, co-produced by Beth Morrison Projects and HERE, was a magnificent collaboration that resulted in extraordinary storytelling.  Mezzo soprano Hai-Ting Chinn created an unforgettable character with her versatile voice and the character of Doodle was a collaborative tour de force, merging the amazing vocal talents of countertenor Eric S. Brenner and the artistry of puppeteers Eric F. Avery, Josh Rice and Meghan Williams and puppet designer Tom Lee. (Read full review.)
The only thing better than seeing Ronnie Burkett's Theatre of Marionettes with its rotating cast of forty characters in his new show The Daisy Theatre at the Baryshnikov Arts Center was being able to interview him and hear about his creative process.   Mr. Burkett is a puppeteer virtuoso and dazzling storyteller; he creates the kind of theater where two and a half hours fly by and you want more.  His sweet vulnerable character Schnitzel has been emblazoned upon my heart! (Read full review; read interview with Ronnie Burkett.)
Finally, in celebration of Frank Sinatra's 100th birthday, acclaimed jazz baritone Richard Malavet kicked off the Metropolitan Room's own centennial observance, with Very Good Years: The Intimate Sinatra, a wonderful tribute of songs Sinatra recorded between 1939 to 1968. The brilliant Mr. Malavet, along with a dream team quartet of magnificent musicians, had the audience in the palm of his hand and sighing "they just don't write songs like that anymore" after each spectacular number. (Read full review.)
---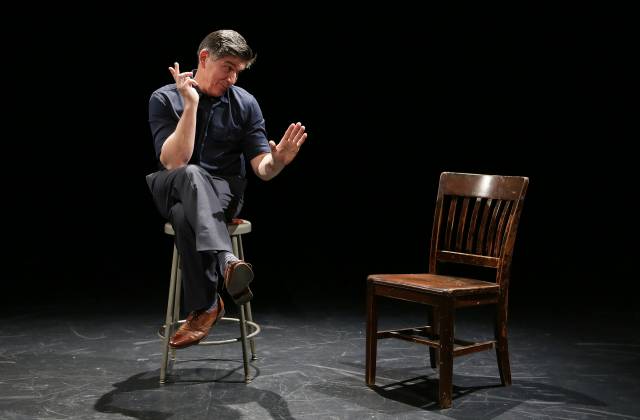 Of the Off- and Off-Off-Broadway plays I saw in early 2015, playwright and actor James Lecesne's The Absolute Brightness of Leonard Pelkey at Dixon Place was an obvious standout. This solo show—directed by Tony Speciale—was a triumph for Lecesne, who wonderfully portrayed multiple roles in a story about a small town devastated and transformed by the disappearance of a teenage outsider. It was no surprise that Absolute Brightness would later move to Hell's Kitchen's Westside Theatre to enjoy an extended run. (Read full review; read interview with James Lecesne.)
In late August, I caught Annie Baker's John at Signature Theatre—my first exposure to the blazing Baker's work since I witnessed her moving adaptation of Anton Chekhov's Uncle Vanya back in 2012. The play's odd mixture of the mundane and the mysterious proved fascinating—and memorable performances from the beatific Georgia Engel and mad sage Lois Smith were added pleasures. (My strong response to John prompted me to order a ticket for Baker's Pulitzer-winning The Flick, which I'll finally see later this month.)
The musical play Songbird (at 59E59), which I saw in October, reworked one of the most respected world-theatre titles of all into a rich contemporary entertainment. This country-music retelling of Chekhov's The Seagull was blessed with a splendid ensemble cast (led by the magnificent Kate Baldwin as a fading Nashville star) and a kicking score by Lauren Pritchard. Does anyone besides me believe Songbird could be a major hit with New Yorkers and tourists alike if it were to transfer to a Broadway house? (Read full review; read interview with actor Erin Dilly.)
---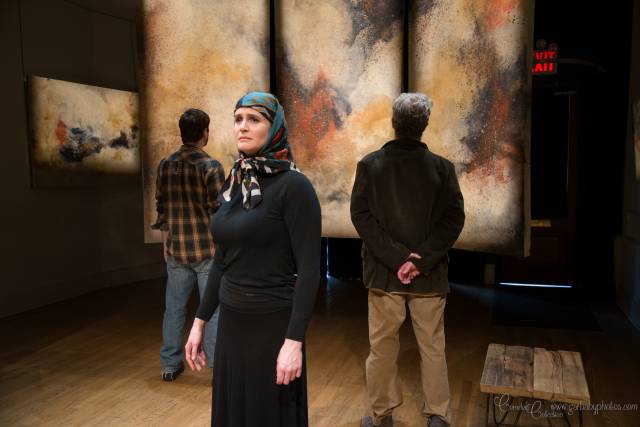 Manual Cinema's mixed-method storytelling that uses shadow-puppetry, projected imagery and an original live score, compels and hypnotizes. ADA/AVA, a stunning tale of loss and memory, maintains its suspense and dreamlike atmosphere throughout. Once seen, never forgotten. (Read full review; read interview with the creators of ADA|AVA.)
In SELFIE, Pat Shortt puts us all on first name terms with his various comic characters, while the conviviality of an Irish funeral is implemented with such attention to detail that the division between performer and spectator simply does not exist. Writer/performer Shortt has a way with his audience that is endearing as well as extremely funny. (Read full review.)
The International is a tense, moving and memorable drama that's three interweaving monologues describe the events leading up to a Bosnian War-era massacre.  Playwright Tim Ruddy's timely story of conflict-driven civilian devastation is a powerful reminder of the domino effect of wartime atrocities. (Read full review.)
---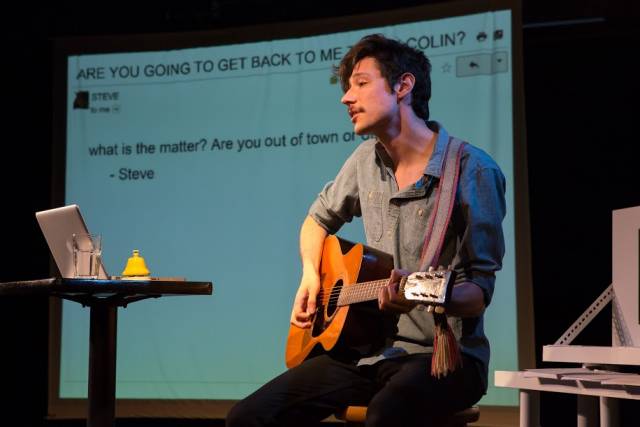 I've never before seen such a poetic bridging of actual life events and expressionist art as in NY Neo-Futurists' production of STEVE. Both the events depicted and the telling of events depicted are brave and immeasurably inspiring. (Read full review; read interview with writer/actor Colin Summers.)
Rarely does a playwright so honestly capture and express the viewpoints of all the people involved in racial conflicts as Marcy Lovitch has in Office Politics, in which we see real people with real struggles and complex emotions. (Read full review.)
---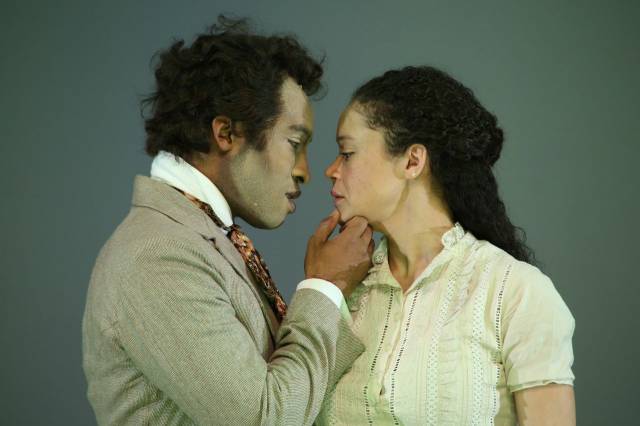 An Octoroon has, unshakably, come back to me in quiet moments since I saw it in March. A testament to both its power and popularity, the play -- a complex reworking of an 1859 melodrama of the same name -- was restaged within a year of its premiere at the Polonsky Shakespeare Center's Theatre For A New Audience in early spring. Helmed by the talented Austin Smith, a young man making his New York theater debut, and with a grand space and a budget large enough to carry out the twisted, immersive whimsy the production entails, Branden Jacob Jenkins' play managed to deconstruct identity, racial history, and the very nature of theater itself in a way that was both uproariously funny and bone-chillingly eye-opening. I saw many outstanding and memorable plays throughout the year, but Octoroon stands out because it proves that no matter how far we've come, we can still reinvent and reinvigorate theater to speak to a new generation, making it feel, as an art form, unmistakably fresh and enduringly crucial. (Read interview with lead actor Austin Smith.)
---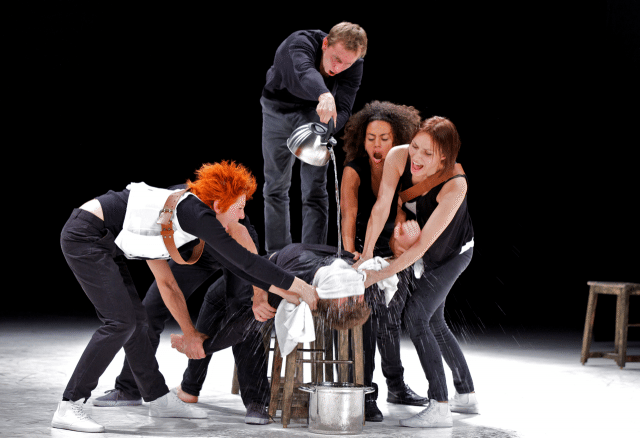 With cabaret dancers, broad comedy, and soaring high notes, Die Fledermaus at The Metropolitan Opera packs a wallop. Fans of musical theater will adore this Johann Strauss Jr. opera. With dialogue by Douglas Carter Beane, it's a quick witted, large scale celebration for the holiday season. (Read full review.)
Depend on La MaMa ETC for bringing the best of protest theater to the stage. Theatre artists from Belarus presented Trash Cuisine, a shocking work, filled with sorrow. The power of experimental theater has never been so profound. (Read full review.)
The Under the Radar Festival at The Public Theater really serves up the best of the avant-garde. Last January, Cineastas pieced together a live drama for filmmakers and theater lovers. The fast-paced, day-to-day struggles were a real time adventure from a company based in Argentina.
---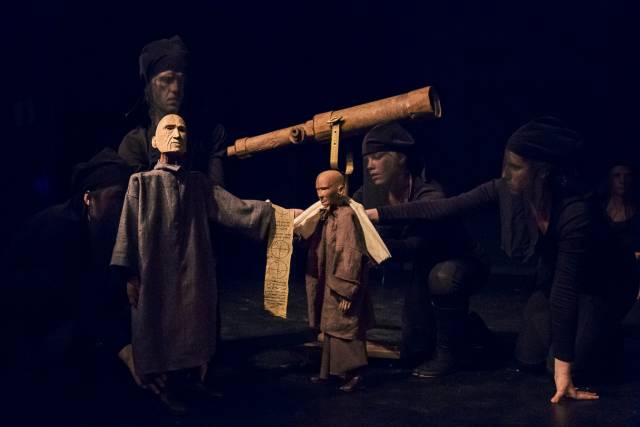 Selfie, a one-man show by Pat Shortt, brims over with warm hilarity in excess. About as much fun as a person can have in the theatre with an intermission that involves the audience in a very, very funny Irish funeral with sandwiches included.  (Read full review.)
Shank's Mare, at La MaMa's 2015 Puppet Series, was a beautiful and poetic tale about the interconnections of the paths people take across space and time, told with traditional Japanese puppetry juxtaposed with dreamy visual media. (Read full review.)
Let the Right One In. Although this vampire tale has been adapted from the novel ad nauseam, this production out of Scotland was a particularly wintery telling that comes off like a memory and beautifully captures the pain of childhood through vampirism.
---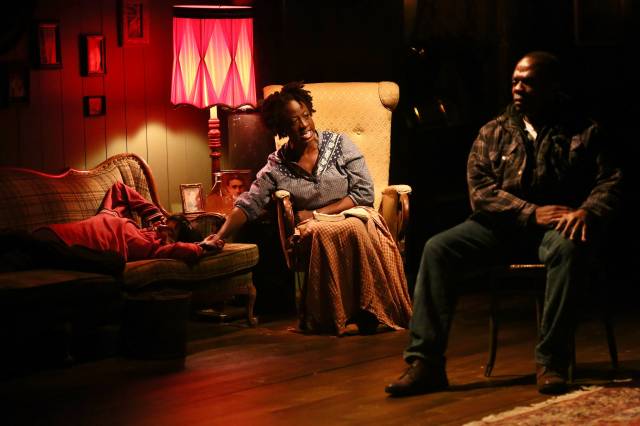 Elevator Repair Service's production of The Sound and the Fury at The Public Theater was an intimate look at a scandalous, tragic family. Set in the Deep South and adapted from William Faulkner's novel, it was a two-hour trip through the mind of Benjy, the family's mentally disabled son, who is unable to distinguish the past from the present. The audience experiences a disjointed timeline through Benjy's eyes, as he shows us what confusion and loss look like to him. (Read full review.)
Your Love, Our Musical, at the 2015 New York International Fringe Festival, was one of those shows you tell everyone about. Two performers select a couple from the audience, briefly interview them, and then improvise a musical of the couple's love story. No one wants to be on that stage more than Rebecca Vigil and Evan Kaufman, the musical comedy duo who deliver an honest, funny, and touching performance that leaves the audience laughing. (Read full review; read interview with Rebecca Vigil and Evan Kaufman.)
There's something about apocalyptic dramas that, as unrealistic as they are, give us another way to think about our lives. Night of the Living, also part of the 2015 New York International Fringe Festival, did just that, with its love story set within a zombie Armageddon. What would you do if you were on the brink of divorce, and along came the end of the world? How would you live with a spouse you despised, if he was the only person left in the world? There were no visible monsters in this one, but the characters were clearly dealing with demons. (Read full review.)
---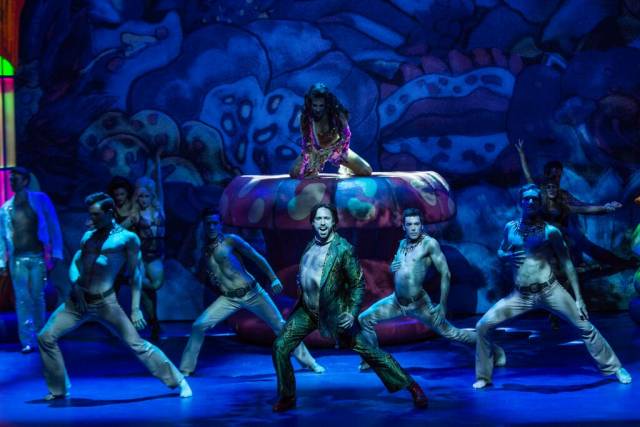 Trip of Love is an exhilarating ride through '60s song and dance with favorites such as "Downtown," "California Dreamin'," "These Boots are Made for Walkin'" and more. Flashy, heartfelt and over-the-top, this production is sure to put a smile on your face. (Read interview with Joey Calveri.)
All Gone West -- A provocative drama that examined life's goals and sacrifices. An uber-talented jazz band set the mood with soft, romantic tunes -- adding a beautiful light to a heartbreaking and thoughtful storyline.
Samuel A. Simon delivered a personal account of his wife's battle with cancer in a touching and honest way in The Actual Dance. His authenticity, spirit and tenacity stole the hearts of audiences and provided hope for a brighter future. (Read full review.)