StageBuddy's critics look back at their favorite theater of 2016.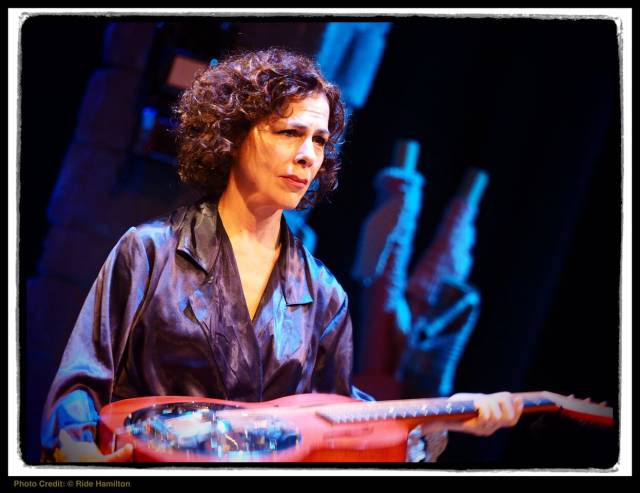 Some of the most compelling acting I saw on a stage in 2016 happened in the sanctuary of St. Johns Lutheran Church on Christopher Street in late spring, where the ever-industrious Austin Pendleton directed a simply-staged but intense and focused rendition of Tennessee Williams's Orpheus Descending. Heading the sizable, committed cast were the very fine Todd D'Amour as drifter Val Xavier and the magnificent Irene Glezos as Lady Torrance, troubled wife of the local dry-goods salesman (Keir Dullea). The production—three hours long, without intermission—was riveting and extremely moving. (Read full review.)
In late summer I was thrilled by Daniel Sullivan's powerfully visceral production of Troilus and Cressida at the Delacorte Theater in Central Park. Just as Orpheus made good use of the entire St. Johns sanctuary, so Troilus brought the action of this war story not just to the stage but also to the entire Delacorte space—and seemingly to a sizable chunk of the park itself. Sullivan directed the tragicomic play—which deals with the ugliness and cynicism of war—as a contemporary story, complete with a final, very loud gun battle that was alarming in its verisimilitude.
One of the most satisfying comic performances of the year came from Mike Birbiglia in Thank God for Jokes (mid-year, at the Lynn Redgrave Theater at Culture Project), an exhilarating monodrama that looked at the ways comedy can help people cope as well as the ways it can alienate them from one another. Birbiglia draws on his background as a stand-up comic, but his plays are more substantial than the average comedy-club set. Here (assisted by director Seth Barrish) he established deep rapport with his audiences, and was quick to improvise, depending on what happened at any given show. The night I saw Jokes, a young Christian couple walked out—offended by Birbiglia's irreverence. Before they got away, Birbiglia stopped them, engaged them, asked them about why they were leaving. It was an awkward and tense moment, but (at least for those of us who remained) it enriched an already invigorating experience. I imagine it was an evening that the fleeing couple will long remember as well.
---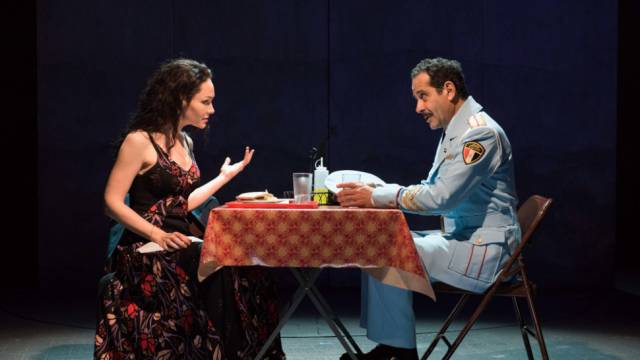 Ranging from splendid opulence to intimate storytelling, my favorite shows this year include the late director Anthony Minghella's sumptuous and visually stunning production of Puccini's Madama Butterfly at the Metropolitan Opera with a magnificent ensemble of bunraku puppeteers creating breath taking stage pictures and American spinto soprano Ana María Martínez's dazzling Cio-Cio San and The Band's Visit, a sweet new musical at Atlantic Theater Company with a traditional Middle Eastern music inflected score by composer/lyricist David Yazbek and a book by Itmar Moses.  Extended through January, The Band's Visit starring the brilliant Tony Shaloub and the luminous Katrina Lenk gives the audience heart breaking glimpses of loneliness, longing and connection and it's funny, too!   On an even more intimate level, I had the pleasure of reviewing four amazing and diverse cabaret shows this fall, all unique singer/actresses who expertly wove song and personal stories together with charm, humor and deep moments of anguish and discovery; Susanne Mack's "Reconciliation", Laura Jean Fumia's "It's Today", Risa Finkel in "Moment to Moment" and the sublime Jen Fellman's "Frenchy", a beautiful portrait of falling in love in Paris and with Paris. (Read our full reviews of Madama Butterfly, The Band's Visit, Susanne Mack, Laura Jean Fumia, Risa Finkel, and Jen Fellman.)
---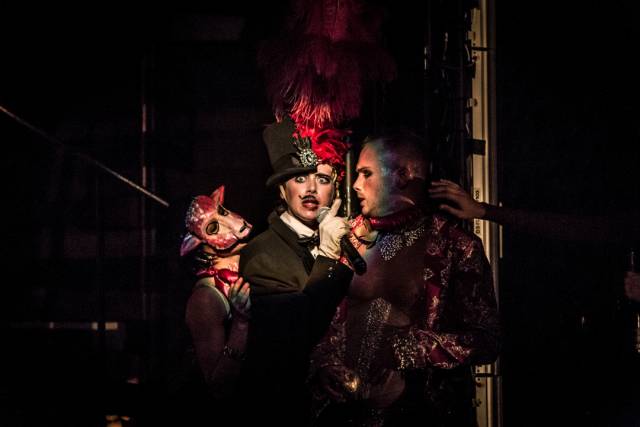 Company XIV is a definite favorite this year. Artistic Director Austin McCormick's inventive brand of dance theatre (calling it baroque burlesque ballet is only the tip of the intrigue) is always exciting, sexy, smart and funny. This year the company took on the tale of Snow White, the myth of Paris, and reprised their perennial holiday hit Nutcracker Rouge. (Read our reviews of Snow White and Paris, and interviews with company members Allison Ulrich and Charlotte Bydwell.)
The Father: Frank Langella won a much-deserved Tony Award for his portrayal of a man suffering the horrors of dementia. This intimate performance plays out like a thriller as we watch his character sink deeper into his own fragmented mind. (Read full review.)
PUFFS or: Seven Increasingly Eventful Years at a Certain School of Magic & Magic: Harry Potter fever never seems to die down. Stoke the flames of your fandom with this hilariously whip smart parody that follows reject house The Puffs (a take on Hufflepuff) through seven magical years at Hogwarts. Watch as an alternate trio battles the forces of evil and vies for a place in the spotlight that Potter and friends occupy. (Read our full review and our interview with creator Matt Cox.)
---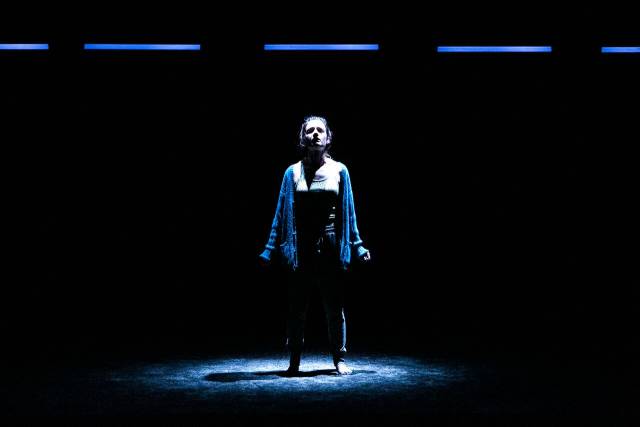 "I met a man…" says the girl, in the heartbreaking stage adaptation (from Dublin's Corn Exchange) of Eimear McBride's novel A Girl is a Half-Formed Thing  – "I met a man and I lay down and slapped and cried and wined and dined." In its brief New York stint of just ten performances, director Annie Ryan honed and rattled the bare bones of Aoife Duffin's electrifying portrayal of a maltreated girl and the injudicious townsfolk that wade in the sexual badlands of abuse and conquest. (Read our full review and our interview with Aoife Duffin and Annie Ryan.)
Post-WWII, the question lingered: what kind of people could send such large numbers of fellow humans to their deaths? In partnership with the Alfred P. Sloan Foundation, the Ensemble Studio Theater's Please Continue, written by Frank Basloe and directed by William Carden, tackled Professor Stanley Milgram's infamous obedience experiments at Yale, as well as the various aspects of cruelty in conformity. The play's scientific premise was aided by gripping drama and sensitive, thought-provoking investigation. (Read our full review and our interview with William Carden.)
In 2016's 1st Irish annual festival, The Cell's production of Honor Molloy's Crackskull Row, directed by Kira Simring, had its tight ensemble cast letting loose the misery and mischief of dislocated memories, secrets and desire in a plaster-peeled converted stable on the aforementioned Row. Led by Molloy's tuneful, virtuosic language, Crackskull Row is a savage reminder that a peaceful past-tense more than likely isn't so. (Read full review.)
---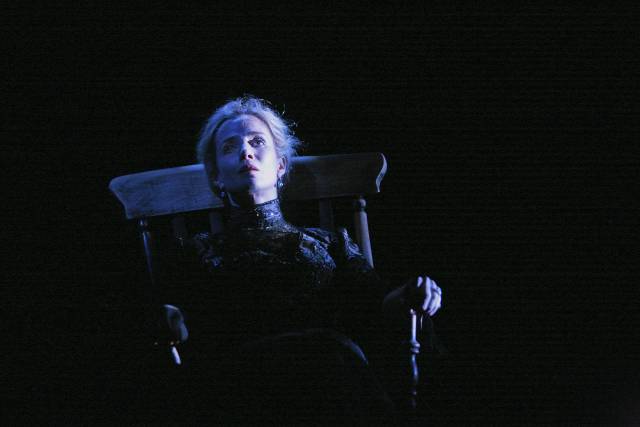 In her Beckett Trilogy: Not I, Footfalls, and Rockaby, Lisa Dwan carried on the tradition of her mentor Billie Whitelaw, and even went a step further. The notoriously difficult play Not I, which is profoundly harrowing for performer and audience alike, consists of a disembodied mouth seemingly floating on a dark stage and moves at the speed of thought. This year saw Ms. Dwan retiring from this rarely performed and immensely draining role. (Read our review and our interview with Lisa Dwan.)
An emotionally charged confrontation between two men who a share a history -- albeit on opposite sides --of the Irish fight for independence, Quietly presents a tight-wire script superbly acted. Compelling and unsettling, yet not without hope, from start to finish. (Read our review and our interview with actor Patrick O'Kane.)
A bloody multimedia production, The God Projekt focuses on an old god gone a bit batty, who, alone by his own hand, first attempts to reconstruct his wife and then to bring about the apocalypse. Inventive and darkly funny, and featuring some disturbing puppetry, this was one of the highlights of this year's La Mama Puppet Series. (Read our interview with Denise Greber, the curator of La Mama's Puppet Series.)
---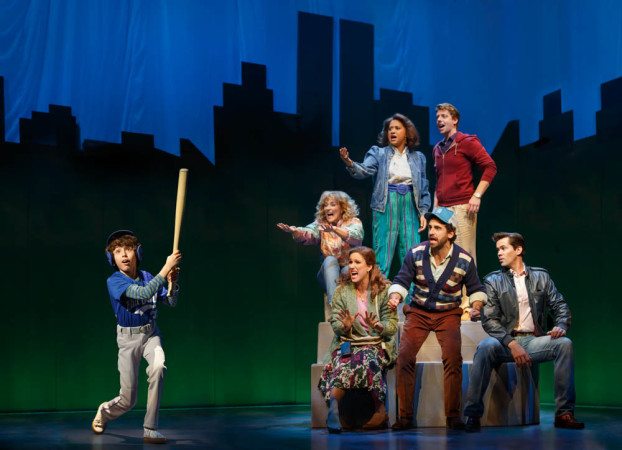 I think that the current revival Falsettos is one of the most ingenious pieces of theater ever. William Finn is such a gifted composer, and James Lapine's direction is brilliant. The cast, too, is as close to perfect as you can get. It's all tied together by the remarkable set by David Rockwell, a series of three-dimensional shapes, that, when put together, create a cube, but when taken apart, form the complex and ever-changing world of the show.
---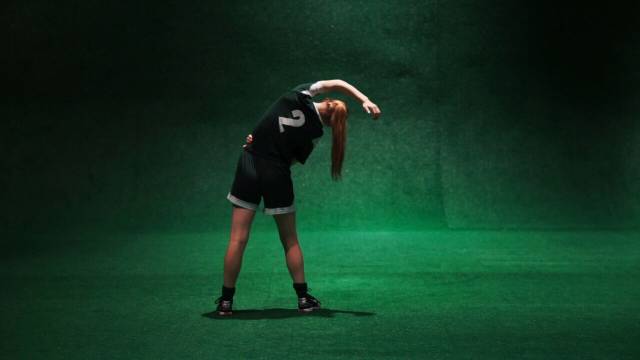 Sure to pull at the heartstrings of any longtime Harry Potter fan, Puffs: or, Seven Increasingly Eventful Years at a Certain School of Magic and Magic delivers some of the best laughs of the year with its look at the famous wizarding world through its least famous inhabitants: the Puffs. When Wayne gets the news that he's a wizard, he just knows that he's destined for greatness, but he soon finds himself sorted into the Puffs, the least impressive of the school's four houses, stuck on the sidelines as a certain other boy wizard rises to stardom. At once hilarious parody and touching love letter, Wayne's journey through seven years at magic school with his group of lovable misfit friends is a must-see for anyone who's spent any time in the world of Harry Potter – and, let's face it, that's all of us. (Read our full review and our interview with creator Matt Cox.)
No less fierce and strong than the animals for which they're named, The Wolves follows a high school girls' soccer team. Dropping in on their warm-up sessions before games, the play witnesses their in-fights and personal struggles, though the girls are always there for each other, ready to help the pack when it counts. Bitingly funny and sharply relevant, The Wolves presents a beautifully honest look at the lives of young women in America today. (Read our review and our interview with playwright Sarah DeLappe.)
Through Christine Renee Miller's exquisite solo performance, in which she plays not only herself but a dozen of the individuals with which her character interacts on one particularly bad day, Such Nice Shoes gets at the heart of what it means to live as an individual in New York's crowds. Following her struggle as an aspiring actress/yoga teacher, Miller invited us to question the real purpose behind the city's non-stop hustle, as her own day hurtles from bad to worse. Hilarious despite (or perhaps because of) the sour moments she lives through that day, Such Nice Shoes is poignant in its cleverly funny but sincere look at the bustling reality of life in the city. (Read full review.)
---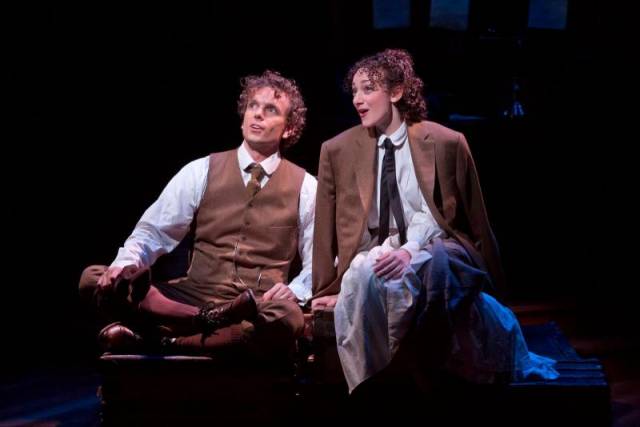 Daddy Long Legs: Long live the book novel musical! This charming story that featured the talented Megan McGinnis and Adam Halpin, with a heartwarming score from Paul Gordon, uplifted audiences and reminded us all of what it is to love and be loved. (Read our interviews with Megan McGinnis and composer/lyricist Paul Gordon.)
Straight: Writers Scott Elmegreen and Drew Fornarola brought audiences the provocative and eye-opening play, Straight, about a young man navigating his sexuality and its impact on the important relationships in his life. Dynamic trio Jake Epstein, Thomas E. Sullivan, and Jenna Gavigan, brought this important story to life that will continue to generate conversations.
Bright Star: Edie Brickell and Steve Martin's musical Bright Star featured an amazing cast including Carmen Cusack and Paul Alexander Nolan and a unique bluegrass score that was inspiring and truly moving. This story about the parts of our lives we share and those we keep to ourselves was a shining portrait of humanity, love, and living life to the fullest. (Read our interview with Carmen Cusack about her debut album.)
---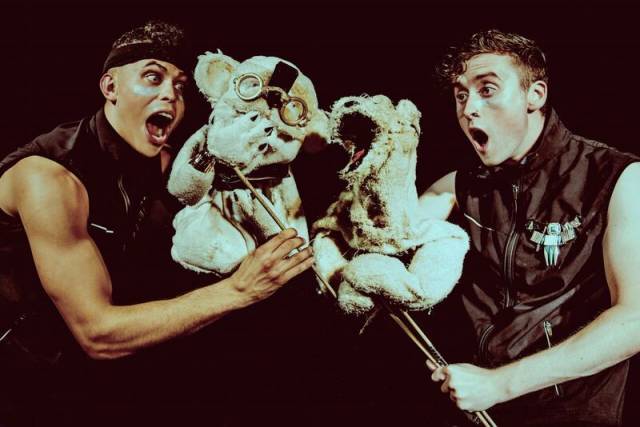 Communion is my standout favorite as what a dramatic play should be – an impeccably brilliantly written script, with top quality acting. It was so satisfying to be presented with a show that was deserving of straight A's across all its facets. Moving, interesting, riveting, and with all-convincing performances. It was what a night at the theater should be. (Read full review.)
Bears in Space: I think they had me at the title. Then the fact that it was a small cast of really good actors who were also great puppeteers, with a quirky sense of humor in the writing, and music and original songs to boot; the whole thing just worked and no-one walked away unhappy after seeing this show. (Read full review and our interview with director Dan Colley.)
What I especially loved about the multi-media puppet show The Paper Hat Game was its uniqueness. No other production has attempted to give you a smaller stage – in this case, the size and visual feel of a really large oven – and succeeded. The wonderful mix of puppetry, stencil cut outs, shadows, real human hands making paper hats, and the fact that it was taken from a true story, made it a wonderfully charming and skill-filled production. (Read full review.)