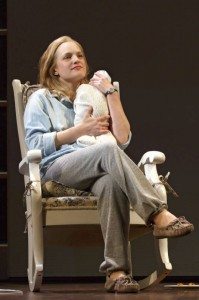 Before "Girls" and "Sex and the City" but after "That Girl" and "The Mary Tyler Moore" show came "The Heidi Chronicles", a comic look at a modern-day woman who wants and deserves to have it all, but balancing career, romance, life and family wasn't any easier in 1988 than in 1958 or now in 2015. Wendy Wasserstein's Pulitzer-winning play, which first opened at off-Broadway's Playwrights Horizons and then moved to Broadway in 1989, became something of a watershed, opening the door a bit wider for women playwrights on The Street by serving up a smart, proactive, female protagonist who is nonetheless torn by the constraints modern life puts on her time and emotions.
Opening tonight (March 19) at Broadway's Music Box Theater is a new look at the show, staged by Pam MacKinnon (of "Clybourne Park" note) and starring "Mad Men's" Elisabeth Moss as Heidi. She's flanked by "American Pie" alum Jason Biggs and "A Gentleman's Guide to Love & Murder" Tony nominee Bryce Pinkham.
With so many years having passed since Heidi was first chronicled, has time been kind to this fair lady or has it passed her by and left her something of a time-capsule curio? Here's how the New York critics weigh in:
Variety's Marilyn Stasio still likes the play and calls Moss "effortlessly endearing and wonderfully real" but calls Pam MacKinnon's production "shoddy" with Heidi's girlfriends "an embarrassment…[of] cartoonish acting." She even finds Jessica Pabst's costumes "offensively ugly, [therefore] perpetuating the offensive cliché that smart girls don't know how to dress themselves."
David Rooney of The Hollywood Reporter is a bit more positive overall, even though he finds the play's 2-hour, 40-minute running time "excessive" and Moss's performance distanced and "opaque." However, the actress eventually becomes quite affecting and the main reason to see this "mixed bag" of a production. Like Stasio, Rooney decries the ugly production values for this "lovely, thoughtful play" which finally comes together in an important monologue that the previously "muted" Moss "beautifully uncorks."
In his *** (out of 5) review, Daily News critic Joe Dziemianowicz also finds Moss curiously uninvolving and "middling," especially under MacKinnon's "heavy-handed" direction of characters that are "one-dimensional" caricatures. He likes Bryce Pinkham—as a "solid" Peter (ahem), but finds Jason Biggs "miscast" and lacking "charisma and charm."
Giving the show only **1/2 (out of four), New York Post critic Elisabeth Vincentelli is also surprised at Moss's Moss' low-key approach [that] verges on passivity, which doesn't make the character especially interesting." She prefers the co-stars and notes the irony that "in a show about a woman's path to self-empowerment, it's the male characters who stay with you." Ultimately, writes Vincentelli, "Pam MacKinnon's production sands off whatever edge there was to the play — and Wasserstein wasn't an edgy writer."
By contrast, Associated Press critic Jennifer Farrar is wholeheartedly positive about the production. She finds Moss a "luminous, quizzical Heidi" and the revival "stylish." She adds that "director Pam MacKinnon moves the cast with assurance…as the ensemble adeptly delivers Wasserstein's dialogue, which crackles with wit, ironies and pointed social commentary."
Even more delighted is Newsday's Linda Winer who raves, "this is still a witty, vibrant, wonderful play, directed with layers of wisdom and an embraceable aversion to cartoon." Unlike other critics, Winer finds the décor and costumes have "a period-perfect lack of cliché," and she's impressed by Moss's "subtlety and intelligence," which stand up well even when compared to the original Heidi, Joan Allen.
New York Times critic Charles Isherwood concurs, noting that Moss is "softly radiant" and "affecting" in this "vibrant" revival. He also finds the supporting cast to be "fine" at helping "the play's humor retain its buoyancy." Like David Rooney, Isherwood finds the play's second-act monologue to be the highlight and centerpiece of the whole show, and he concludes his review noting, "Ms. Moss, her eyes moistening even as her voice remains strong, delivers this beautiful speech with a grace that grows stronger as Heidi's peppery, self-aware humor gives way to lacerating honesty. Those are…key notes in Wasserstein's durable play, and Ms. Moss and her collaborators in this sterling production sing them forth with a revitalizing warmth."
Theatermania's Hayley Levitt agrees that Moss "treads these delicate waters admirably" and lauds Jason Biggs' for making Heidi's intentionally obnoxious boyfriend "that man you hate yourself for loving." Levitt also loves the chemistry between Moss and Pinkham (as Heidi's gay best friend), the latter giving "one of the finest dramatic performances of the season."
Newark Star-Ledger reviewer Ronni Reich finds the production well-timed culturally and "vividly realized." "Heidi's story," she writes, "remains one with which audiences can identify." Reich adds that "Moss is mesmerizing, natural and exceptionally expressive," and her big second-act monologue has "nuance and impact."
Taking on the big question on everyone's minds—is the play dated?--Robert Kahn, of NBC New York, answers "How could it? `Heidi' asks the same important questions and provides the same uncomfortable answers." Kahn also appreciates Moss's "accessible warmth", Pinkham's charisma and truthful work, and Biggs's surprisingly "sympathetic" Scoop.
THE VERDICT: A few critics found the show sitcommy and too surfacey for its length, but most, including The Times, found Wendy Wasserstein's serious comedy still relevant, well staged and growing a luminous Moss.