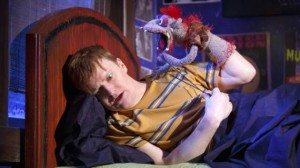 A Broadway show about foul-mouthed hand puppets . . . could such a thing ever work? Ask the producers of "Avenue Q" (which is still running in its off-Broadway transfer). Okay, but can another show about sock puppets acting out have similar success?
Manhattan Class Company, which produced Robert Askins's pitch black comedy, Hand to God off-Broadway, is betting the answer is yes. Directed by the inimitably named Moritz von Stuelpnagel, the satire—about Christian kids letting loose at a bible camp—opened at Broadway's Booth Theater on Tuesday, April 7. Did the critics give the show a hand or throw it into a moth-beaten trunk?
Variety's Gordon Cox delights at the show's return, calling the play "furiously funny" and notes, "at 800 seats, the intimate Booth proves extremely hospitable to this fiendish little satire of all things holy." He concludes that author "Askins's most impressive talent . . . is his ability to make us laugh while juggling those big themes that make life so terrifying."
New York Times scribe Charles Isherwood is equally laudatory, calling "Hand to God" "darkly delightful" with an evil puppet that's "flat-out hilarious, spewing forth acid commentary that will turn those goose bumps into guffaws." Isherwood also raves about lead Steven Boyer whose "performance as Jason is tender and touching, his performance as Tyrone outlandish and hilarious; put them together and you have that rarely seen (although often hailed) acting achievement: a true tour de force."
Newsday's Linda Winer is less enthused about the show's move to a bigger theater, however. The "wicked little satire" is now "strenuous" "improbably pumped up for Broadway, with a lot more yelling and joke-pounding [so] the offbeat reverence shrinks in charm and impact. Robert Askins's gory yet sweet-natured spoof feels more like a drawn-out sketch, and the gleeful dirty-talk gets childish when hammered by good actors encouraged to shriek." Best line: Winer dubs the show "Avenue 666."
Associated Press critic Mark Kennedy is more welcoming, noting that "Moritz von Stuelpnagel directs with a flair for allowing the play's little absurdities to reveal themselves naturally and a skill with onstage physicality." He also calls actress Geneva Carr "superb" and Steven Boyer "brilliant."
AM New York's Matt Windman is also impressed. In his ***1/2 (out of ****) review, he raves, "This is the kind of raw and raunchy play you don't typically see on Broadway, but once there ends up making Broadway a more exciting place." He notes that, "despite how silly it gets, `Hand to God' is also a seriously disturbing portrait of an emotionally scarred mother and son who have spent so long suppressing their rage that it comes out in unpredictable and inappropriate ways."
Also granting the play ***1/2 (out of ****), the New York Post's Elisabeth Vincentelli, who lauds "Boyer's virtuosic performance" as "simultaneously hilarious and scary, like the play itself." Vincentelli also notes that "Underneath the wildness is a scalpel-sharp show about the ways people cope with their troubles."
Laughing just as hard is Daily News critic Joe Dziemianowicz, who gives the play **** (out of five) for being "so ridiculously raunchy, irreverent and funny it's bound to leave you sore from laughing. Ah, hurts so good." He compliments author Askins's deftness at writing dialogue that's "hysterical" but also serves up insights about organized religion and family dysfunction." Dziemianowicz concludes, "It's not typical Broadway fare, but all involved deserve a big hand."
Theatermania's Zachary Stewart concurs: "Everyone will laugh their heads off," he writes, about "the funniest new play on Broadway." He praises not only Boyer's thrilling portrayals but Beowulf Boritt's "dollhouse set" that "never ceases to deliver surprises and jaw-dropping moments."
Deadline.com's Jeremy Gerard likes the play but loves the performances, saying that Steven Boyer's "astonishing" work is the most exciting acting on Broadway since Nina Arianda's debut in "Venus in Fur." Best line: Gerard dubs the show "Penis in Fur."
OVERALL: Raves nearly across the board for a show that one-ups even `The Book of Mormon' in gross-out gags and blasphemy. Box office for the production has been lagging, so these reviews may be the help `Hand to God' needs to reach heavenly receipts.