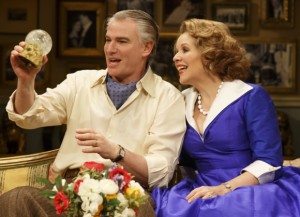 With so many shows opening on Broadway this spring, it's easy to overlook a light, frothy comedy. But never count Joe DiPietro out. His musical with Jimmy Roberts, "I Love You, You're Perfect, Now Change", became an off-Broadway phenomenon and still appears all over globe, while his gentle comedy, "Over the River and Through the Woods" also proved a long-running hit. Although his underrated jukebox musical, "All Shook Up", didn't last long on Broadway, "Memphis" lasted long enough to win a 2010 Best Musical Tony Award, and his book for "Nice Work If You Can Get It" snagged a Tony, too.
Now DiPietro's back on The Street with "Living on Love", a screwball comedy about an opera singer (Renée Fleming, who really is an opera warbler), whose husband (Douglas Sills) has a wandering eye (for Anna Chlumsky), so she lets her amorousness wander, as well (to Jerry O'Connell).
So did the critics love "Love", directed by Kathleen Marshall at the Longacre Theater?
Time Out New York's Adam Feldman sure didn't. In his ** (out of five) review, he calls the "lousy" show, "a bland, synthetic dud: a ham-flavored turkey" with Fleming being "a great star giving a mediocre performance as a great star."
Also giving the show ** (out of four), Matt Windman of AM New York concurs, complaining that, "Fleming and Sills serve up over-the-top caricatures, while O'Connell and Chlumsky dutifully serve as their pawns and playthings." Though directed "with technicolor flair by Katherine Marshall," the show never moves beyond "a simple, static scenario."
However, Robert Kahn of NBC New York had quite a good time at the comedy, finding Sills "a comic marvel" and getting "goosebumps" every time Fleming broke into song. Though he found the show a little long and the last scene's switch in tone slightly abrupt, he also appreciated the play's "impressive conclusion."
Variety's Marilyn Stasio disagrees with Kahn about the conclusion (which she finds an "ill-advised saccharine payoff"), but like him, she's tickled by the rest of the comedy. Stasio writes that director Marshall "applies the classic drills of farce to orchestrate this clash of narcissistic egos, and Fleming and Sills respond with gusto to her comic cues." She's less impressed by the subplot and by Jerry O'Connell's "discomfort" with the show's comic rhythms. Still, "it's all very charming," she notes, "with a properly playful touch."
Don't tell that to Wall Street Journal scribe Terry Teachout , who calls the comedy "so unfunny as to make the viewer despair of ever laughing again, much as a starving man might despair of ever eating again." He faults director Marshall for "nudging her cast toward clattery caricature," while lamenting the casting of Fleming who's just too nice and "bland" to be believed as a temperamental diva.
Or is she? Mark Kennedy, of The Associated Press finds Fleming "a delight" who is "able to lovingly goof on her refined world with an insider's grin." Giving the show a very complimentary review, Kennedy kvells that Marshall directs this "satisfying, sweet comedy" "with comedic aplomb."
Meanwhile, the equally pleased The Wrap's Robert Hofler appreciates Fleming but raves about Sills, "whose divo Vito enters the Broadway pantheon of great, inspired, and completely over the-top comic creations."
Newsday's Linda Winer isn't bugged by the play itself so much as what it represents: another "inexplicable" bit of "throwback fluff-ball" comedy. As such, "Living on Love" proves "a well-crafted triviality without subtext or a thought in its head beyond trying too hard to entertain." She has nice things to say about Fleming's "timing and stage presence" and Sills's expertise at the show's comic histrionics, but Winer still finds the whole enterprise "creaky."
Joe Dziemianowicz of the Daily News is on the same page, saying in his ** (out of five) review that he laughed only twice during the whole play, which suffers from "too many lame jokes and broad-as-a-barn performances."
And yet the "shamelessly silly" evening is "a guilty pleasure" for the New York Post's Elisabeth Vincentelli, who grants "Living on Love" *** (out of four). She finds Sills "hilarious" and credits director Marshall for playing to the cast's strengths.
Fleming's singing is the big strength for Ben Brantley of the New York Times, but the quality of her warbling just makes the rest of "this trifle of a play seem even smaller." He appreciates the cast's "go-for-broke gusto" but still sees the piece as reminiscent of "a forgotten bottom-drawer comedy from the 1930s."
OVERALL: The positive reviews are mild and somewhat backhanded, while the pans are out-and-out slams. Since the show's grosses have been meager (not even cracking the $200K mark out of a potential weekly $950K), "Living on Love" is living on a respirator with a very short plug.)