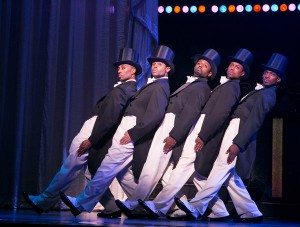 With little fanfare and only one unheralded tryout two years ago, the new musical revue, "After Midnight", opened on Broadway yesterday (Nov. 3) at the Brooks Atkinson Theater. The show, conceived by Jack Viertel, tries to recreate the glory years of the Cotton Club and the Harlem Renaissance – that is, the years of Duke Ellington, Lena Horne, Cab Calloway and other musical legends of jazz, pop and sophisticated (but swinging) American music.
Wynton Marsalis, who's busy rearranging a bunch of Stephen Sondheim songs for the upcoming "A Bed and a Chair" at City Center, here does the musical directing and arranging on such hits as "Black and Tan Fantasy," "Stormy Weather" and "Digga Digga Do."
So did the Broadway critics digga digga dig "After Midnight"? Here's the roundup:
TheaterMania's Hayley Levitt praises Viertel for not just "cobbling together" a pastiche revue but for curating "a beautiful and intelligently designed montage of legendary jazz performances, while adding in a few modern twists…" The narrator figure, played by Dulé Hill, provides "a much-needed throughline that is all too often absent from musical revues." Levitt concludes her rave review by noting that thanks to so many "dazzling performances," "Harlem after midnight has never looked better."
Variety's Marilyn Stasio loves the look of the show, which "is gorgeously designed to showcase roof-raising performances from top-flight talent." She marvels at the ability of costume designer Isabel Toledo to create such a glamorous wardrobe for dancers who have to be athletic and acrobatic. Stasio's one little gripe is that the show feels "sanitized," yet she never explains how or what she means by that. She does kvell that by the last song, "the whole house is `Rockin' in Rhythm' and nobody wants to go home."
"After Midnight" "perks up the ears as much as it captivates the eyes," writes Robert Kahn for NBC New York. He lauds the show's "beguiling talent" and praises the production for being able to make a "cavernous Broadway theater" feel like a cozy bistro.
Even New York Times scribe Charles Isherwood, who has a Mikey-like tendency to hate almost everything (especially if it isn't inscrutably avant-garde), came away trumpeting "After Midnight" to the skies. He praises the "thrilling" dancing but proves especially grateful for the 16-piece orchestra that actually sounds like an orchestra (instead of the usual ensemble in the pit that tends to be miked "as if it could have been piped in from Hong Kong"). Like NBC's Robert Kahn (just above), Isherwood finds the show "captivates the eye as much as it does the ear." "It will be a long time before Broadway hosts music making this hot, sweet and altogether glorious again," Ish gushes.
For Talkin' Broadway, Matthew Murray starts out with backhanded praise but he, too, is swept up in "Midnight's" moonlight: "That [the show is] completely meaningless and utterly emotion-free strangely doesn't matter; the top-flight talent of every person involved, both onstage and off, ensures that this evening delights despite not raising the temperature beyond a bare simmer." The show may fail in its announced intentions to resuscitate a long-gone era, writes Murray, but it succeeds in "expertly and unpredictably" showcasing the music and musicians.
Chicago Tribune scribe Chris Jones wishes the show had more of a structure as well as a more complex take on what the Cotton Club sometimes represented: black entertainers in a racially polarized America performing for "a sea of white faces." Jones feels that "After Midnight," which offers "considerable pleasures," "could have been a good deal more" than it is, had it taken more risks.
Newsday's Linda Winer is also bothered by the show's lack of a story: "Although the big cast overflows with talent, individuality and winning attitude, one senses a battle between a desire for slickness and an endearing, clubby casualness. When that push for slickness goes into overdrive, the ensemble can feel ragged." She also snips that the "choreography falls back on flash and acrobatics when the music demands more complex inspiration."
The New York Post's Elisabeth Vincentelli agrees in her ***1/2 review that "while [Warren] Carlyle isn't the most imaginative choreographer, you can't help but thrill as his dancers triumph in wildly different styles." On the whole, though, the "sleek, elegant" "After Midnight" does credit to the maligned jukebox musical genre. She compares the plotless revue to the well-remembered Ellington show "Sophisticated Ladies" in that both resemble "a string of pearls."
In his **** review, Daily News critic Joe Dziemianowicz notes, "It's easy to pick a favorite [performer]: it's whoever is on stage at any given moment." He singles out Adriane Lenox for her "sass and brass" that "send the show to "dizzying heights." And, like many others, he especially enjoyed the randy Cab Calloway number, "Zaz Zuh Zaz."