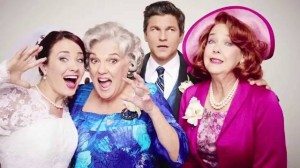 Well, "The Wedding Singer" flopped but became a popular touring show, and "First Date" flopped but is bound to get lots of community-theater action, will another comic musical about romance have a similar fate on the Great White Way?
Last night (April 14) told the tale at the Brooks Atkinson Theater where It Shoulda Been You opened after starting previews March 17. With a book and lyrics by Brian Hargrove and music by Barbara Anselmi, the show tells of a Jewish bride and her Catholic groom—and, of course, their impossible families. Perhaps the biggest name attached is its most unexpected: David Hyde Pierce, of "Frasier" fame, though he's not appearing in the musical. He's making his Broadway directorial debut, with Josh Rhodes choreographing. Both have a number of acting veterans at their command, including Sierra Boggess, Tyne Daly, Harriet Harris, Chip Zien, and fellow "Frasier"-ite Edward Hibbert.
In this ultra-crowded spring season, will the Broadway critics think It Should Be a Contender or It Shoulda Never Opened?
Elysa Gardner of USA Today is happily won over, granting the tuner ***1/2 (out of ****). She calls it a "delightfully giddy, goofy musical comedy [that is] the season's freshest and funniest to date." She lauds the authors for taking a familiar premise and creating something "endearingly old-fashioned in spirit and decidedly contemporary in execution." Helping is David Hyde Pierce's "whip-smart direction" and the delicacy of the "superb cast."
The New York Post's Elisabeth Vincentelli couldn't agree less, however. She concedes that the cast is "a terrific ensemble," but they have to make the most of "broad strokes" and "the lamest jokes." She decries the musical's "disposable melodies" and its "hugely improbable plot twist that makes `Tony n' Tina's Wedding' look like a docu-drama." She allows only ** (out of ****) for what is "quite the blunder."
Hating the show even more is Deadline.com's Jeremy Gerard, who calls "It Shoulda Been You" flat-out "terrible" with a "tiresome book and lyrics" and assumes the only reason the show got produced is because author Hargrove is Pierce's real-life husband. He has kind words for actresses Tyne Daly and Harriet Harris and "Memphis" alum Montego Glover, but ultimately, it's "so much talent, so little show."
But not so fast for the all the haters—Associated Press critic Jennifer Farrar had a perfectly good time at the "frequently funny" and "irreverent" show with an "excellent cast [that] transcends "the sometimes predictable material." "The show has a brash, non-stop pace," Farrar notes, which makes it worth "snagging an invitation to this comically inventive wedding."
Even happier is Variety's Marilyn Stasio, who admits the show is familiar "hokum" but raves that the cast make it all seem "terribly funny. . . All these pros are punching well below their weight, but how grateful we are for that."
Not at all grateful, though, is Daily News critic Joe Dziemianowicz, who grants the musical only ** (out of *****), and begins his critique with: "Something old, something new. Loved Tyne Daly. Rest is goo." "Small in size but big in cliches" is his summation, though he allows that Daly "is a nasty hoot" and other cast members buoy this "harmless diversion." Still, he concludes, it "shoulda been better."
Although jaded by the show's familiar subject matter and characterizations, Newsday's Linda Winer admits, "The overqualified cast convinces us that everyone onstage is having a terrific time, which goes a long way toward muffling the incredulity that such a throwback has found its way back to Broadway." She calls the music simple yet too Sondheimesque and ultimately conveys the feeling that audience members around her were having a better time than she did, but the actors, at least, made the evening painless.
So after those reviews, d'ya think the New York Times gave the show a rave? Umm . . . no. Ben Brantley calls it a "crumbly meringue of a production that harkens back to the likes of `Abie's Irish Rose' and 1960-70s middlebrow comedies that "occupy that treacherous comic ground between smirky and perky." Brantley concludes, "There's not an element in `It Shoulda Been You' that hasn't been used, and wrung dry, before. Adding latter-day twists to this cocktail of clichés somehow makes it taste all the flatter."
Flattening the show even further is AM New York's Matt Windman, who credits director Pierce for casting "superb stage actors" but slams the tuner for being "dated and unfunny." "When the material is this disappointing," he notes in his * ½ review, "no one can save it."
For his part, Steven Suskin in The Huffington Post sees a few more bright spots, including Josh Grisetti who provides "hilarity whenever he reappears" because "he is the only member of the company able to make his character seem human." Suskin also compliments Pierce's direction which "helps keep the proceedings happily and dizzily airborne." Like some of the other reviewers, Suskin takes note of many audience members having a better time than he did. He also wonders whether are enough of those old-school crowds to keep this "tolerable" show going.
OVERALL: A rave or two aside, most critics saw the comedy as too much of a throwback—and, as such, wished they could throw it back. Grosses for `It Shoulda Been You' have been fair to middling in previews, and if Tyne Daly gets a Tony nomination, you might see the producers try to run this till mid-summer, but vultures will be hovering over the wedding cake.