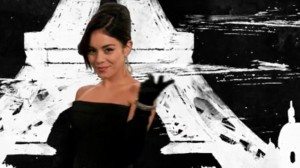 1951 saw Broadway fall in love with Audrey Hepburn playing the innocent but oh-so-canny "Gigi" in the Anita Loos play of that title. 1958 caused a similar infatuation with Leslie Caron when the play was turned into a well-remembered movie musical. 1973 brought the Lerner-and-Lowe tuner to Broadway but was less kind to Karin Wolfe, who starred but ended up having better luck in television soap operas than on the Great White Way.
Still, the "Gigi" saga has yet to exhaust itself, as 2015 (April 8, to be exact) brings a revival of the musical back to Broadway, with Eric Schaeffer directing and Heidi Thomas goosing up Lerner's original book. "High School Musical" starlet Vanessa Hudgens makes her Broadway debut in the show, which could bring the tween audience to the Neil Simon Theater, but in a crowded spring season, will "Gigi" have the goods to go up against such lavish competitors as "Dr. Zhivago", "Finding Neverland" and "An American in Paris"?
DC Theater Scene scribe Jonathan Mandell has his doubts, writing that the "first-rate creative team" and "sturdy" cast can't help "Gigi" from feeling "akin to dirty linen that's been put through the wash too many times; it's clean now and has a sheen, but it's threadbare, intellectually and emotionally." Mandell lauds the show's "visual splendor" and admits Hudgens has "the loveliest smile on Broadway . . . But one leaves the theater with the overwhelming impression of an underwhelming entertainment."
Charles McNulty of The Los Angeles Times concurs, noting that the story of an under-age girl fending off romantic entanglements with much older men presents difficulties for any current incarnation, so author Thomas and director Schaeffer had no choice but to "sanitize the story and make it soppier while lessening the stakes." Although the "pacing is brisk, and the spirited choreography by Joshua Bergasse occasionally turns acrobatic," Hudgens, while at first winning, becomes more "superficial" the longer she's onstage. Yes, "hearing the score cascade from a live orchestra…is an undeniable treat," writes McNulty, but overall, "the new `Gigi' only seems more dated."
Hammering the show even harder, Variety's Marilyn Stasio notes that bowdlerizing the story makes Gigi "seem dimwitted instead of innocently naïve." She faults the creators for the "blundering way" they dumbed down the book and director Schaeffer for seemingly giving the performers "instructions to knock themselves out on every speech and every song." Only the designers haven't "lost their minds in this ill-conceived adaptation."
Like his colleagues, Associated Press critic Mark Kennedy acknowledges the problem that the original `Gigi's' icky, robbing-the-cradle premise needed to change for the show to be palatable to a modern audience. But, also like his colleagues, he complains that Thomas & Co. haven't found a workable solution. "They've taken out the creepy factor," he writes, "but they've taken out the zing, too." Hudgens does "pretty well" in the lead role despite her "strange accent," with "the always-wonderful Victoria Clark and a gloriously catty Dee Hoty" offering welcome support. However, Kennedy ultimately compares the show to a "fallen soufflé" and also to "lukewarm and flat" champagne.
Swimming against the tide is Elisabeth Vincentelli of The New York post, who allows "Gigi" *** (out of four) and praises Heidi Thomas's revised book for being "more in line with modern ideas about women and romance [and] at least at least her Gigi's making deliberate choices considering the limited options available to women back then." Vincentelli also appreciates the "elegant" scenery and notes that `Gigi' "may be a good pick if you can't get into `Wicked' on Take Your Daughter to the Theater Day."
On the other hand, Daily News critic Joe Dziemianowicz would just as soon stay home. Granting the musical only ** (out of five) review, Dziemianowicz calls actress Hudgens "perky but ooh-la-la-less" and the revival "shrill" and "subpar" with "over-caffienated choreography" by Joshua Bergasse. Yes, the "tuneful songs can still tickle the ears," but the "performances are all over the place," with Howard McGillin too broad, Corey Cott too "saccharine" but Dee Hoty "saucy and steely."
"Pretty and bland" are the adjectives that come first to Newsday's Linda Winer. She acknowledges the care that has gone into this revival, including Catherine Zuber's "gorgeous period costumes," but the story has been "sanitized, flattened and sentimentalized" and Hudgens, though showing "the flair of a stage natural," vocalizes "like a Disney heroine singing through helium."
On the same page is AM New York's Matt Windman, who opines that "Hudgens gives the sort of sincere but clumsy performance you'd expect to see in, well, a high school musical. But all things considered, she has been given a near-impossible task of injecting life and charm into what is essentially a two-and-a-half-hour slog."
Perhaps surprisingly, Charles Isherwood of the New York Times is less harsh than most. He calls the show "pretty and pleasant" with a cleaned-up book whose changes "smartly align…with our more enlightened times." Like his colleagues, he acknowledges the "scrumptious eye candy" scenery and appreciates the supporting cast members Victoria Clark, Dee Hoty and Howard McGillin. He also appreciates Hudgens's "perky impetuousness" and singing but slams her acting, calling it "emotionally vacant" and "a major problem" for the show.
NBC New York's Robert Kahn is more taken with Hudgens's "verve and vivacity" and notes that she and Corey Cott "are sweet together and seem to share a genuine rapport." In fact, Kahn's review is about the only rave the show has received, and you could almost see his last paragraph—"'Gigi' boasts classic orchestrations, Catherine Zuber's gorgeous costumes and appealing dance numbers. It's a delightful production"—being mocked up on sandwich boards outside the theater first thing tomorrow morning.
Certainly, the producers won't be quoting Hollywood Reporter scribe David Rooney when he calls the revival "pretty but charm-deficient" and "rather mechanical," full of "dreary patter songs that echo those from `My Fair Lady' but have minimal impact." Though Hudgens and Cott have their second-act moments, ultimately the "under-populated" show "lacks fizz."
Overall: Two encouraging reviews aside, the critics were not exactly gaga over `Gigi.' To most, the seemingly insurmountable problems of the original storyline have been smoothed over to the point of bland pointlessness, and while Vanessa Hudgens has obvious talent and appeal, acting-wise she doesn't quite cut the mustard. The show's grosses rose steadily during its brief preview period, but grosses are still less than half the weekly potential, and these reviews are unlikely to help `Gigi' rake in the g's.