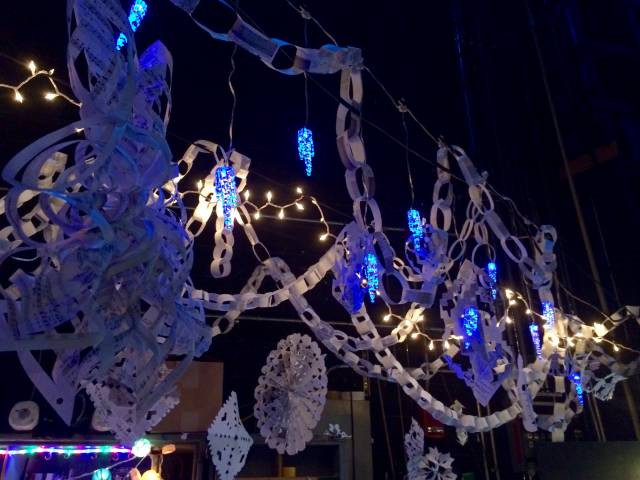 The holiday season is the busiest time of year for entertainers and that is especially true for Broadway, Off-Broadway and National Tour company members with crazy schedules and lots of extra shows to accommodate holiday tourism. And, of course no one knows how to make merry better than the journeyman actor. This season, Stagebuddy.com was invited to see how some of your favorite shows revel in the joy of the season.
Gentleman's Guide to Love and Murder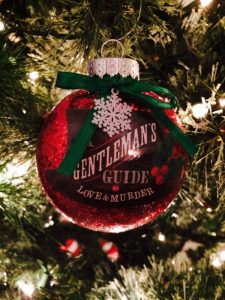 Plays Secret Santa and decorates the dressing rooms, hallways and backstage area to give it a homier feel. Jeff Kready, the new Monty Navarro (as of Jan 20), says of Secret Santa, "I like giving secret gifts to one of my cast mates, but I signed up Lena (his daughter with actress/wife Nikki Kready) so she's the one receiving gifts instead of me. It's so fun to see people playing elf for one another, running around, trying to be discrete.
Jeff also shared a picture of his personal GGLAM Christmas ornament, made by some fans of the show.
Wicked
Stage Manager, Gregg Kirsopp told Stage Buddy that this year the company played a game based in the 12 days of Christmas. Each day had a prize. "We hid 12 cards, in the theater, not on stage. Each card had some Christmas trivia on it. One had a number corresponding to the 12 days of Christmas and that was the winning card. The company member who found the winning card won a prize. The final prize was a $50 gift certificate to Azaleas restaurant. It was fun and got us through twelve shows in a row!"
Aladdin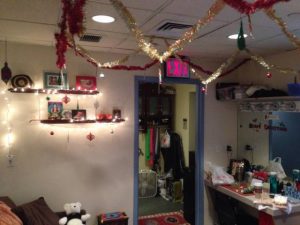 Most companies play Secret Santa but Aladdin puts their own spin on the holiday favorite calling it "Secret Scimitar". Adam Jacobs (Aladdin) comes this dressing room photo. It was decorated by his Secret Scimitar.
If/Then
If/Then's Joe Cassidy, who just released his own Christmas album (available on itunes https://itun.es/us/nZmmD), shared with StageBuddy that, in the spirit of giving, the company had collected over 150 toys to donate to the Local 764 toy drive for the kids at the Harlem United & Housing Works.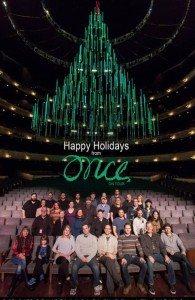 Once - National Tour
Celebrating this holiday season in Dallas, TX, the company of the Once National Tour, played Secret Santa and took a lovely company holiday photo card sent to StageBuddy courtesy of Stage Manager Aaron Elgart.
Honeymoon in Vegas
They may still be in previews and rehearsing harder than Santa's elves work the week before Christmas but according to David Josefsberg, the company of Honeymoon in Vegas found time to share in the holiday spirit with a "pretty intense" Secret Santa. The festivities included some an amazing stage-side final reveal. David also shared a photo of a doll Nancy Opel made for her Secret Santa Katie Webber.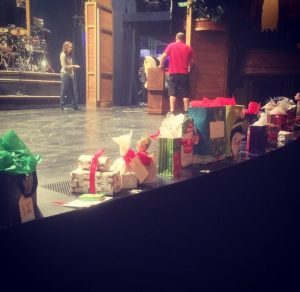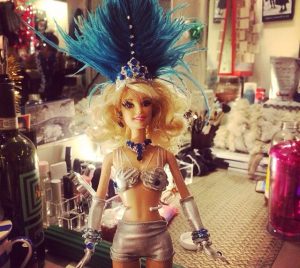 Joseph and the Amazing Technicolor Dreamcoat - National Tour
The company of Joseph and the Amazing Techinicolor Dreamcoat is spending this holiday week in Washington, DC. The company lead by Ace Young and Diana Degarmo spread the holiday joy with an afternoon of caroling at the Walter Reade Medical Center. Back at the theater, Paige Zaludek (Head of Props), Mike Kanz (Head Carpenter) and Dance Captains David Rossetti and Leigh Sheffler decorated the backstage.