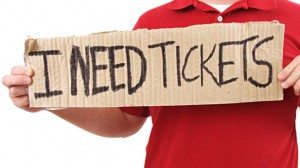 As a theater critic for more than 25 years, I'm used to getting free tickets to the plays I see, be they off-off-Broadway showcases or the latest multi-million dollar blockbusters in Times Square. It's part of a long-standing tradeoff between producers and us journalists: we're granted free passes in exchange for publicizing the shows in question. Of course, critics aren't obligated to write positive things, but our no-cost admission does mean two-to-four hours spent writing about each production. So we're spared shelling out anywhere from $18 to $180 (or double that when we're granted a pair), but we work off the trade in sweat equity and digital clicks.
The bad news for us is that almost no theater critic in America makes an actual living from the job, and, unless we're born silver-spoon wealthy, most of us couldn't afford to see half the shows we go to. That makes us (or should make us) sympathetic to average theatergoers who are asked to plunk down what might be a full day's wages just to see two hours of live entertainment. With Broadway orchestra tickets soaring well past a C-note, folks who might, under different economic circumstances, see a show a month, limit themselves to shows once or twice a year. The sky-high prices are due, of course, to all sorts of factors (e.g., unions, salaries, advertising costs), and when shows are in demand, who can blame producers for wanting to squeeze out every last cent of profit? By the same token, clubs and websites abound where playgoers can save beaucoup bucks—especially on struggling shows or during less trafficky months of the theater season.
But what about the simple, days-of-yore idea of having a couple of hours free, strolling in midtown, and deciding, "Hey, why not just take in a show?" With prices where they are, that almost seems like a nostalgic dream. I'm happy to report, however, that occasionally there are sane deals to be enjoyed even by financially challenged theater lovers.
For example, when I visited New York last month, I was scheduled to see a very popular Broadway production. Because of a mistake by a press agent who scheduled my tickets, I showed up at the box office but was unable to see the show. There I was, at 7:58pm on a Friday night, on a brief trip to Manhattan specifically to see and review shows, and the evening was going to go to waste.
"What the hell," I thought. "Lemme see if I can score a cheap ticket to something else." I scurried a block away to the beloved Times Square TKTS booth, only to see all the windows down and the clock reading 8:01. Cursing under my breath, I debated giving up but instead walked another block and tried the box office for "Finding Neverland," which was not on my weeklong itinerary.
Feeling low-rent but brave, I asked the attendant, "What's the cheapest ticket you have for tonight?" The reply came: "$99." She was smiling as if she was about to hand me keys to test drive a Porsche. "Thanks anyway."
The woman seemed shocked that I turned tail and fled to the exit. I'm not saying that "Finding Neverland" isn't worth $99, or that people shouldn't pay $99 when they can. But students, seniors, working-class folks? Heck, that's a month of cable/phone/internet, or three meals at a decent Thai place.
Nearly giving up, I stopped in the doorway of The Music Box Theater where "The Heidi Chronicles" was playing out its brief string. "What's your cheapest seat for tonight?" "We have rear balcony for $40. And it's sparse up there, so the ushers will ask you to move closer to the front."
Slap. The sound of my Discover card hitting the inbox slot. Three minutes later (and after missing the first scene), I was watching Elisabeth Moss and company bring back the feminist 70s. Not a good revival, to be honest, but for two sawbucks, far from a wasted evening.
All of this backstory is to say that Broadway needs more of that. Of being able to say to some hopeful theater junkie, "Here's an easy fix. Give us your walking-around money, and come on in."
I was heartened, therefore, to hear of two promotional items this week, from two Broadway shows that need an audience boost and presumably realize that butts in cheap seats are better than VIP seats going empty.
First, there's "The Visit", Kander & Ebb's last finished musical, now playing at the Lyceum. Despite good reviews and a Tony-nominated Chita Rivera in the lead, the tuner's been hurting for attendees. So producers announced that now through Tony night (Sunday, June 7), all balcony seats are only $19.75. It's a price that coincides with one of the creative duo's best years—1975, when "Chicago" opened—and, more importantly, it's a price that should make any drama student, music lover, or New Yorker on a budget hop a train to 45th Street. Would that every show on Broadway made even a handful of seats available at that price point! Even—or should I say, especially--the biggest hits. There oughta be a rule: for every 100 seats that sell for $150+ each, put aside four at $15. No lotteries, no lines at 6am, no video contests; just a few crappy seats at happy prices.
Another interesting wrinkle came via "On the Town", which has gotten terrific reviews, several Tony nominations, and fine word of mouth, but has yet to catch fire at the box office. The show has set up its own ticket-reservation system, so buyers can go online, reserve the seats they want, and then pay when the get to the box office on show day—all of this "at no charge." Since Ticketmaster and Telecharge tack on fees (usually $6-10 per ducat) to Broadway's already exorbitant costs, this could be a shot across the bow from producers. They might feel that consumers are balking at $10 being stacked on top of a ticket that's already sucking too much blood from their stones. (And, to the prods' credit, "On the Town" offers balcony seats starting at 39 smackers.)
Yes, people have been griping at the cost of theater tickets for decades, and with so many sites and apps offering discount opportunities, it may be a little old-fashioned to wish that plain-old, regular tickets could be had for plain-old, regular prices. But with mezzanine seats at "The Lion King" starting at $105 and the three-character drama "Skylight" starting at $60 ($69.50, that is, via Telecharge), is it too much to ask that casual theatergoers get a fair shake instead of a shakedown?