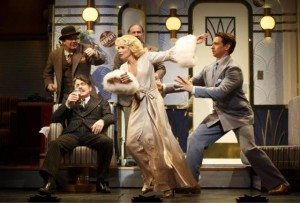 Old-fashioned, nostalgic glamour is big on Broadway this year, what with the eccentrics of "You Can't Take it with You" and the retro vibe of "Honeymoon in Vegas", not to mention the upcoming openings of "An American in Paris", "Gigi", "The King and I" and "Dr. Zhivago". Along for the ride is "On the Twentieth Century", a 1978 farcical tuner with a book by Comden and Green and a score by that duo and the equally legendary Cy Coleman.
It's cavortable fluff, set on a train, about a struggling Broadway producer trying to woo a former ingénue (now a movie star) back to the Great White Way. The Roundabout Theater's revival, staged by Scott Ellis, certainly boasts leads with experience in musical comedy: Kristin Chenoweth, a Tony nominee for "Wicked", has also appeared on Broadway in "Promises, Promises" and "The Apple Tree", while Peter Gallagher played Sky in the monster-hit 1992 Broadway revival of "Guys and Dolls".
So how did critics react to them in "On the Twentieth Century" when it opened last night, March 15, at the American Airlines Theater? Were they on board or braking to a halt?
For New York Times chief critic Ben Brantley, it was full steam ahead for both Chenoweth and Gallagher, who, he writes, "are surfing the stratosphere" of "over-the-moon acting, which is rare and occupies its own special cloud land in heaven." For BB, the whole production "not only retains but also amps up what was good about the original." He concludes, "we can sit back, relax and savor the blissfully bumpy ride in luxury accommodations."
Joe Dziemianowicz, of the Daily News, also uses the word "bliss" to describe the "fizzy and dizzy" proceedings. In his ***** review (out of 5), he raves about Chenoweth's "practically nuclear glow" but also lauds other castmembers: "Peter Gallagher [has] just the right egomaniacal spin and scary glint in his eye," while Mark Linn-Baker and Michael McGrath lend "sterling support."
"Bliss" comes up again in Frank Scheck's review for The New York Post, who calls the revival "glorious" in his **** (out of 4) review. He loves the show itself (and calls the score "sublime"), as well as "whippet-thin" Chenoweth and "terrifically entertaining" Gallagher. "The show looks gorgeous, too, thanks to David Rockwell's glamorous art deco-style sets and William Ivey Long's period-perfect costumes."
Variety's Marilyn Stasio is nearly as effusive on the show, calling it "dazzling…mounted in high style and performed with manic energy by a super cast." "Nothing is outside Chenoweth's comic skills or beyond the range of that amazing coloratura voice," raves Stasio about this "merry, madcap show."
David Rooney of the Hollywood Reporter couldn't agree less. This is a musical, he complains, "stubbornly lacking in locomotion, its steam engine spouting plumes of desperation." Director Scott Ellis is "off his game in this belabored revival [where he] invariably holds the jokes for one or two beats too long, and even scenes that start out on riotous notes tend to deflate before they're over." Rooney admits he didn't like the 1978 original, either, and that people sitting near him were "roaring with laughter," but for him, "the train never leaves the station."
Vulture.com's Jesse Green also has issues with the play but not with Chenoweth, whom he dubs "a comic genius in a role ideally suited to her gifts." In fact, "when she's offstage, the laughometer plummets." Though not everything in the show works, and the small orchestra—less than half the size of the original—sounds "dry and thin," the production nevertheless "sparkles like new."
"Lovely, all lovely," gushes Newsday's Linda Winer, noting that she'd never been "the slightest bit bonkers" about the show, but she is now, thanks to the "virtuosic, wildly endearing Peter Gallagher," the "equally dazzling Kristin Chenoweth," and a "terrifically demanding" score with "some of the most clever lyrics ever written by that cleverness machine, Betty Comden and Adolph Green."
Slightly less enthused is AM New York's Matt Windman, who agrees that the score is "rich and melodic" (he's listened to the original cast album for years) and says that while the new production doesn't live up to all its potential, it's "still pretty damn enjoyable." As does most everyone else, he feels Chenoweth "was born to play Lily," though Gallagher (who had been ill during previews) "lacks the robust voice" his role needs.
Giving the show an A-minus, Entertainment Weekly's Jason Clark calls Chenoweth's work a "supreme triumph" but adds that Gallagher is the pleasant surprise, as he's able to go from "daft dolt to smoldering romantic lead in a heartbeat." He also lauds "the marvelous Act I duet, "Our Private World."
VERDICT: With the exception of the unmoved David Rooney (of the Hollywood Reporter), huge raves and money reviews. Look for this train to be a bullet.